5 Simple Ways To Refresh Your Living Room
Are you looking to breathe new life into your living room and create a space that exudes comfort and style? Whether you're aiming for a complete transformation or just a subtle update, there are numerous simple yet effective ways to refresh your living room and make it feel inviting and rejuvenated.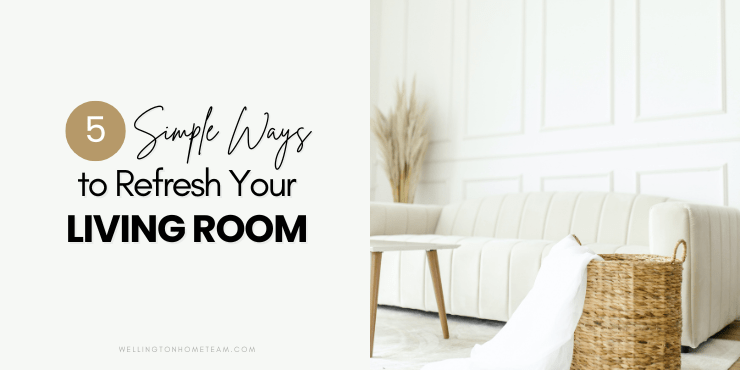 By incorporating a few changes, you can achieve an incredible transformation, even if you're on a budget. Let's take a look at these 5 simple changes that can completely refresh a tried and outdated living room in a matter of minutes.
1. Upgrade Worn Furniture
Worn and outdated furniture affects your entire room, diminishing its look and feel. You can tell it's time for a change when you notice clear signs.
Tattered Upholstery or Faded Leather: The once pristine upholstery now bears the scars of time, with tears, frays, and discolored patches, and no longer has a clean aesthetic.
Sagging Springs: The integrity of the furniture's core support is compromised as the springs succumb to the relentless pull of gravity. A once comfortable seat now sags noticeably, leaving you with an uncomfortable sinking sensation, and no longer has the support it should.
Dilapidated Cushioning: Cushions that were once plump and inviting have now lost their resilience, reduced to thin layers that offer little support or comfort.
Clash of Styles: The design and style that once seamlessly blended with your decor no longer has a harmonious aesthetic. The passage of time has transformed your furniture into a relic that no longer aligns with your evolving taste and style.
Luckily, this is easy to fix with a new piece of high-quality furniture. For example, a new leather couch can completely transform a dated living room and leather is always timeless, so it's worth the investment.
2. Use Accent Pieces
Small pieces of furniture can be more affordable, and they can make a significant impact on how a room feels if they are well-planned. Items such as accent tables, wall decor, storage baskets, and planters are all excellent choices.
Another idea that can help bring life to a tired room is grouping small pictures or decorative items on side tables. They create visual interest and help add personality to a space, which can make even an outdated room feel more comfortable and welcoming.
Easily refresh your living room with these 5 simple ideas for a more inviting and stylish space. #interiordesign #howto
3. Change the Wall Colors
For an inexpensive and quick transformation, look no further than your living room walls. Changing the paint instantly changes the look and feel of a room, and most rooms can be repainted, start to finish, in a weekend. This gives you a lot of leeway to make the room your own, even if you are on a tight budget.
To help keep the look of your room current, consider choosing one of the year's most popular colors. Predictions are made annually, and they often capture the current design trends very well, which lets you make a big change without replacing your favorite leather couch. With that being said you can never go wrong with choosing a neutral paint, such as Sherwin Williams Snowbound, Greek Vanilla, or Origami White.
4. Add a Functional Ottoman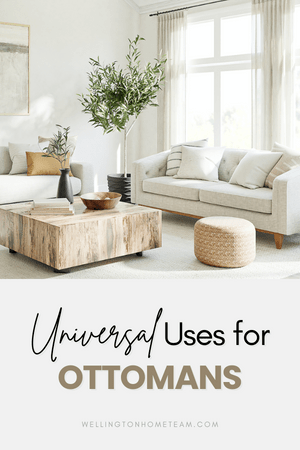 Ottomans are so much more than footstools. They also serve as storage pieces, decorative accents, and tables, depending on where they are placed and how they are arranged. A sturdy tray can easily turn a leather surface into a serving area in a pinch. So, don't limit yourself to placing an ottoman in front of your leather sofa and calling it done. Instead, think of creative ways to make them more useful.
Another great thing about ottomans is the amazing variety in designs, shapes, and sizes. Choose colors and sizes that best fit your space and bring it to life. A small room can benefit from a brightly-hued petite pouf, while a larger one might benefit from two or three ottomans placed in a group.
5. Brighten the Room With Light Fixtures
If you rely on artificial lighting to brighten your home, consider investing in a few high-quality light fixtures. Mixing it up with hanging lights, floor and table lamps, and wall sconces allows you to change the ambiance of a room with the flip of a switch.
By incorporating a variety of lighting options, you not only address functional needs but also elevate the aesthetics of your living spaces. Pendant lights suspended from above bring a touch of sophistication and a focal point to your room, while floor lamps offer a gentle glow that warms up corners and cozy reading nooks. Table lamps, strategically placed, infuse your environment with intimate pools of light, ideal for creating a snug atmosphere.
The inclusion of wall sconces also adds a layer of elegance and depth, casting intricate patterns of light and shadow that contribute to the room's character. The ability to shift from bright and vibrant to subdued and tranquil through your chosen fixtures empowers you to harmonize your living spaces with your activities, whether it's hosting a gathering, unwinding with a good book, or creating a serene ambiance for relaxation.
Final Thoughts
Incorporating these 5 simple ways to refresh your living room can make a significant difference in the overall look and feel of your space. By combining your creativity with these practical ideas, you'll be able to transform your living room into a haven of comfort and style. Remember, even small changes can have a big impact, allowing you to enjoy a space that reflects your personality and provides a welcoming atmosphere for both you and your guests. So go ahead and transform your living room space into one you'll truly adore.
Please consider spreading the word and sharing; 5 Simple Ways To Refresh Your Living Room
Easily refresh your living room with these 5 simple ideas for a more inviting and stylish space. #interiordesign #howto
About the Author
Top Wellington Realtor, Michelle Gibson, wrote: "5 Simple Ways to Refresh Your Living Room"
Michelle has been specializing in residential real estate since 2001 throughout Wellington Florida and the surrounding area. Whether you're looking to buy, sell, or rent she will guide you through the entire real estate transaction. If you're ready to put Michelle's knowledge and expertise to work for you call or e-mail her today.
Areas of service include Wellington, Lake Worth, Royal Palm Beach, Boynton Beach, West Palm Beach, Loxahatchee, Greenacres, and more.
5 Simple Ways To Refresh Your Living Room