What Are the Pros and Cons of Buying a Vacant Home?
Are you thinking about buying a vacant home? Since 2008, there have been a plethora of vacant homes available in the US. Many homeowners were forced to walk away from their homes during the housing crisis. As a result, a large number of homes became vacant.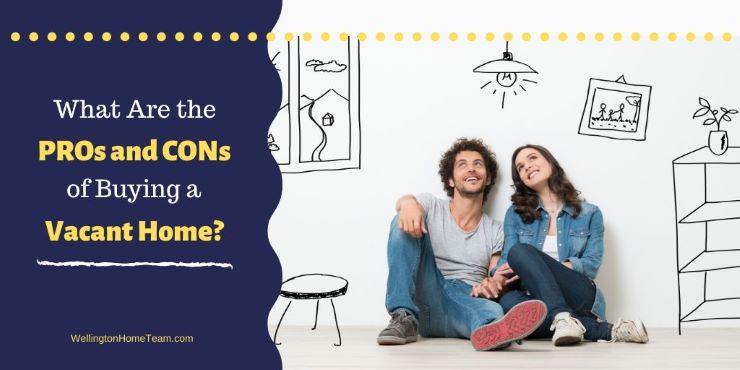 Like with everything else, there are pros and cons to buying a vacant home. Some would argue that there are more pros than cons, but that is not necessarily the case. Each vacant home must be judged on its own merits. It is vital that you approach the situation with an open mind. Yes, there are upsides, but there can be negatives as well and some of them can cost you money. Let's explore the pros and cons of buying a house that is vacant.
Pros of Buying a Vacant Home
On the list of pros of buying a vacant home, you will find availability. Most of the time when you buy a vacant home you can move in more or less right away. However, that does not mean that you should rush moving in. Even if you are buying a home for cash, and maybe as an investment, you should check it out. Don't forget to look around the neighborhood and make sure you have a home inspection carried out.
It is easier to "visualize" yourself in a vacant home. Some home sellers still leave all of their belonging cluttered around when you view their home. It is often hard to imagine yourself living in the home.
When the home is vacant, it is easier to see yourself living there with your own stuff. You get a better understanding of space. But, do remember to make sure your own furniture is going to fit in.
Additional Pros of Buying a Vacant Home for Sale
Is it easier to spot defects? Yes, it is always easier to spot defects in a vacant home. In a fully furnished home it is hard to pick up on common problems such as damp and mold. They are more visible in a vacant home, and not covered by drapes or other home furnishings. You can easier make a decision if you would like to spend extra money on repairs instead of having to wait for a report.
Homeowners often try to influence you when you walk around a home. That is something you don't have to worry about when it comes to investing in a vacant home. You have the time to walk around with the real estate agent, and it is easier to see the home in " the cold light of the day".
What Are The Cons of Buying a Vacant Home?
Of course, there are cons to buying a vacant home. One of the major cons which many home buyers forget about is the fact that you can't see the bills. Odds are the utilities are shut off or not running like they would be if the property were occupied. So how much is the home going to cost run on an annual basis when it comes to electricity, gas, and other bills? Stop and think about it, all of those things are handy to know.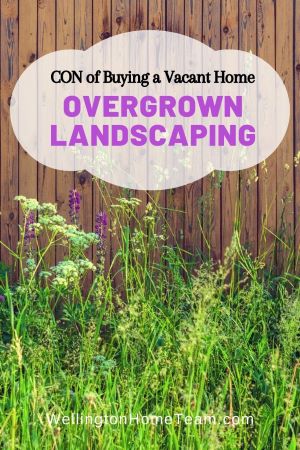 When was the HVAC last checked or serviced? Does the system work in the first place? You may not think about that when you are discussing an easy close but it is important to know. Are you really prepared to pay out for a new HVAC system right away? It is a major expense when all is said and done. So just one more reason why a home inspection is so important.
What about the landscaping? Take a good look at the landscaping. The landscaping of vacant homes are often neglected and can take a lot of work. You may not have to spend a fortune on getting a professional gardener in to fix the landscaping. Instead, you may end up spending a lot of time in the garden when you have other priorities. It is always important to consider the state of the landscaping and any outbuildings.
Additional Cons of Buying a Vacant Home for Sale
Security can be another issue. Some homes that have been vacant for a long time may have been targeted by burglars. More people that buy vacant homes that have not been lived in for long time report burglaries than those who buy occupied homes. Sometimes while under contract days before closing things may go missing from the home.
Check the state of the roof, electrical, and plumbing. If the vacant home you are considering buying was subject of foreclosure, it is unlikely that the previous homeowner could afford to maintain it properly. Look out for cracks and daylight coming through the ceiling.
In fact, you should probably personally inspect a vacant home more carefully than you do a lived-in home. Many people assume that it is cheaper to buy a vacant home. It is essential to appreciate that it may not be the case.
Yes, you can move in faster, but there are downsides. On occasion, vacant homes are less likely to appraise, which means lenders may be less keen to lend on vacant homes. They will go through the home very closely and make sure that it is okay. That means, depending on the type of financing, you may have to pay extra fees for contractors to inspect pre-installed appliances, plumbing, and wiring.
For many homebuyers, a vacant home represents a good investment. This is especially true if you are thinking about renting out the home to make an extra income. Vacant homes are often popular with first-time buyers and investors as they are cheaper. That is perhaps the major upside of buying a vacant home.
Top Tips for Buying a Vacant Home
Here are a few top tips that you should stick to:
Does it feel like a home? Don't just buy it because it is vacant, it should still feel like a home.
Can you afford repairs and do you have enough budgets for home improvements? It's not uncommon for vacant homes to need updating.
Is it a nice neighborhood? A cheap house in a not-so-nice area of the town may be the reason it is vacant. Keep that in mind.
What are the local amenities? Always check out proximity to stores, schools, and access to work.
Once you are sure that you are making the right decision, a vacant home is often a good investment and you can set about making it your own home.
Final Thoughts
Weighing the pros and cons is part of the home buying process. From the pros and cons of buying a vacant home vs an occupied home to the pros and cons of buying a home with an HOA or mandatory membership. It's important homebuyers weigh their needs and wants and then discuss the pros and cons of each.
Sometimes those "must-have" interior features aren't necessarily must-haves if the home is located in a more desirable area. A few things buyers need to take into consideration, things they can't change, like the location and layout of the home. Sure a buyer can change the layout, but at what cost? Buying a home that needs a little updating will most likely be a better investment than buying an upgraded home in a less desirable area. This is where a top Realtor will be able to guide you through the home buying process and help you make the best decision for your family.
Please consider spreading the word and sharing; What Are the Pros and Cons of Buying a Vacant Home?
Thinking about buying a vacant home? Before you do so you'll want to weigh these pros and cons of purchasing a vacant home. #homebuying
Additional Resources About Buying a Vacant Home Vs Occupied Home
When a buyer purchases a vacant home they pretty much know what they're getting. However, when a buyer purchases an occupied home they really won't see what they're getting until the final walk-through. Suddenly the floors and walls don't look perfect like they did with furniture and pictures on the wall. This is why home buyers should always budget for paint and in some cases new flooring.
Sometimes homeowners have no choice but to sell their homes vacant. However, just because a home is vacant doesn't mean it wasn't maintained or will need a lot of work. If home sellers follow tips for selling a vacant home they will still be able to obtain top dollar. While occupied homes might be easier to sell sometimes it's better that homes are vacant especially if the homeowner doesn't keep a show-ready home.
Should I stage my home or leave it empty? This a question many homeowners ask themselves when they have a vacant home to sell. Sometimes staging is a must and other times it's unnecessary. It really depends on the real estate market and the area the house is located in. There are parts of the Country at certain price points the home has to be staged and other parts where it doesn't. This is where a top Realtor will be able to guide the seller.
About the Author
Top Wellington Realtor, Michelle Gibson, wrote: "What Are the Pros and Cons of Buying a Vacant Home?"
Michelle has been specializing in residential real estate since 2001 throughout Wellington Florida and the surrounding area. Whether you're looking to buy, sell or rent she will guide you through the entire real estate transaction. If you're ready to put Michelle's knowledge and expertise to work for you call or e-mail her today.
Areas of service include Wellington, Lake Worth, Royal Palm Beach, Boynton Beach, West Palm Beach, Loxahatchee, Greenacres, and more.
What Are the Pros and Cons of Buying a Vacant Home?