When you enter into the real estate market, whether buying or selling, you'll hear terms that can be confusing. It doesn't help that, sometimes, real estate professionals themselves use terms interchangeably when they shouldn't.
Two such terms often used incorrectly are "offer" and "contract." They don't mean the same thing, not even close, and using them in the wrong context could create big problems. So let's take a look at what a real estate offer and contract are.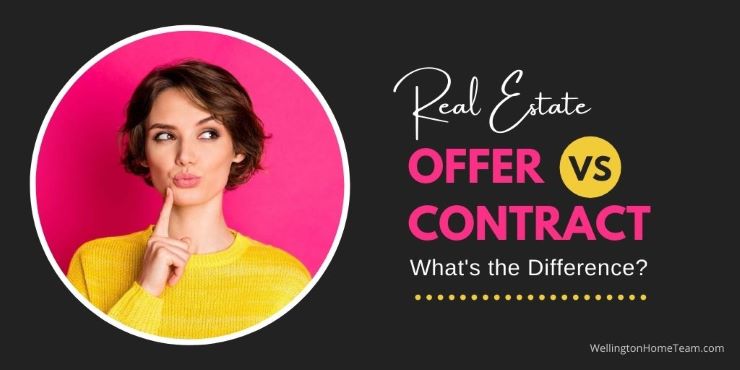 What is a Real Estate Offer?
An offer to purchase real estate is a legal document, which outlines a buyer's terms they're willing to offer the seller. This is in no way binding. The buyer has put their intention in writing to purchase with specific terms. However, it's up to the seller whether or not they want to accept the terms being offered. The seller has three options when they receive an offer. They can choose to accept, decline, or provide a counter-offer.
If the seller accepts the offer they will sign and send a copy back to the buyer. There is nothing more they need to do if they reject the offer. If the seller decides to counter the offer they will do it in one of two ways; verbally or in writing. If they verbally counter and the buyer accepts the countered terms it means absolutely nothing, everything needs to be in writing.
However, if the seller counters in writing they will make changes, such as increasing the price, initial the change and sign the rest of the offer. Once again these terms have been agreed to by only one party, so it's still just an offer and shouldn't be thought of or called a contract.
What is a Real Estate Contract?
If both parties, the buyer and seller, agree to the terms in the offer then it becomes a contract. It does need to be agreed to in writing, first, then it's officially a contract and both parties are bound. With an executed contract comes obligations, whether you are the buyer or the seller, to be met per the agreement you've signed. If an initial or signature is missed by either party the contract will not be fully executed or enforceable until it is. So it's imperative both parties make sure all I's are dotted and T's are crossed.
The Effective Date
The date on which the contract is signed and fully executed is important, this will be known as the effective date. The effective date is set when the last person signs the contract. For example, if one person signs on the 15th and the other party doesn't sign until the 17th, the 17th will be the effective date of the contract.
All due dates and obligations will be based on the effective date. So if there is a 10 day inspection period the buyer only has 10 days from the effective date to have the home inspected. Depending on the contract the buyer may be able to cancel the contract for any reason within this time period. If the buyer does not cancel in time and doesn't purchase the property they will be in breach of contract. So it's very important that both parties fulfill their obligations within the due dates.
Real Estate Offer VS Contract What's the Difference?
Final Thoughts
Whether you're a buyer, seller, or agent you should know the difference between an offer and a contract. Agents who say they have 3 contracts on their listing is incorrect. If it is correct they're selling one home to 3 different buyers, which is impossible. The seller stating they have a contract is misleading as well. This could easily cost them a sale if they're telling prospective buyers they already have a contract on their home. So once again everyone involved in a real estate transaction needs to know the difference and use the correct terminology.
Another word of advice, always put an offer in writing. A buyer can spend hours verbally negotiating with a seller only to lose out to another buyer who submitted a written offer. The seller may think this buyer is more serious therefore not even notify the verbal offer. With the advances in technology, it only takes minutes to write an offer and sign it electronically from a phone, so there is no excuse not to do it.
From a seller's standpoint, it's never wise to verbally negotiate with a buyer either. There is more to an offer than price and other terms may be overlooked or not mentioned during verbal negotiations. It will be very disappointing for a seller to finally receive the offer in writing only to find out the buyer has a home sale contingency that was never mentioned.
Real estate can be an emotional rollercoaster and a lot of stress can be removed by using the correct terminology and putting everything in writing.
Please consider spreading the word and sharing; Real Estate Offer vs Contract: What's the Difference?
About the Author
Top Wellington Realtor, Michelle Gibson, wrote: "Real Estate Offer vs Contract: What's the Difference?"
Michelle has been specializing in residential real estate since 2001 throughout Wellington Florida and the surrounding area. Whether you're looking to buy, sell or rent she will guide you through the entire real estate transaction. If you're ready to put Michelle's knowledge and expertise to work for you call or e-mail her today.
Areas of service include Wellington, Lake Worth, Royal Palm Beach, Boynton Beach, West Palm Beach, Loxahatchee, Greenacres and more.