9 Reasons Why Your Rental Offer Was Rejected
Are you in the market for a rental? If so you may be surprised to have your rental offer rejected. Some people know their offer might be rejected while others are shocked. It's not uncommon for landlords to reject offers, even if there isn't another offer on the table. So why would a landlord reject your rental offer? Below are 9 reasons why landlords reject offers.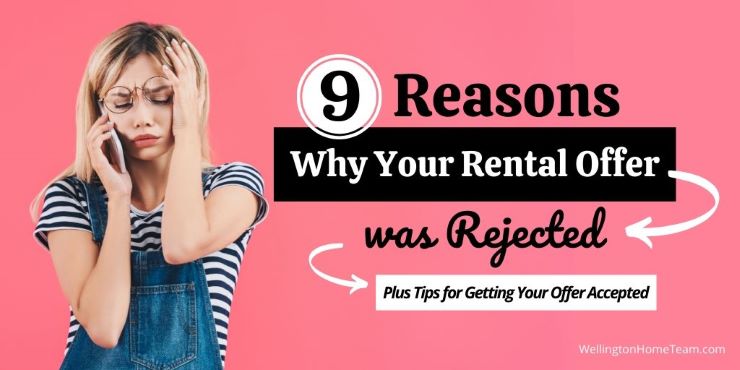 1. Incomplete Offer
A majority of landlords or listing agents have instructions for submitting an offer and what documents are required. If a tenant is missing a document, such as a completed rental application, the landlord may reject the offer. Some landlords won't even look at an offer if it is incomplete. A "complete" rental offer typically includes; a signed contract to lease, rental application, proof of income/funds, credit/background check, copy of driver's license, and pet application.
2. Lack of Income
Landlords want to make sure a prospective tenant makes enough money to pay the rent each month. Every landlord will have different income requirements. Some will accept a tenant who has little to no monthly income but has enough funds in their savings account to pay rent for the entire year. While others will want the tenant's monthly income to be at least triple the rent. So if the rent is $3,000 a month the tenant must make at least $9,000 a month.
Providing proof of income to the landlord is going to be standard, so tenants should gather their paycheck stubs prior to looking at rentals. If a tenant is self-employed, tax returns are usually required and if they're starting a new job the "offer" letter from the new employer may be sufficient enough.
3. Credit
Not only will most landlords have credit requirements if the property is located in a community that has a homeowners association they might have requirements too. However, even if a tenant has an acceptable score doesn't guarantee the landlord will accept their offer. If a tenant has a history of paying bills late or previously went through bankruptcy or has collections their offer may be rejected. If a tenant's score is below 700 they should write a letter of explanation to the landlord. Is the less than perfect credit due to medical debt, school loans, or stolen identity? Explain ahead of time what they're going to find in the report.
4. Criminal Record
Another reason a tenant's rental offer is rejected is due to their criminal record. Even if the criminal activity took place over a decade ago a landlord may still reject their offer. The same holds true for a lot of homeowners associations. In fact, there are HOAs that won't approve a tenant's application because they have too many speeding tickets. So the criminal record doesn't always have to be drug or violence-related. Writing a letter of explanation to the landlord is highly recommended because people make mistakes, but people also change.
5. Insufficient Move-In Funds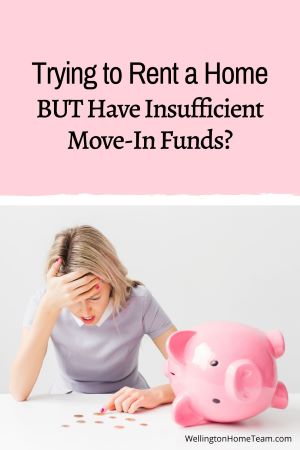 Unless a tenant is renting from an apartment complex odds are the landlord will require a good chunk of money upfront. This typically includes the first month's rent, the last month's rent, and a security deposit equal to one month's rent. If the tenant has a pet that will require an additional deposit. If a tenant doesn't have all of the funds prior to the move-in date their rental offer may be rejected.
Even if a prospective tenant has a good income and perfect credit their offer still may be rejected. Landlords want tenants to show them the money! If a tenant is just getting back on their feet and doesn't have a lot of money to put down they should offer to pay what they can and then the rest over the first month or two of the lease. Once again this is where a letter of explanation can go a long way with a prospective landlord.
6. Extended Move Date
Time is money for landlords! So if their property is vacant they're going to want a tenant to take possession asap. In my experience, a landlord is going to hold a property for 1-4 weeks. If a tenant doesn't need to move for 2-3 months they need to delay their rental search or only look at homes that will be available closer to their move date.
Tenants need to realize what they're asking the landlord to do. If their property is listed for $3,000 a month and that tenant doesn't want to move for 2 months that's $6,000. A landlord could ask $2,500 a month, find a tenant to take immediate possession, and be in the same boat. A rental listed well below market value is sure to rent immediately.
7. Pets
A majority of landlords don't want pets and if they do will have restrictions. If the home is located in an HOA they too will have restrictions. So if the prospective tenant has a pet that doesn't fit the criteria a tenant's offer may be rejected. Pet restrictions are usually the number of pets, size of pet, and breed of pet.
Every tenant says they have the "best" pet, which so many pets are destructive. They pee in the house, chew baseboards, break blinds, and the list goes on and on. Sometimes the best way to win a landlord over is by introducing them to the pet. Showing them pictures of where they currently reside can help too.
8. False Information
If a tenant lied anywhere on their application or provided false documentation and gets caught will most likely be denied. I can't count how many times a tenant has provided their current landlord's contact information only to find out it wasn't their landlord's information, it was a friend or family member. The same holds true for falsifying income or a self-provided credit report. This is why listing agents will verify employment and income in addition to pulling a prospective tenant's credit. Honesty is the best policy especially when it comes to renting. If a tenant has horrible credit, write a letter of explanation to the landlord. Being honest can go a long way with prospective landlords.
9. The Rental Agent Sucks
It happens all of the time, especially in multiple offer situations, a tenant loses a property because their rental agent sucks. It is important for rental agents to be responsive and follow directions. If they don't respond to messages, e-mails, or text messages their client may lose out. If they don't follow directions and submit an incomplete offer package their client may lose out.
Tips for Getting Your Rental Offer Accepted
When looking for a new home to rent it's important to put your best foot forward and be prepared. Below are some excellent tips to make sure your rental offer is accepted!
Complete Offer Package: Submit a complete offer package, one e-mail, one attachment. Landlords nor listing agents want to receive multiple e-mails over multiple days and piece an offer together.
Be Honest: Be honest and forthcoming in your offer, never lie. Many landlords are understanding and might just overlook bad credit if a tenant is honest and upfront.
Include a Letter of Explanation: If you don't have perfect credit, a criminal record or lack of funds include a letter explaining your situation. By becoming a person to a landlord you'll increase your offers of having your offer accepted.
Include a Pet Resume: Don't just list "one dog, Corgi, 30 pounds on your rental application. Put together a resume for your pet. Gather pictures along with their records, which should have their age, weight, and medical history.
Stay Within Budget: Don't look at homes you can't afford and assume the landlord is going to be negotiable. Not many landlords will be negotiable especially if you have any red flags; low credit, low income, extended move date, etc.
Final Thoughts
Tenants need to hire a top rental agent who can guide them through the rental process. Being honest and transparent can go a long way if a tenant doesn't have the best rental, credit, or criminal history. Tenants should also start gathering documents before they start looking at rentals, so when they find one they're ready to submit an offer asap. Many areas throughout the country have a shortage of rentals and if a tenant takes a day to gather information they may lose out to another tenant.
Tenants should also know when to negotiate and when to give the landlord everything they're asking for and then some. When a tenant doesn't have great credit, offers less rent than what the landlord is asking and then includes a list of demands, like having the floors professionally cleaned is a surefire way to get their offer rejected. Why would a landlord rent to someone who's demanding, doesn't have excellent credit, and isn't even offering full price? Tenants need to ask themselves, why, why should a landlord accept them. I have worked with many landlords who rather keep their unit vacant than rent to a tenant who they feel isn't qualified or may be problematic.
Please consider spreading the word and sharing; 9 Reasons Why Your Rental Offer was Rejected
Was your rental offer rejected and you don't know why? Here are 9 reasons why a landlord will reject a tenant's rental offer. #realestate #rental
Additional Renting Resources
Is renting to own a home right for you? There are some pros to renting to own a home, but there are also cons too. Before you decide if you should rent to own a home you'll want to weigh all of the pros and cons.
Tenants should always be prepared to put down a security deposit when renting a home. They also need to make sure they know how to get their security deposit back when the lease is up. By taking a few steps before the lease starts and as the lease comes to an end will ensure they'll get their entire deposit back.
If you have great credit, strong income and all of the money necessary to rent a home you may want to consider buying one instead. There are many pros and cons to renting a home vs buying one. Sometimes the pros of homeownership will outweigh the pros of renting and purchasing a home will be the best option for you.
There may be additional benefits included in the monthly. Items like access to community amenities, cable service, internet service, water, even pest control might be paid for by the landlord. When searching for rentals it's always a good idea to know everything is included, some of these services can add up to hundreds of dollars in savings.
About the Author
Top Wellington Realtor, Michelle Gibson, wrote: "9 Reasons Why Your Rental Offer Was Rejected"
Michelle has been specializing in residential real estate since 2001 throughout Wellington Florida and the surrounding area. Whether you're looking to buy, sell or rent she will guide you through the entire real estate transaction. If you're ready to put Michelle's knowledge and expertise to work for you call or e-mail her today.
Areas of service include Wellington, Lake Worth, Royal Palm Beach, Boynton Beach, West Palm Beach, Loxahatchee, Greenacres, and more.
9 Reasons Why Your Rental Offer Was Rejected