8 Fascinating Reasons Tiny Homes are Gaining Popularity
Interest in building and living in tiny homes has skyrocketed over the last few years. More and more people are beginning to ask themselves questions like "Tiny homes vs. mobile homes – Which is right for me?", "Do I want to live off the grid, be a digital nomad, or stay in one place?". As a result, the tiny home industry is continually booming with new technologies and designs with no signs of slowing down.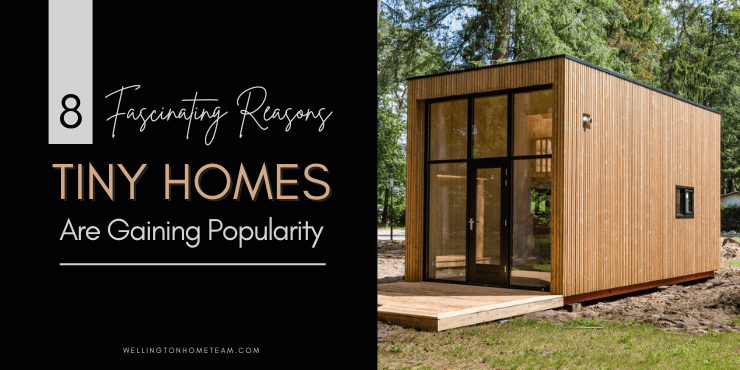 This blog post enlights you to the top eight reasons why more people than ever are choosing tiny houses over other housing types.  
Tiny Homes are Eco-Friendly
Since they are naturally smaller, tiny houses are eco-friendly and better for the environment than traditional or mobile homes. A study conducted in 2019 found that residents who moved to tiny houses from traditional houses used 45% less energy consumption than they did in their full-size home. This is primarily due to the fact that tiny homes are smaller and therefore require significantly less electricity for heating and cooling, and use less water.
Off-Grid Living is Easier in a Tiny Home
Many people considering tiny home living are doing so with a quest for minimalism in mind. A handful of those people are interested in transitioning their living space to be "off-grid." As a rule, tiny homes are known for their self-sufficiency.
It is relatively simple to build a tiny and functional off-grid home with self-sustaining composting toilets, solar panels, and water systems. Additionally, many tiny homeowners find themselves "living off the land" with herb gardens and rain collection.
Tiny Homes are Easier to Keep Clean
Much less space needs to be cleaned in a tiny home than a traditional home. Plus, because the living space is so minimal, many tiny homeowners find themselves naturally adopting a cleaner lifestyle. Clutter will quickly fill up a small home and make it uncomfortable. As a result, inhabitants of tiny houses generally have far fewer belongings, and are able to maintain a manageable cleaning schedule. 
Tiny Homes are Mobile
Most tiny homes come with a towing capability. Even if they are not constructed this way, installing that feature is generally not too difficult. If a homeowner is considering a nomadic lifestyle, a THOW (Tiny House on Wheels) home is an excellent option for bringing home wherever they are going on the road. If you want to travel the world a tiny home is an affordable and effective way to do so. 
Quality Over Quantity is More Possible
Large homes require couches, beds, tables, chairs, and a whole lot more. A tiny home eliminates the need for furnishing 5-7 rooms with all of these items. Rather than having to budget for multiple furniture pieces, tiny homes allow owners to invest in fewer items of higher quality. 
Tiny homes are gaining popularity at a rapid pace, but why? Here are the top 8 reasons people are moving into a tiny home.
Tiny Homes Don't Take Long to Build 
Compared to a traditional house, tiny homes are built exceptionally quickly. A professional can construct many tiny home designs in as little as a month. If you are new to the game and want to make it yourself, it will still only take about four months to finish. 
Tiny Homes Have Few Renovation Rules
Getting the proper government permits and permissions to build a tiny home can be difficult. However, expanding an existing tiny home is rather simple. Because tiny homes are so individualistic, they generally fall outside government jurisdictions regarding what you are and are not allowed to do when remodeling. Therefore, you have a lot of creative liberty for expanding or renovating your tiny home. 
Financial Freedom is Simpler to Achieve with a Tiny Home
Tiny homeowners will not find themselves locked into a multi-decade mortgage. The average home in America costs over $300,000. Tiny homes can range anywhere from $10,000 to $100,000.
Due to their uniqueness, tiny homes are often much more attainable to purchase with cash than other living options, or pay off in one to two years. Even if you have to take out a loan, it will likely be significantly less than a traditional mortgage. Consequently, tiny homeowners often find financial freedom to travel and enjoy luxuries that would otherwise be impossible for them. 
Final Thoughts
As a result of this list, the tiny housing market is booming like never before. It is obvious that people are increasingly searching for housing that is nomadic, sustainable, and affordable. Tiny house living certainly appears to be a leader in the housing industry's future.
Please consider spreading the word and sharing; 8 Fascinating Reasons Tiny Homes are Gaining Popularity
Tiny houses are gaining popularity at a rapid pace, but why? Here are the top 8 reasons people are moving into tiny homes.
About the Author
Top Wellington Realtor, Michelle Gibson, wrote: "8 Fascinating Reasons Tiny Homes are Gaining Popularity"
Michelle has been specializing in residential real estate since 2001 throughout Wellington Florida and the surrounding area. Whether you're looking to buy, sell, or rent she will guide you through the entire real estate transaction. If you're ready to put Michelle's knowledge and expertise to work for you call or e-mail her today.
Areas of service include Wellington, Lake Worth, Royal Palm Beach, Boynton Beach, West Palm Beach, Loxahatchee, Greenacres, and more.
8 Fascinating Reasons Tiny Homes are Gaining Popularity