Revamping Your Backyard Patio Space | Drab to Fab in 9 Steps
Do you dread stepping outside in your backyard and looking at the same outdated patio space? Are you ready to give it a much-needed facelift with minimal effort but maximum impact? Look no further! With some creative ideas and simple steps, transforming your backyard into an outdoor paradise is easier than ever.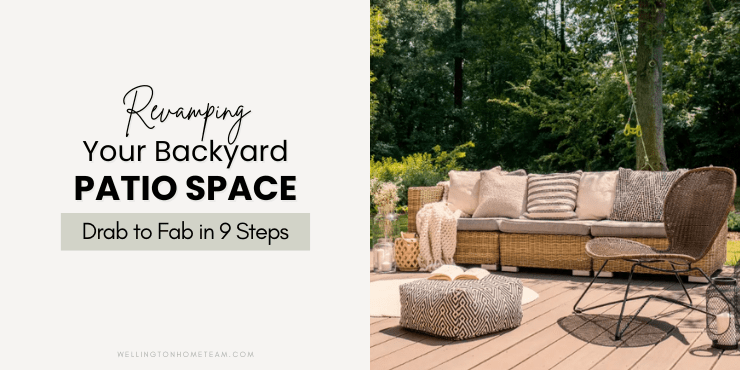 From rearranging furniture for more functional use of space to adding statement pieces such as planters or lighting fixtures, there are plenty of ways to take your drab patio area from dull to fabulous. In this article, we'll outline steps for revamping your backyard patio space while keeping it within budget. 
1. Start with a Vision
Before making any changes, it is important to have a clear vision of what you want your backyard patio to look like. Do you want a cozy space for alfresco dining, or a lounge area for relaxing and entertaining? Take some time to research different patio designs and create a mood board to help you visualize the end result.
2. Choose the Right Furniture
The right furniture can make or break your patio design. Choose pieces that are both functional and stylish. Consider the amount of seating you need, as well as the style and color scheme that will complement the rest of your outdoor space. Rattan or wicker furniture is a popular choice for outdoor seating, and there are several options for dining tables and chairs in various materials, including teak and metal. Furniture is often the most expensive item purchased when revamping your backyard patio space, so make sure to take your time selecting it.
3. Find Some Plants that Work Well in Your Area
Integrating lush greenery into your patio area not only enhances its aesthetic appeal but also infuses it with vitality and a vibrant burst of color. Selecting the right plants that flourish in your local climate and align with your patio's overall design is pivotal to achieving a harmonious outdoor oasis.
To craft a truly captivating patio retreat, contemplate introducing an array of potted plants that vary in height, size, and texture when revamping your backyard patio. This thoughtful mix will bestow your outdoor space with depth and dimension, making it a captivating and inviting haven. The diverse foliage and plant heights can be strategically placed to frame your patio, creating a captivating frame for your outdoor activities and gatherings.
4. Brighten Up with Lighting
String lights, candles, and lanterns are easy ways to create an inviting atmosphere on your patio. Hang string lights around the perimeter of your space or drape them over a pergola or trellis. Use candles and lanterns on your dining table or scatter them throughout your seating area for a cozy and intimate vibe. 
Additionally, as you're revamping your backyard patio space, consider investing in solar-powered lights. These not only reduce energy consumption but also bring an element of sustainability to your design. Harnessing the power of the sun to illuminate your outdoor space not only aligns with eco-friendly principles but also allows you to enjoy your patio without worrying about electricity bills.
Incorporating these lighting elements not only brightens up your patio but also amplifies its charm and allure, ensuring that your outdoor space is as captivating after sunset as it is during the day. So, let the glow of string lights, the flicker of candles, and the radiance of lanterns weave their magic, creating an atmosphere that beckons you and your guests to linger and savor every moment.
5. Equip Outdoor Awnings
Outdoor awnings are a great way to add both style and function to your patio. They can provide shade and protection from the elements, as well as add a pop of color and texture to your design. There are several options for outdoor awnings, including retractable, stationary, and freestanding models. Consider the climate in your region and the layout of your outdoor space when selecting the right awning for your patio.
Learn how to turn a drab backyard patio into a fab retreat with our expert guide for revamping your backyard patio space. #howto #backyardpatio
6. Invest in Comfortable Seat Cushions
Comfort is key when it comes to outdoor seating. Invest in high-quality seat cushions that add both style and comfort to your patio furniture. There are several options for outdoor cushions, including waterproof and fade-resistant materials. Choose colors and patterns that complement the rest of your patio design and add a pop of personality to your outdoor space. These are items that can be switched out throughout the year to give your patio an entirely new look and feel without completely revamping your backyard patio space.
7. Incorporate Water Features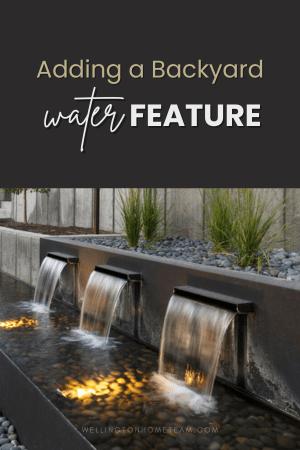 One excellent choice to contemplate when looking to elevate your outdoor space is the incorporation of water features. The tranquil and soothing ambiance created by the gentle murmur of a fountain or the melodious babbling of a carefully crafted artificial stream can undoubtedly elevate your outdoor experience to new heights.
The allure of water features lies in their ability to instill a profound sense of serenity and tranquility. Imagine relaxing on your backyard patio, surrounded by the soothing sounds of flowing water, as it creates a harmonious symphony with nature. The gentle gurgling or cascading of water can help drown out the cacophony of the outside world, offering you a peaceful haven right in your own backyard.
What's more, water features are incredibly versatile and adaptable. They come in an array of styles and sizes, making it easy to find one that perfectly complements the unique aesthetic of your backyard. Whether you prefer a classic, ornate fountain that exudes elegance or a more contemporary, minimalist design that fits a modern landscape, there's a water feature to match your tastes.
8. Add an Outdoor Rug for Style and Texture
Add an outdoor rug as the perfect finishing touch that adds style and texture to your space. But it's not just about aesthetics; an outdoor rug also softens hard surfaces and provides a cozy and comfortable area to relax and entertain. 
Whether you're sipping iced tea on a hot summer day or gathering with friends for a BBQ, an outdoor rug can create an inviting ambiance and complete the look of your revamped backyard patio. So, why settle for an uninspiring outdoor space when you can add a touch of fabulousness with a simple and affordable outdoor rug? This is one of the easiest additions to revamping your backyard patio space.
9. Don't Forget Accessories
To truly breathe life into your patio, it's the thoughtful incorporation of accessories that will complete the transformation. Consider the subtle yet significant role that accessories can play in elevating your outdoor space. To infuse a sense of comfort and warmth, embellish your seating area with an array of plush throw pillows, creating an ambiance that's as inviting as it is cozy.
Take the opportunity to connect with nature by introducing planters filled with your favorite flowers and greenery; the vibrant blooms and lush foliage not only lend a refreshing touch of the outdoors but also infuse your space with a natural serenity. For that extra touch of character and whimsy, don't overlook the charm of wind chimes or other decorative elements. These playful additions can imbue your patio with a unique personality, making it distinctly yours.
Remember, it's often the little details, the subtle nuances, that cast the most significant impact, transforming your patio into a living canvas of comfort and style, ready to host countless memorable moments.
Final Thoughts
Revamping your backyard patio space can be a fun and rewarding project that adds value to your home and creates a space that you and your loved ones can enjoy. By following these tips, you can transform your drab patio into a fab oasis that is both functional and stylish. Revamping your backyard patio doesn't have to be a stressful and project that's not enjoyable. Remember to take your time, research different design options, and have fun creating your dream outdoor space. 
Please consider spreading the word and sharing;  Revamping Your Backyard Patio Space | Drab to Fab in 9 Steps
Learn how to turn a drab backyard patio into a fab retreat with our expert guide for revamping your backyard patio space. #howto #backyardpatio
About the Author
Top Wellington Realtor, Michelle Gibson, wrote: "Revamping Your Backyard Patio Space | Drab to Fab in 9 Steps"
Michelle has been specializing in residential real estate since 2001 throughout Wellington Florida and the surrounding area. Whether you're looking to buy, sell, or rent she will guide you through the entire real estate transaction. If you're ready to put Michelle's knowledge and expertise to work for you call or e-mail her today.
Areas of service include Wellington, Lake Worth, Royal Palm Beach, Boynton Beach, West Palm Beach, Loxahatchee, Greenacres, and more.
Revamping Your Backyard Patio Space | Drab to Fab in 9 Steps