Buying Antique Furniture | Important Do's and Don'ts
So, you've got a hankering for some antique charm to jazz up your home decor, huh? Well, you're in for a treat because diving into the world of antique furniture can be like stepping into a time machine.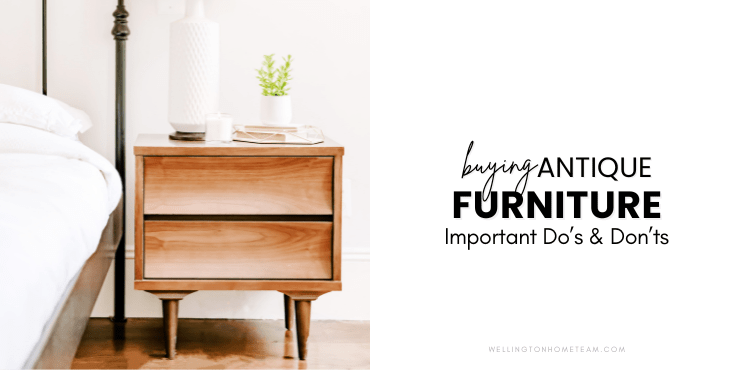 But before you go all-in on that antique furniture online hunt, let's chat about a few things you should keep in mind to make sure you're scooping up treasures and not just old junk. To give you an idea, here are some do's and don'ts of buying antique furniture. 
10 Do's & Don'ts of Buying Antique Furniture
Do Your Homework Like a Pro Researcher
Before you start scrolling through pages of antique furniture online, let's hit the books – or rather, the internet. It's like when you're learning to bake a new cake, you want to know the basics before diving into the kitchen, right? Same deal here.
 Get to know the different styles, periods, and materials that antique furniture comes in. It'll save you from getting tricked into buying a shiny imitation instead of a real gem.
Don't Ignore the Wear and Tear Story
So you're all excited about that gorgeously rustic-looking desk, but take a step back. Antique furniture, like an old adventure buddy, might have a few scars that tell its story. 
Some wear and tear can actually add character and show it's been around the block a few times. But here's the deal: too much damage or wobbly bits might mean you're signing up for a DIY project you didn't bargain for. So, a little wear? Sure. A big old mess? No thanks.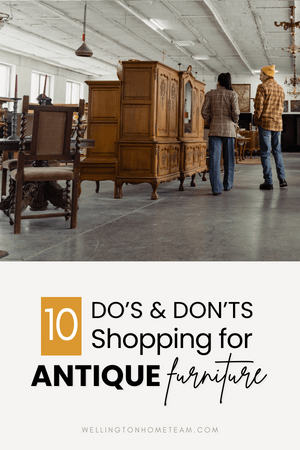 Do the Authenticity Dance
You want the real deal, not a clever knockoff, right? Well, here's the secret handshake: Look for the details that make it legit. Hand-carved doodads, a lovely aged patina, and using materials that match the era – these are your clues. If your gut says "something's fishy," don't hesitate to shoot the seller a message and ask questions. Remember, a true antique seller knows their stuff and will happily help you out.
Don't Speed Date, Take Your Time
Antique shopping isn't a race to the finish line. Sure, that online listing looks dreamy, but don't be fooled by the camera's flattering angles. Pace yourself, and give the piece a thorough inspection – virtually or in person. Take your time, ask questions, and don't hesitate to request more pictures if you're serious about making a purchase. Those ornate drawer handles deserve some scrutiny.
Do Your Homework on History
So, you've spotted a dining table that has "history" written all over it. Provenance is like the cool backstory of your antique furniture. It's what makes it more than just a pretty face. If a piece comes with a documented history or a connection to some fancy person or event, you've hit the jackpot. So, go ahead and ask the seller about its life story – it's like uncovering a hidden treasure map.
Make informed decisions and avoid common pitfalls when buying antique furniture by following our expert guide. #antiquefurniture #buyingfurniture
Do's & Don'ts of Buying Antique Furniture (Continued)
Don't Play Furniture Tetris
Imagine this: you've found the antique cabinet of your dreams, only to discover it's as wide as your living room doorway. Avoid this heartbreak by measuring twice and buying once. Measure the space you're planning to put your newfound treasure in, and then compare those digits to the dimensions the seller provides. You don't want to play furniture Tetris when you're hauling your purchase home.
Do Set Your Budget Limits
You've got dollar signs in your eyes, but remember, antique furniture can go from "hey, that's a steal" to "I need a loan for this" in a heartbeat. Set a budget before you start shopping to refresh your living room to match your vibe. Take into account the rarity, condition, and that restoration might eat into your funds. Remember, you're in it for the long haul, not just a one-time splurge.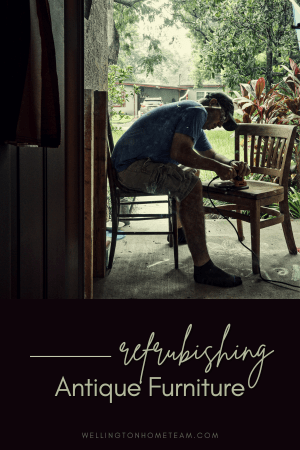 Don't Forget the Restoration Reality
Let's say you've got your eye on a slightly worn-out beauty – but hold on. Before you fall head over heels, think about the restoration game. A bit of fixing up can give your furniture some major street cred.
But if it needs a complete overhaul, make sure you're ready for the commitment and cost. It's like adopting a pet that needs a lot of love – adorable, but a bit of work.
Do Seek the Wisdom of Experts
When you're knee-deep in the world of antique furniture, it's a smart move to lean on those who know the ropes.
If you're feeling unsure about a piece or its value, don't be shy to reach out to professionals or enthusiasts who live and breathe antique furniture. They can share insights, tips, and maybe even lead you to that hidden gem you didn't know existed.
Don't Get Blinded by Shiny Things
Picture this: you're scrolling through antique furniture online, and there it is – a gleaming, perfectly polished cabinet that looks like it belongs in a royal palace. But, shiny doesn't always mean valuable.
Sometimes, a piece's original patina and charm are what make it truly special. So, don't be fooled by the glamour shots. Take a closer look at the details and make sure you're falling for substance, not just a pretty face.
Final Thoughts
Buying antique furniture can be a rewarding and enriching experience when approached with care and consideration. By following the important do's and don'ts outlined in this guide, you can navigate the world of antique furniture with confidence.
Remember to do your research, seek expert advice when needed, inspect items thoroughly, and be mindful of the potential pitfalls. With these guidelines in mind, you'll be well-equipped to make informed decisions and acquire cherished pieces that can bring history and character into your home for generations to come.
Please consider spreading the word and sharing;  Buying Antique Furniture | Important Do's and Don'ts
Make informed decisions and avoid common pitfalls when buying antique furniture by following our expert guide. #antiquefurniture #buyingfurniture
About the Author
Top Wellington Realtor, Michelle Gibson, wrote: "Buying Antique Furniture | Important Do's and Don'ts"
Michelle has been specializing in residential real estate since 2001 throughout Wellington Florida and the surrounding area. Whether you're looking to buy, sell, or rent she will guide you through the entire real estate transaction. If you're ready to put Michelle's knowledge and expertise to work for you call or e-mail her today.
Areas of service include Wellington, Lake Worth, Royal Palm Beach, Boynton Beach, West Palm Beach, Loxahatchee, Greenacres, and more.
Buying Antique Furniture | Important Do's and Don'ts