Finding the Best Agent To Sell Your Home | 8-Step Guide
Finding a real estate agent to sell your home can be overwhelming and stressful regardless if it's your first time selling real estate or your tenth time. Real estate is constantly changing along with the agents practicing it.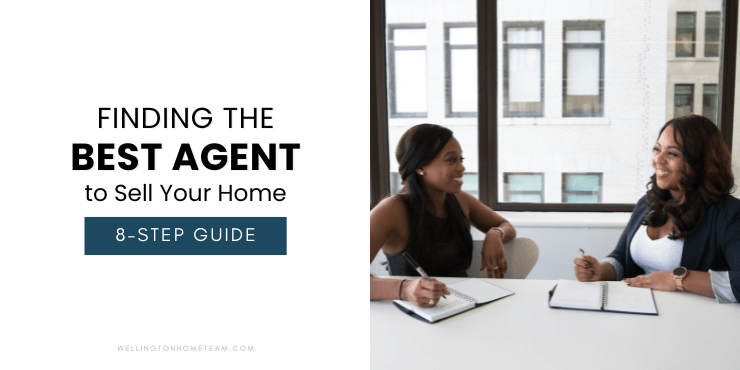 Recently I assisted a friend with finding the best agent to sell their home. They knew how important the decision was, but didn't know how to go about finding an agent on their own and asked if I could help. I jumped at the opportunity to assist and here are the steps I took to find the best agent for them.
8 Steps to Finding the Best Agent to Sell Your Home
Over the years I have referred countless clients, friends, and family to other real estate agents across the country and as an agent, I know what skills and traits make the best agent. However how many sellers know what to look for in a real estate agent and how to go about finding the "perfect" agent? This prompted me to share the step-by-step guide I use to connect buyers and sellers with the best agents. 
Step 1: Begin With Who You Know
Most people seem to know at least one real estate agent. In fact, back in 2005, the running joke in my area was when you get your Florida driver's license you automatically get your estate license on the back. However, simply knowing a real estate agent doesn't necessarily mean they are the best fit for your needs.
To start, make a list of the real estate agents you or your friends and family already know, including those who helped you purchase your home or those who were recommended by your close circles. While the best agent to sell your home could be on that list it's still worth exploring all options.
Step 2: Tap Into Your Agent Network
If you have connections within the real estate industry, consider reaching out to them. Real estate agents often have vast networks, and they might know of someone who specializes in your area or neighborhood. I found one agent through my network, and they were added to the list of prospective agents to sell my friend's home, but I didn't stop there.
Step 3: Utilize Online Resources
The internet is a powerful tool for finding information about real estate agents. Next, start conducting online searches using keywords like "Real Estate Agents in [Your City, Your State]," "[Your City, Your State] homes for sale," and "[Your Neighborhood] homes for sale in [Your City, Your State]."
Be aware that the first few results may be paid advertisements, so scroll past them to discover other options. Explore websites beyond the major real estate portals to find agents with their websites and strong online marketing presence. This may require checking pages beyond the first page of search results.
Step 4: Narrowing Down the List
After compiling a list of potential real estate agents from an online search, network, and referrals, it's time to start narrowing it down. Begin with a basic investigation by googling each agent's name and assessing their online presence. Eliminate those who lack a personal website or profiles on additional real estate websites. While a lot of great agents may not have a strong online presence, I wanted someone who could maximize online exposure for my friend's home.
Agents with a robust online presence often excel in online marketing, a crucial aspect since many home buyers search for properties online. The more online visibility a home has, the more potential buyers it can attract.
Finding the Best Agent To Sell Your Home | 8-Step Guide: Discover the step-by-step process of finding the best agent to sell your home. Perfect for both first-time and experienced sellers. #realestate #homeselling
Steps to Finding the Best Agent to Sell Your Home (Continued)
Step 5: Further Investigation
Now that the list was more manageable it was time to take a deeper dive. Visit the websites for each agent, is their website updated regularly or simply a landing page with little to no information?
Additionally, read any available online reviews, whether on their personal website, Google, or real estate websites. Be discerning with reviews, as some may be fake. However, these reviews can provide valuable insights into the agent's professionalism, responsiveness, knowledge, and work ethic. Reviews are by far one of the greatest ways to find the best agent to sell your home.
Step 6: The Point of Contact
Communication is paramount in real estate transactions. An unresponsive agent can hinder the process, so next it was time to reach out to the remaining agents on the list.
It's important to pay attention to how long it takes them to respond, whether it's by returning a call, text, or e-mail. While an immediate response might be unrealistic, a reasonable timeframe for getting back to you is essential. If they don't call a prospective client back how quickly do you think they'll call a potential buyer back? Communication and responsiveness in real estate is key.
Step 7: Learn About Their Approach
Now that contact has been made, it's time to gather more information about how each real estate agent works. Inquire about their experience in the specific neighborhood, whether they work independently or have a team or assistance, their marketing strategies for listings, their working hours, and any upcoming vacation plans. This information will help evaluate their compatibility with your needs and preferences.
*Note; I did not eliminate agents who did not sell in the neighborhood. There are plenty of neighborhoods in Wellington that I know by the back of my hand and have shown homes 100 times, but never sold one.
Step 8: The Referral and Final Decision
After this extensive research, a total of 3 agents were left standing, and while one really stood out to me they were all capable of doing an excellent job. However, since I never personally met or used any of these agents I referred all 3 to my friend. I know firsthand it's essential in any real estate transaction for personalities and approaches to align. A good rapport between a seller and their agent can greatly facilitate the real estate transaction.
In the end, my friend was impressed with all the agents' presentations but ultimately chose the one she connected with the most, which happened to be my top recommendation. This comprehensive process ensures you make an informed decision when selecting the right real estate agent to sell your home, maximizing your chances of a successful sale.
Final Thoughts
Finding the best agent to sell your home is a crucial step in the selling process. It can significantly impact the outcome of your sale and your overall experience.
By following the steps outlined in this comprehensive guide, you can approach this important decision with confidence and clarity. You'll have a well-researched list of potential agents, a deeper understanding of their qualifications, and a sense of their communication style and approach. Ultimately, this thorough process will help you identify the agent who not only possesses the necessary skills and expertise but also resonates with you on a personal level.
Remember that selling your home is more than a transaction; it's a significant life event. The right real estate agent can make this transition smoother, more successful, and even more enjoyable. So, take your time, do your research, and trust your instincts as you choose the agent who will guide you through this important journey. May your home-selling experience be filled with success, and may you find the perfect real estate agent to help you achieve your goals. Happy selling!
Please consider spreading the word and sharing; Finding the Best Agent To Sell Your Home | 8-Step Guide
Finding the Best Agent To Sell Your Home | 8-Step Guide: Discover the step-by-step process of finding the best agent to sell your home. Perfect for both first-time and experienced sellers. #realestate #homeselling
Popular Questions for Finding an Agent
Why is it important to choose the right Realtor? Choosing the best agent to sell your home is crucial because they play a pivotal role in the successful sale of your home. A skilled and compatible Realtor brings market expertise, negotiation skills, and marketing strategies to the table, all of which directly impact the home selling price process.
Is it OK to interview multiple Realtors? Yes, it is absolutely okay and advisable to interview multiple real estate agents when selling your home. Meeting with multiple agents allows you to compare their expertise, approaches, personalities, and costs, ultimately helping you make a more informed and confident decision when hiring an agent.
How do you interview a Realtor for selling a house? When interviewing a Realtor it's important to know what questions to ask otherwise you could end up hiring the wrong Realtor for the job. You'll want to inquire about their marketing strategies for your home. Discuss their approach to pricing and how they'll help you prepare your home for sale. Gauge their responsiveness and communication style, and ask for references or examples of past successful sales. Finally, ensure their personality and working style align with your preferences, as a good rapport is crucial.
How do you ask a Realtor to represent you? Hiring a Realtor to represent you is pretty easy, just pick up the phone and let the agent know. As a seller, the next step will be to sign the listing agreement and if you're a buyer you may have to sign a buyer broker agreement. If you interviewed multiple agents you should let the other agents know you will not be moving forward with them.
About the Author
Top Wellington Realtor, Michelle Gibson, wrote: "Finding the Best Agent To Sell Your Home | 8-Step Guide"
Michelle has been specializing in residential real estate since 2001 throughout Wellington Florida and the surrounding area. Whether you're looking to buy, sell, or rent she will guide you through the entire real estate transaction. If you're ready to put Michelle's knowledge and expertise to work for you call or e-mail her today.
Areas of service include Wellington, Lake Worth, Royal Palm Beach, Boynton Beach, West Palm Beach, Loxahatchee, Greenacres, and more.
Finding the Best Agent To Sell Your Home | 8-Step Guide