11 Things to Know Before Signing a Listing Agreement
Once you have chosen your listing agent, they will need you to sign a listing agreement. Signing this agreement might not seem like a big deal, but this contract is legally binding, so it's important to understand what you are committing to.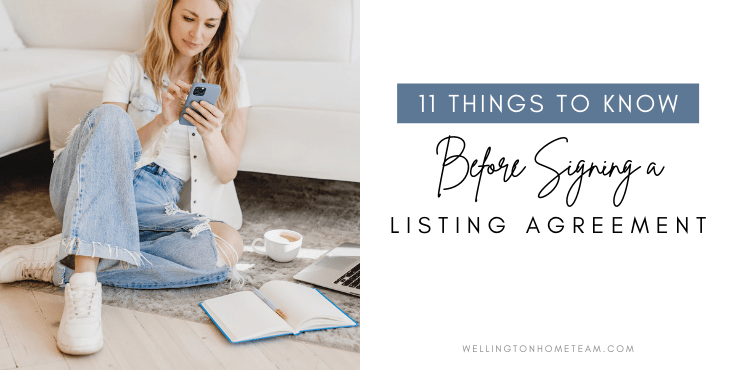 If you fail to check the agreement before signing, you could find yourself in a difficult situation during the sale. We take a look at the things you need to know about listing agreements before you sign.
What is a Listing Agreement?
A listing agreement is simply a contract that defines legally the relationship between the seller and the real estate agent. The details within this agreement might not be so simple, however, with many different clauses that can be included.
Before you sign, you'll need to be sure the agreement is in your best interests. Let's review the things you need to know before signing on the dotted line:
11 Things to Know About Listing Agreements
1. The Length of the Agreement
The agreement should clearly set out how long it runs. It should have a start date and an end date on the front page of the agreement. This can be negotiated, and typically they're not allowed to run for longer than a year. The length usually depends on the real estate market conditions at the time of listing in addition to the price range.

2. Commission
How much commission you'll have to pay is something you'll want to know and understand before you sign any agreement. As a seller of the home, you'll be expected to pay the listing agent and buyer's agent.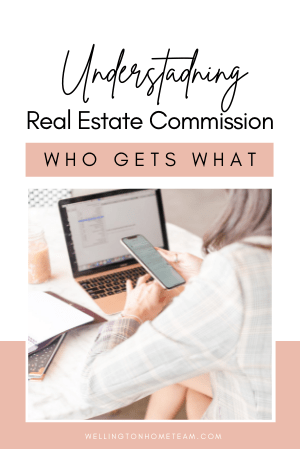 Normally the real estate commission is structured as a percentage of the sale price, and it will go directly to the real estate brokerages and not the agents directly. The agreement will list the total commission and how much each brokerage will receive.
It's important to understand what this percentage is and how it's split. Most sellers will assume the total commission will be split 50/50 between the listing brokerage and the selling brokerage.
However, that's not always the case and it can negatively impact the sale of your home. Some agents might avoid discussing commission splits because the split isn't 50/50.
Instead, the agreement might give a higher percentage to them than the buyer's agent. If this happens, it could mean your home takes longer to sell as buyer's agents won't be as likely to recommend your property to their clients.

3. Additional Fees
The agreement also details any additional fees the brokerage will expect you to pay. These might include admin, compliance, and transaction fees, which can easily be another $500-$800. Most brokerages will charge these extra closing costs fees, so it's important to know what you are expected to pay before you sign.

4. Types of Listing Agreements
There are a few different types of listing agreements that real estate agents use. These different types of agreements define the relationship between the seller and the brokerage/agent and could make a large difference in how your property is sold.
The most popular agreement is the exclusive right to sell listing, let's take a look at that and the other agreements you might encounter.
Exclusive right to sell listing agreement
With an exclusive right-to-sell agreement, the agent and their brokerage have the exclusive rights to market the home. This means that you cannot use another brokerage to sell your home while the contract is still in effect.
Your real estate agent will have the full responsibility for selling the home, and then you will have to pay them the agreed commission when it sells. An exclusive right to sell protects the real estate agent from sellers who don't want to pay their commission by claiming to have found their own buyer.
However, if you genuinely do find your own buyer, like a friend or family member, you're still required to pay a commission to the agent.
Exclusive agency listing agreement
The exclusive agency listing is very similar to the more popular exclusive right to sell, with one big difference; no commission is due to the listing agent if the seller finds their own buyer.
Sometimes homeowners that are interested in taking the "for sale by owner" route will want this type of agreement. However, it isn't popular with brokerages because it opens up the possibility of them putting in all the work to sell the home without getting paid.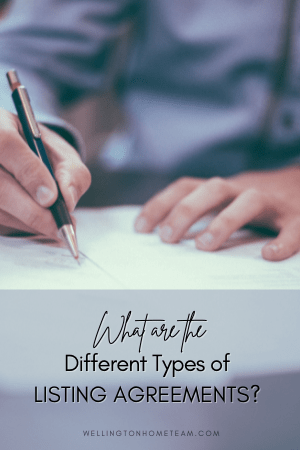 Far less common to find is an open agreement. This is an agreement that allows you to use many different real estate agents, only paying the one that actually finds the buyer.
Once again, this isn't popular with real estate agents for obvious reasons. They could put in a considerable amount of work and money to sell your home only to be beaten by another agent. For this reason, it can be very difficult to find an agent that will agree to this type of contract.
If you do find a real estate agent that is willing to work with you under this type of agreement, don't expect them to put in too much work or money. You could find that you're the one who ends up doing the majority of the work to try and sell your home under this type of agreement.
Another more usual type of agreement is net listing. The way this works is that you agreed to a price with the listing agent, and anything above that amount goes straight to the agent instead of commission. This type of agreement isn't legal in every state and isn't common elsewhere.

5. List Price
Before signing real estate agreement to list your home, you should have discussed how much you're going to list the home for. Agents will always have a recommended list price, but the seller ultimately decide what that price will be. With that being said if the seller wants to list their home at an unobtainable figure an agent may turn the listing opportunity down. Nobody wants to spend money when there is zero chance of it being returned in the form of a commission.

6. What Marketing Will the Listing Agent be Doing?
The agreement should also set out what the agent will do to try and find a buyer for your home. Will the home be listed in the MLS? Is your home going to be advertised in magazines, newspapers, or online? Will social media be used to find a buyer?
Part of the contract will likely include permitting the use of photographs of your property for marketing online and elsewhere. Whatever the exact marketing plan, you need to be happy with the strategy your agent is going to use to sell your home.

7. Responsibilities
The agreement will likely include a commitment by the agent to make a reasonable effort and due diligence in trying to sell the home. As the seller, you will be expected to agree to act in good faith and consider offers presented by the agent.
While a home is listed, there is a small possibility of something bad happening. The contract prevents the seller from holding the agent or the broker liable should something go wrong. It might also suggest additional insurance if your homeowner's insurance doesn't offer enough coverage.

8. What's Included in the Sale
Standard agreements will have a list of items that are considered real estate fixtures and automatically included in the sale, such as:
Refrigerator
Washer
Dryer
Microwave
Window Treatments (blinds, curtains, and rods)
Lighting fixtures
Ring doorbell
TV wall mounts
Pool equipment
If you have items that you want to exclude from the sale, like a brand new washer and dryer you just purchased, those will need to be excluded.

9. Retained Escrow Deposits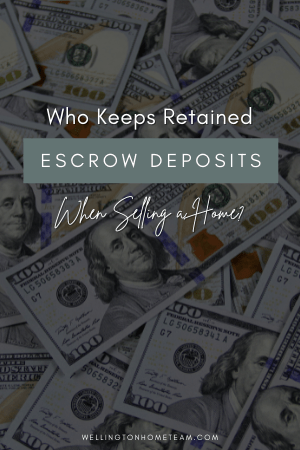 When a buyer makes an acceptable offer on your home, they will be expected to pay an earnest money deposit also commonly referred to as an escrow deposit. This can easily be 3-5% of the purchase price or more, and it will go into escrow until closing or the purchase agreement is canceled.
This deposit makes sure the buyer is serious and can offer the seller some protection. If the buyer decides that they no longer wish to purchase the home or they fail to meet their commitments under the purchase contract, they may forfeit their deposit.
The listing agreement should tell you what will happen to this money should the deal for the part. Will you get the money, will it go to the brokerage(s), or will the deposit be split between the seller and brokerage(s)?
10. Accepted Financing
All agreements will state what type of financing a seller will accept, such as conventional, FHA, VA, and seller financing. Sometimes an agent will exclude certain financing types because they've had bad experiences with the loan programs. This can happen even if there is no reason why the house isn't suitable for those programs and can reduce the number of potential buyers.
If you want to make sure your home is available to the largest pool of homebuyers, you'll want to avoid this type of exclusion in the agreement.

11. Termination Clause
If you don't feel the listing agent is the right fit and you no longer want to work with them, what are your options? There should be a clause in the agreement that covers the early termination of the contract.
This should tell you when you have the option to cancel the contract. You might need to wait for a certain period before this is available.
How do you cancel the contract? There might be a requirement to give written notice with certified delivery. Will there be any charges, and will you need to cover the marketing costs of your agent when terminating early?
Are you able to relist the home immediately with another brokerage? If you need to wait, how long will the delay be?
Final Thoughts
Though you may not like reading contracts, it's always a good idea to read and fully understand any legal documents you have to sign. A listing agreement is an employment contract and is legally binding, so you need to make sure its contents are right for your situation before you sign.
If you are careful about the type of agreement you sign, it can prevent things from going wrong when you sell your home and help you ensure you choose the best real estate agent for you.
Prior to signing a listing agreement, it's imperative a prospective sellers know and understand the following 11 things. #realestate #homeselling
About the Author
Top Wellington Realtor, Michelle Gibson, wrote: "11 Things to Know Before Signing a Listing Agreement"
Michelle has been specializing in residential real estate since 2001 throughout Wellington Florida and the surrounding area. Whether you're looking to buy, sell or rent she will guide you through the entire real estate transaction. If you're ready to put Michelle's knowledge and expertise to work for you call or e-mail her today.
Areas of service include Wellington, Lake Worth, Royal Palm Beach, Boynton Beach, West Palm Beach, Loxahatchee, Greenacres, and more.