9 Security Measures to Take When Selling a Home
Selling a home may not seem like an inherently dangerous process, but the increased prevalence of damage, assault, property damage, and identity theft means the threat to your safety is very real. Balance out the scales and reduce your chances of experiencing a crime by taking a few added precautions with these 9 security measures.
9 Security Measures to Take When Selling a Home
1. Never Show Your Home Alone
It's always best to leave for all showings. However, if you're unable to do so make sure the prospective buyers have been vetted by your real estate agent and will be accompanied by their agent. With more people present, your risk of experiencing a crime decreases significantly. In fact, it's one of the biggest reasons that every homeowner should hire a Realtor; it adds a built-in second person during every property showing.
2. Turn Away Drop-By Viewers
It might seem counterintuitive to turn away prospective buyers interested in your home, but you should never show your home to someone that doesn't have an appointment. Scheduled showings ensure that you and your agent have the name and information of anyone that enters your home (and could try to do harm). Document their name, address, driver's license number, license plate number, phone number, and a brief description of their vehicle. It's all the information you'll need if a crime is committed and law enforcement needs to investigate.
3. Provide Viewer Information to Friends, Family, and Agents
Gathering information from potential buyers allows you to do more than supply the police with information. You can also ensure your family members, friends, and neighbors know where you are and who is in your home. That way, if a crime does occur and you fail to show up to work or an appointment, fail to return a call, or need their help, they'll know who you're with.
Your agent should have this information as well, but they may not realize you're in danger until it's too late. Family, friends, and neighbors know your behaviors and mannerisms. Also, let the viewer overhear you sharing their information; criminals are far less likely to strike when they know they're at risk of being caught.
4. Be Wary of Unexpected Agents
Criminals may go to extreme lengths to gain entry into your home. They may even try to pose as a buyer's agent or other housing professionals (inspectors, etc.). As such, homeowners should be wary of anyone that shows up unannounced or without an appointment. Ask for identification before allowing anyone entry into your home. If you still have reservations about letting them in, contact your agent to determine how you should proceed. When all else fails, turn them away. If the visitor really is an agent, they'll be more than understanding.
Listing your home for sale can create additional security risks, so it's important to take additional security measures, and here are the top 9 security measures every home seller should take. #homeselling #realestate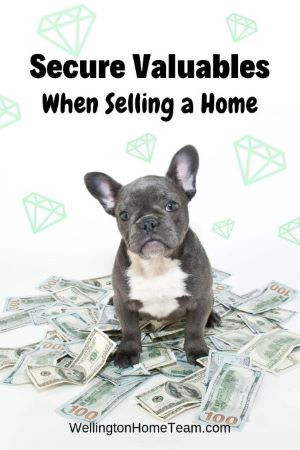 5. Secure Valuables, Medications, and Sensitive Information Before Showings
Prior to allowing anyone in your home, take a moment to secure all valuables (money, credit cards, antiques, jewelry, tablets, computers, etc.), prescription medications, and sensitive information (bills, bank statements, mail, calendars, invitations, etc.).
These are all items that a criminal might use to commit theft or identity fraud. Remove them from the home entirely, if possible, but if not either lock them in your car, a safe, or a personal lockbox. You should also secure your pets to reduce the risk of a possible lawsuit.
6. Skip a Combination Lockbox
While lockboxes are meant to be a means for secure entry into your home, the truth is that combination lockboxes can significantly increase your risk of theft and property damage. Agents are supposed to be the only ones who have the code, but criminals posing as buyers have been known to watch the agent punch in the number, only to return later and illegally gain entry. So, if at all possible, skip the combo lockbox when selling your home. If using one is unavoidable, ensure you understand the protocol and procedures, such as:
What type of lockbox will be used?
Who has access to the code and when?
If anyone else will be showing your house (including other agents or real estate firms)
Who is responsible for securing the home once it's installed?
Who will watch prospective buyers once they're permitted entry?
How showings are tracked?
7. De-Personalize Your Home
Preventing the loss or use of your personal data is only half of the battle. The slyest of criminals can use family photos, fast food receipts, and other seemingly innocuous items to monitor and track you or your family. Remove their ability to gain insight into your life by de-personalizing your home. Store family photos, get rid of any telling receipts or personal items, and do a quick walk-through to ensure there is nothing potentially revealing left in your home.
8. Install a Security System
Installing a home security system can ensure you have video footage if a crime does occur. Some models and programs will even allow you to view your home remotely. Use this added feature to watch over people during showings if you can't be present, or simply check it at night to ensure your home remains safe from vandalism and theft.
9. Skip Open Houses (or Make Them Really Big Events)

An open house might seem like the most unlikely time for a criminal to strike, but most are super sleuths. They know how to slink away in public spaces for a bit more privacy. Once they find it, you're at risk of becoming their next victim. Minimize the chances of this occurring by skipping the open house entirely.
If your house simply isn't getting the foot traffic it needs and an open house seems inevitable, bring in extra eyes during the event. Ask family members and friends to pose as interested buyers. Invite your neighbors. Your Realtor may even be able to bring on a couple of extra agents. The more eyes you have on prospective buyers at the open house, the lower your risk of being the victim of a crime becomes.
Final Thoughts
Selling your home doesn't have to put you at risk for a crime. With a few extra precautions, you and your family can remain safe during the entire process. So make sure to follow all 9 of these security measures when selling your home.
Please consider spreading the word and sharing; 9 Security Measures to Take When Selling a Home
Listing your home for sale can create additional security risks, so it's important to take additional security measures, and here are the top 9 security measures every home seller should take. #homeselling #realestate
Additional Real Estate Advice from Top Professionals
Holding an open house can increase your odds of being burglarized when selling a home. In some real estate markets an open house might be necessary, but in a majority of markets it's not. So before putting yourself and family at greater risk weigh the pros and cons of an open house.
If you decide to have an open house don't leave valuables out. In fact, you should remove all valuables from your home once it hits the market. Unless you are able to secure everything in a safe and have in-home surveillance to ensure nothing is taken.
Some buyers don't understand why real estate agents ask for a pre-approval letter. There are countless reasons why a pre-approval is necessary. Not only do agents want to know a buyer is qualified, so does the sellers. This is also one more security measure a seller can take to ensure they know who's walking into their home.
About the Author
Top Wellington Realtor, Michelle Gibson, wrote: "9 Security Measures to Take When Selling a Home."
Michelle has been specializing in residential real estate since 2001 throughout Wellington Florida and the surrounding area. Whether you're looking to buy, sell or rent she will guide you through the entire real estate transaction. If you're ready to put Michelle's knowledge and expertise to work for you call or e-mail her today.
Areas of service include Wellington, Lake Worth, Royal Palm Beach, Boynton Beach, West Palm Beach, Loxahatchee, Greenacres, and more.
9 Security Measures to Take When Selling a Home