The Home Seller Accepted Your Offer, Now What?
Congratulations! Your home search has come to an end because you found the perfect home for your family. Not only did you find the perfect home, but the seller accepted your offer. It may have taken a little negotiating, but you are officially under contract and on your way to becoming a homeowner.  So now that the seller has accepted your offer what are the next steps? Below is a detailed checklist of steps you need to take from now until the day of closing.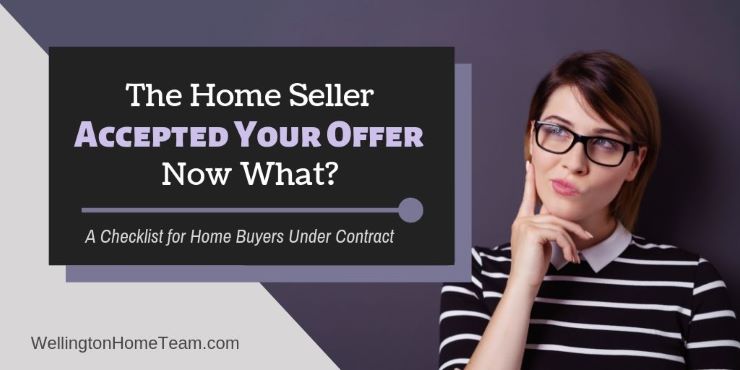 Mortgage
If you're obtaining a mortgage odds are you've already been pre-approved by a lender. However, if you're not sure if you want to use that lender and plan on shopping around now is the time to select a lender. It can take weeks to be approved for a mortgage and time is of the essence, so you need to make this decision asap. Never be afraid to ask questions when deciding between mortgage brokers either.
Once you select a lender you'll want to provide them with a copy of your executed contract along with any additional documentation they request. DO NOT procrastinate on providing your lender with documents. Having a completed file is essential to getting your loan processed and approved otherwise you could blow up your financing.
Escrow Deposits
99.9% of sellers will not accept an offer without an escrow deposit. So if you didn't submit an escrow check with your offer you'll most likely need to. Some buyers will put down a small initial deposit and a larger deposit at a later date. It's important to know when your escrow deposits are due and who's holding escrow. Sometimes the brokerage might be holding escrow while other times the closing company will. Not only do you need to find out when and where the escrow goes, but what form will be accepted. Will the company holding escrow accept a personal check or does it have to be certified funds? Is wiring an option?
Home Inspection

Now that your mortgage approval is underway and you've taken care of the escrow deposits the next step is to schedule the home inspection. Not all buyers think a home inspection is necessary, but it absolutely is. Even if the seller will not be making repairs per the contract it's important for buyers to know what they're getting into.
Little problems can easily become big problems if they're not addressed. And these big problems can be extremely costly. A home inspection will list items in disrepair, items that need to be repaired along with items that will need to be addressed in the near future. Don't be afraid to ask the inspector questions before or after the inspection.
Homeowners Association
If the property you're purchasing belongs to a homeowners association or condo association there might be an approval process. This process might require a completed application, a formal interview and/or for you to attend an orientation. The HOA approval process can easily take 30 days, so you'll want to get your application submitted right away.
Final Thoughts
If you are working with a top Realtor in your area they will provide you a detailed checklist. This checklist should contain all of your contractual due dates and any additional pertinent information. Items like a copy of the HOA application or an address for the escrow company.
They will also be able to provide you with recommendations for lenders, home inspectors, and other service providers. Having a home-buying checklist it will make the process a lot less stressful. The same goes for after closing too! There are must-do's that you should do immediately after closing on your new home.
Please consider spreading the word and sharing; The Home Seller Accepted Your Offer, Now What?
Congratulations you found the perfect home, the seller accepted your offer, and are under contract, now what? Here is a checklist to guide you. #homebuying #realestate
Popular Home Buying and Selling Questions
Are there signs your offer will be accepted on a house? There could be signs your offer might be accepted by the seller. Signs may include the home has been on the market for a while, the seller is motivated, your offer has extremely strong terms or the listing agent may say flat out your offer is solid and should be accepted. However, unless the seller accepted your offer in writing "signs" can be pretty meaningless.
If a seller accepts your offer can you back out? Whether or not a buyer can back out of a contract once a seller accepts it depends on the contract itself. Some real estate contracts allow the buyer to cancel the contract for any reason within a certain timeframe. While other contracts will lock both parties in and make it difficult for either party to cancel.
How long does it take to move into a house after your offer is accepted? The amount of time it takes to move into a house after your offer is accepted depends on several factors, mainly the terms of the contract, but in general it can take several weeks or several months.
I accepted an offer on my home now what? Once you accept an offer on your home both you and the buyer need to perform per the terms of the contract. As a seller, there is not much you need to do other than pack and move out of the house. However, if the buyer's home inspection uncovers issues that need to be fixed you may have to address those items. Your agent will be able to let you know what your responsibilities are by providing a sellers checklist.
About the Author
Top Wellington Realtor, Michelle Gibson, wrote: "The Home Seller Accepted Your Offer, Now What?."
Michelle has been specializing in residential real estate since 2001 throughout Wellington Florida and the surrounding area. Whether you're looking to buy, sell or rent she will guide you through the entire real estate transaction. If you're ready to put Michelle's knowledge and expertise to work for you call or e-mail her today.
Areas of service include Wellington, Lake Worth, Royal Palm Beach, Boynton Beach, West Palm Beach, Loxahatchee, Greenacres, and more.
The Home Seller Accepted Your Offer, Now What?