15 Things to Inspect when Buying a Home
Before you hand over the cash to buy your dream home, you should always make sure that you have read through the home inspection report. The home inspection report is one of the most vital and crucial documents that you should look at before making any financial decisions about the property that you are considering investing in. It will tell you the truth about the property in black and white, and some lenders may request a copy of the home inspector's report.
Why Is a Home Inspection Essential?
Even if you are self-financing your new home, you should insist a home inspection is carried out. The property you are thinking about purchasing may look great, but as with anything else that you buy throughout your life, there is a risk of hidden problems.
Yes, you will have done your best to pick up problems and ask the right questions when you walked through the home with your real estate agent. However, far from all problems in a home are obvious. Hidden problems can, in fact, end up costing you more than the ones you noticed when you first saw the home.
If you don't want to end up with unexpected and unpleasant surprises, it is essential to have a home inspection. It is a good idea to see the home inspection as the first investment in your new home. It will give you an idea of what you will need and allows you to assess the costs associated with any required repairs.
You may even be able to negotiate a lower price.
What Does the Home Inspector Look For?
A home inspector will look at the entire home and go through a checklist. If you have any special concerns, you can address them with the home inspector. For instance, you can tell to check the HVAC system extra carefully and make sure that it is has been well maintained.
These are the most common points a home inspector will take a look at:
Roof
Attic
Plumbing
Electrical
Appliances
HVAC
Windows & Doors
Pests
Mold
Smoke Detectors
Septic System
If the property consists of outside structures that are part of the purchase price, they will also form part of the inspection. There has been a sharp rise in the installation of solar power and wind power systems in many parts of the US. As a result, they, along with water-saving systems, will also form part of the report.
The Roof and The Attic
You will often find the roof and the attic on top of the home inspector's agenda. Roofs are expensive to replace, and sadly many homeowners, neglect them. Often the roof is not checked from one year to the next. It is only when the property is put up for sale, the roof of the house is checked.
Of course, the roof is connected to the attic. This means that if there are any problems with the roof, such as daylight coming through or tile damage, the attic will be affected. The home inspection should include a full structural report on the state of the roof and attic. Points to look out for include damp in the attic, moldy beams, and damaged tiles.
Plumbing, Electrical Systems, and Appliances
Next on the agenda of the home inspector is often the plumbing and the electrical system. That will include any appliances that are being sold with the house. Increasingly, home inspectors check the energy efficiency of home appliances and will report on them. The more efficient home appliances are, the higher they will rate in the home inspection report.
Plumbing is an essential part of any home and will be rigorously inspected. If there are any leaks or suspected plumbing problems, the home inspector may call in a local plumbing company. Replacing pipes is expensive. Your lender and you as the new homeowner, do not want to end up with any bills for replacing expensive pipework.
Any water saving systems that are part of the plumbing will also be checked. Do they work, and are they as efficient as the homeowner claims that they are?
HVAC Systems
Is the HVAC system part of the home inspection? Very much so is the answer to that question. Not only will the home inspector look at the functionality of the installed HVAC system in the property. He will also ask how old it is and even ask for proof of when it was installed.
On top of that, the homeowner will be asked to supply proof of regular maintenance and any work carried out. Remember the average HVAC system lasts between 10 – 15 years, and if the system is old, it is likely that it will have to be replaced.
New energy-efficient systems last for longer and it could be a good idea to consider investing in one. Keep that in mind when you read the home inspection report.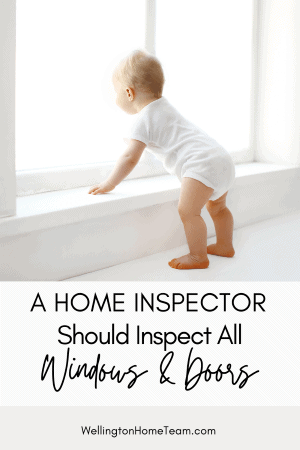 Windows, Doors, and Security
All three are important to a new homeowner. We often think of doors and windows as only part of the structure of the building. In reality, windows and doors are much more important.
Sure, it is important to make sure that they are in good repair and do not need replacing. But, as home invasions are on the increase all over the United States, they should also be considered as part of the security of the home.
It is much easier for a burglar to break in through a damaged window frame, or access your home through a badly fitting door. This is one of the top reasons the home inspector will check all of the windows and doors.
He is also likely to check any security systems that are part of the property. What is the use of having a home security system that does not work properly?
Pests and Molds
Both pests and molds will not only damage your home, but they will represent a threat to your health as well.
It is well known that mold can trigger allergic reactions and serious cardiovascular problems. Also, mold is often a sign of a more serious problem in the home. It could indicate leaking pipes related to both water and sewage installations.
Pests, such as woodworm, can surprisingly quickly wreak havoc and eat their way through any structures made from wood in the home. Treating woodworm or other pests is not cheap. It is really up to the current homeowner to make sure problems are dealt with before the final contract is signed. For peace of mind, call a pest control company to do the inspection and necessary actions as needed.
Smoke Detectors
There was a debate a few years ago on whether smoke detectors should form part of the home inspection. The consensus was that if there are smoke detectors installed in the home, they should work.
If you are thinking about listing your home with a real estate agent, it is a good idea to make sure they work. Go around and test them, and replace the batteries. After all, it is better to make sure that they are doing their job than to get a red flag in the home inspection report.
Septic Systems
Septic systems are also checked by the home inspector. If there are meters visible, he will make sure that they are checked and appear to function.
It is a good idea for the homeowner to have the septic emptied before the house is listed. Receipts and bills for work should be available and form part of the report. What about any mainline sewage systems? They can be hard to inspect, but the home inspector will check that water flows away okay.
Basements
The basement of any home is an essential part of the structure. If a home does not have a basement, there is no need to worry, but if it does, you should ask the inspector to go through it carefully. The basement is one of the places in the home where problems are likely to be noticed before anywhere else in the house. This is often where pipes enter the home and the homeowner may have installed home appliances.
If the basement is in use as a den or spare bedroom, it is essential that any necessary documentation such as builder's guarantees are produced. The basement should be as well insulated as the rest of the home and completely dry.
Garages and Outside Buildings
Yes, garages and other outside buildings form part of the check that the home inspector will carry out. He will go through and check them very much in the same way as he carried out the home inspection of the main home.
Electricity and plumbing systems that form part of the outside buildings will be checked to make sure that they are compliant with current regulations. You would be surprised to find out that many homeowners do their own installations and never have them checked by a professional.
What About Solar Paneling and Wind Power?
Saving money on electricity and other resources such as water is now very popular. It is easy to buy systems that you can install yourself. That is great and every little bit helps as they say.
But, do they work? It is important that both solar paneling and wind power generators work and do their jobs safely and efficiently. And yes, the home inspector will check that they do so. To a home inspector, they are appliances and should be doing the job they are meant to do.
This includes any water-saving devices inside or outside the home. For instance, water from showers, bathtubs, and home appliances can now stored and reused to water the garden. They are just as likely to leak and develop problems as the main plumbing systems and should form part of the inspection.
Final Thoughts
Home inspections are a must and should never be skipped. If you are concerned about anything in the home inspection report, you can always talk to the inspector about it and discuss it with the real estate agent. Always remember that it is your money or your loan, and you will have to pay for any bills once the keys to the home have been handed over.
Please consider spreading the word and sharing; 15 Things to Inspect when Buying a Home
Inspecting a home is a crucial part of the home buying process and here are the top 15 things that need to be inspected. #homeinspection #realestate #homebuying
Additional Home Buying Resources
A lot of questions should be asked when buying a home. In addition, to asking the home inspector questions you should ask your agent, lender, and yourself questions too. Questions like, how much money do you have? What loan programs do you qualify for? You can never ask too many questions when buying a home.
 Don't be "spellbound" when buying a home. As you enter the home buying market you need to realize you won't find the perfect home. Things may not always go your way nor will you always get your way. It's important to be flexible and keep an open mind when looking for your new home.
When buying a home you should focus on location and layout, not things like paint or flooring. Those items can be changed fairly inexpensively. Remodeling a kitchen or bathroom will be more costly, but those can be changed to where the home is located cannot.
About the Author
Top Wellington Realtor, Michelle Gibson, wrote: "15 Things to Inspect When Buying a Home"
Michelle has been specializing in residential real estate since 2001 throughout Wellington Florida and the surrounding area. Whether you're looking to buy, sell or rent she will guide you through the entire real estate transaction. If you're ready to put Michelle's knowledge and expertise to work for you call or e-mail her today.
Areas of service include Wellington, Lake Worth, Royal Palm Beach, Boynton Beach, West Palm Beach, Loxahatchee, Greenacres, and more.
15 Things to Inspect When Buying a Home