Moving can be an exciting time full of hope for the future. New beginnings can feel fresh and open to possibilities that previously felt unlikely. Moving can also be one of the most stressful and overwhelming times in your life. If unorganized, it can put undue pressure on your relationships and result in lost belongings and chaos. The following will explore some of the things that you can do to help ease the burden of moving day so that you can enjoy the excitement of starting a new phase in your life.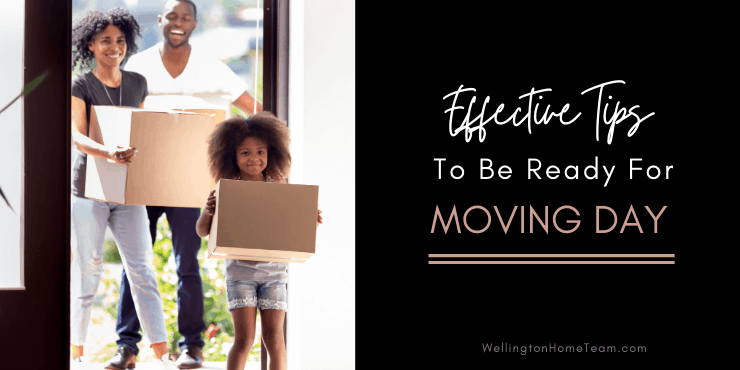 Be Prepared
This one should go without saying, but it often does not. If you know you're moving well in advance (which most people do) you can begin to organize and pack and prepare long before moving day. There are two main paths you should be taking to help yourself prepare. First, you should be doing things to make the moving day itself as smooth and stress-free as possible. Second, you should be doing things to make unpacking and setting up in your new home as simple as can be.
Get Your Supplies Early
Begin early by securing boxes. Boxes can be more difficult to track down than you might first imagine—consider visiting your local beer or liquor store as often these businesses have a ton of boxes they are happy to give away. You might also want to buy totes if you are expecting your belongings to be sitting in a damp area for at least a percentage of the move. You will need far more storage bins and boxes than you first assume.
Save up newspapers in the weeks leading up to the move. These can be used to wrap dishes and other breakables before they are packed and help reduce the risk of things breaking as they are transported. Clothing can also be used to help with this if you're not a newspaper collector.
You will also need tape, thick permanent markers, and blank labels. You're going to want to label everything. Many people feel like they can skip this step and save themselves a few dollars. Yes, you can skip this step. But you shouldn't. When you've been living in your new place for three months and still can't find your dish towels, you will look back on the decision not to label things with frustration.
Downsize, Downsize, Downsize
You have things you haven't used in years. We all do. You have things you hate. You have things you didn't even know you have and you have no idea what they're used for. Take the move as an excellent opportunity to rid yourself of the excess in your life. One of the biggest moving hacks there is, involves having fewer things to move.
This stage can be hard for some people as often there are things you know you don't need, but want to hold onto for sentimental reasons. One trick that can often help is to give yourself a limited amount of space for keepsakes. For example, maybe you'll pick out a chest and tell yourself that you'll only keep enough sentimental items that can fit in the chest. If it's full and you want to keep something else, you'll have to get rid of something in the chest.
Pack Ahead Of Time
Yes, not everything can be packed up neatly in boxes well before moving day. Some things you'll need up until your final day in your current abode. But many things can be packed ahead of time. The holiday dishes, seasonal clothing, most of your books, decorative objects, and keepsakes are just a few examples. The more things you can pack ahead of your moving day, the smoother things are going to be.
Label Everything
It is important that you not only include a list of what is within each bing, box, and bag, but you should also emphasize which room the container belongs in.
This can help you unpack room by room in the new place which will save you a ton of chaos and trouble. You can put all the kitchen boxes in the kitchen, and all the bathroom boxes in the bathroom. You're going to be tired. You don't want to be carrying boxes from room to room.
Effective Tips To Be Ready For Moving Day #movingday
Keep Box Weight In Mind When Packing
This one is easy to forget in the middle of a packing spree, but it is very important. Not only will keeping your mind on the weight of the box or bin you're packing help ensure that items don't get damaged and people's backs don't hurt, but it's also going to make the actual, physical moving easier. As you load up boxes and bins, stop to check how easy they are to lift every so often. You might be surprised how heavy your stuff is.
Pay Attention To Food Shopping
As you get closer to moving day, try to balance your grocery shopping with the number of days you have left in your current home. Yes, non-perishable foods can be moved easily, but many things cannot be. Refrigerated and frozen items might not survive the journey and this can end up costing you money. It might also be worth looking into purchasing a cooler to help ease the transition from one kitchen to another.
Pack Anything That You Need Often In Clear Bins
Things like your phone charger, contact lens solution, and toilet paper should be packed in clear bins. This will make a big difference to you when you're in the new place, surrounded by a mountain of boxes and desperately have to go to the bathroom. Anything that you will need upon first arriving should be easy to spot.
Make Sure You Have An Overnight Bag With Your Essentials
You and each member of the family should have a bag with a change of clothes, basic hygiene products, and a book kept separate from the rest of the moving mayhem. You likely will be too tired when you arrive at the new place to begin unpacking and this will make sure you have what you need to make it to the following morning without having to tear through all your boxes and bins.
With the above tips kept in mind, you are well on your way to a move with minimal stress. Remember to take a moment and learn about proper lifting to ensure that while you're loading up the car you don't put unnecessary strain on your back. Back injuries are serious and can have life-long effects.
Moving can be an exciting time, it can also be one of the most stressful and overwhelming times in your life, but here are effective tips to make it easier.
Please consider spreading the word and sharing; 9 Effective Tips To Be Ready For Moving Day
About the Author
Top Wellington Realtor, Michelle Gibson, wrote: "9 Effective Tips To Be Ready For Moving Day"
Michelle has been specializing in residential real estate since 2001 throughout Wellington Florida and the surrounding area. Whether you're looking to buy, sell, or rent she will guide you through the entire real estate transaction. If you're ready to put Michelle's knowledge and expertise to work for you call or e-mail her today.
Areas of service include Wellington, Lake Worth, Royal Palm Beach, Boynton Beach, West Palm Beach, Loxahatchee, Greenacres, and more.