What is a Second Mortgage? 5 Important Facts to Know
If you own a home and you need money for whatever reason, you could use your home's equity. Taking a second mortgage on your property will give you access to the funds you need, but at what cost?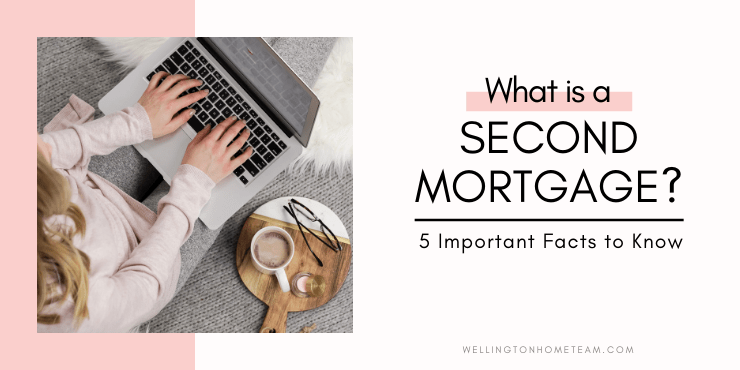 When you hear terms like second mortgage vs refinance or second mortgage vs home equity loan it can be confusing. So if you are wondering what is a second mortgage or how does a second mortgage work this article is for you! Let's take an in-depth look into second mortgages, why you should consider them, as well as the downsides and the alternatives.
What is a Second Mortgage?
If you already have a mortgage that you have been paying down for a while, you will have some equity in the property. A second mortgage will use this equity as collateral for a new loan.
A lien is taken out by the lender on your home for the amount of money they are lending to you. This lien could give them the right to seize your home, aka foreclose, should you fail to stick to the payment schedule. Until you have paid off your mortgage with the second lender, their lien will remain on your home.
Typically, this type of mortgage has lower interest rates than some other types of lending. So if you're looking for a way to pay off your credit card debt, this could be a possible answer. Though you can use the money you get from a second mortgage for almost any purpose.
How Do You Increase Equity?
As you pay your mortgage each month, some will go towards paying the interest, and some will pay down the principal loan. The money you use to pay the principal is adding to the equity you have in the home.
As well as paying the mortgage, you can also gain equity thanks to your home increasing in value. Though if there is a fall in the value of houses in your area, it does mean you will lose equity.
Making upgrades to your home is another way in which you can gain equity. This should increase the value of your home when it is assessed, which gives you the opportunity for a larger second mortgage.
Second Mortgages; How Do They Work?
As the value of the equity in your home grows, it allows you to take another mortgage to unlock this money. Don't expect to be able to use all of your equity, however, lenders normally have to leave you with 20% equity in the home.
The value of your home will need to be assessed, and the amount you still owe on your first mortgage will be used to calculate the equity you have to lend against.
If your application for a second mortgage is approved, you'll then have two mortgages you need to pay each month. But you will then have either a lump sum or a line of credit, depending on the type of mortgage you choose.
What is a second mortgage? If you are one of the many asking this question this article takes an in-depth look at second mortgages along with the pros and cons that come with them. #secondmortgage
There are two main types of second mortgages available:
* Home equity loans
* Home equity lines of credit
A home equity loan is a straightforward second mortgage that gives you a lump sum based on your available equity. Just like your first mortgage, you will pay it back monthly, including interest. You can expect the mortgage term to be from 5 to 30 years, which means that the lien will remain on the property until you have made all of the payments on that schedule.
A home equity line of credit, often referred to as a HELOC, is where the lender makes money available to you as you need it. Much like a credit card, you can borrow the amount you need up to your limit. Your limit will be the amount of equity available to lend against.
The lender might give you a credit card or checks to allow you to make use of this line of credit. You can also use this credit multiple times as long as you pay it back each time. If you have $20,000 available to you as credit and you spend $20,000, when you pay back the money you can then use it again.
A HELOC only operates for a certain amount of time, and this is known as a draw period. When this ends, you will be expected to repay the credit you have used. This could be required to be paid back in one go or by monthly installments.
If you are unable to repay the loan when it is due, the lender can use the lien to take your home as payment.
What Alternatives are There to a Second Mortgage?
A good alternative to a second mortgage is to refinance. This way, instead of paying two mortgages, you can refinance your first mortgage with another home loan that could give you lower interest rates and better terms.
You can opt for a cash-out refinance mortgage, which allows you to increase your home loan so that you will have more money available. This will be paid to you as a lump sum, but even though you have increased your lending, your monthly payments might not increase that much with a lower interest rate.
The Pros and Cons of Choosing a Second Mortgage
If you are considering taking out a second mortgage, there are pros and cons when using this type of loan.
Second Mortgage Pros
No usage restrictions; you can use the money you get from a 2nd mortgage for any purpose. So whether you want to use the cash to renovate your home or tour the world, it is entirely up to you.
Larger loan amounts; depending on the amount of equity you have in the home, you could get substantially more than you could from other sources.
Lower interest than other types of lending; since the equity in your home is securing the debt, lenders can offer lower interest over credit cards and other types of loans.
Second Mortgage Cons
Higher interest compared to refinancing; since the lender of your 2nd mortgage has less protection should you default on the loan, interest rates tend to be higher.
Increasing your monthly payments; when you take on a 2nd mortgage, you still have to pay the first one. This means two separate mortgage payments each month that could stretch your finances.
Should You Take Out a Second Mortgage?
Now that we've explained what is a second mortgage and discussed the pros and cons it's time to decide if it's right for you. If you have a large bill to pay, or you'd like to reduce your credit card debts into one cheaper loan, a 2nd mortgage can work very well. But before you choose this type of mortgage, you should consider if refinancing is a better option that will cost you less in the long run.
Additional Resources
Whether you have one mortgage or two if you default the lienholder can foreclose on your home. However, you may have options to avoid foreclosure, like doing a deed in lieu of foreclosure.
There are a lot of myths about mortgages, which is one of the many reasons to work with a top lender. Someone who will walk you through the mortgage process from start to finish so you know the difference between a mortgage fact and myth. They will also be able to educate you about what is a second mortgage and if it's right for you.
Wondering how to get your home improvement loan to pay off? There are a few options if you're looking to go this route.
A second mortgage example; If you owe $250,000 on your home but the market value is $600,000 if you qualify you could possibly take a second mortgage out for the difference.
Please consider spreading the word and sharing; What is a Second Mortgage? 5 Important Facts to Know
What is a second mortgage? If you are one of the many asking this question this article takes an in-depth look at second mortgages along with the pros and cons that come with them. #secondmortgage
About the Author
Top Wellington Realtor, Michelle Gibson, wrote: "What is a Second Mortgage? 5 Important Facts to Know"
Michelle has been specializing in residential real estate since 2001 throughout Wellington Florida and the surrounding area. Whether you're looking to buy, sell, or rent she will guide you through the entire real estate transaction. If you're ready to put Michelle's knowledge and expertise to work for you call or e-mail her today.
Areas of service include Wellington, Lake Worth, Royal Palm Beach, Boynton Beach, West Palm Beach, Loxahatchee, Greenacres, and more.
What is a Second Mortgage? 5 Important Facts to Know