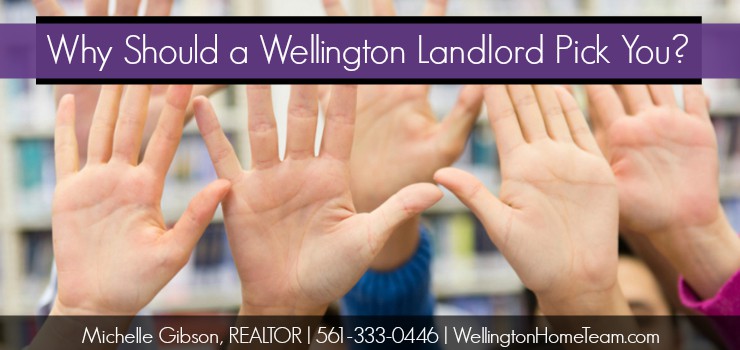 Why Should a Wellington Landlord Pick You?
It is very important for prospective tenants to understand first impressions mean everything when renting a home and that first impression is usually the rental offer, so they need to put their best foot forward and let the landlord know why they should accept them as tenants.
Oftentimes tenants who do not put their best foot forward won't be accepted by the landlord. Unlike a seller who has zero vested interest in their home after they sell it a landlord maintains ownership after the tenant moves in, so they want to make sure they pick a great tenant.
A few weeks ago I received an offer on one of my rental listings and unfortunately, it did not scream "pick me, pick me."
1. The prospective tenants offered 17% less than the list price.
2. They had bad credit and went through bankruptcy.
3. The proof of income appeared steady.
4. Had two large dogs.
5. Had zero references other than their agent saying they're"great people."
Without hesitation, the landlord turned the offer down. Side note: The median list to rent price for an annual unfurnished rental in Wellington Florida this year is 100%, meaning tenants are paying the full asking price.
The tenants decided they really wanted the house, so they came back with a full price offer, but unfortunately, the landlord wasn't even interested.
Where did these prospective tenants go wrong? In my opinion, if a tenant is weak in an area like credit they need to be strong in other areas like price, income, and rental history. If they have excellent rental history prove it, they shouldn't assume their agent saying they're "great people" is sufficient enough. If they have pets, large or small, introduce them and put down a large non-refundable pet deposit.
Would the landlord have accepted the tenant's offer if they came in at full price originally? Possibly, but unfortunately, their original offer was weak and didn't leave a great impression with the landlord.
If you are looking to rent a home in Wellington Florida don't leave the prospective landlord wondering why they should pick you, let them know why.