9 Steps to Renting a Home in Wellington Florida
Navigating the process of renting a home in Wellington, Florida can prove to be both challenging and confusing. So to make the process smoother I've created a series, "Wellington Florida Rental Tips," designed to walk you through each step of the rental process. Following these 9 steps will not only simplify the process of securing a home in Wellington, Florida it will make the entire process easier.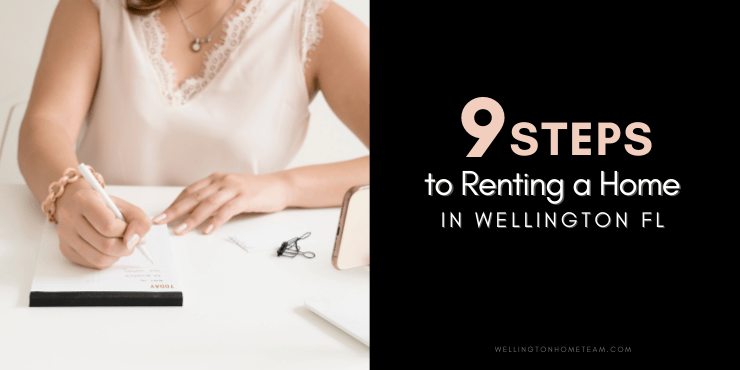 RENTAL TIP #1: Determining Your Move Date
After making the decision to rent a home in Wellington Florida the very first thing you need to do is determine your move date. If you look too early you will be wasting time and energy, but if you look too late you might find yourself scrambling.
So when should you start your Wellington rental search? My recommendation is to find a rental agent 45-60 days prior to your actual move date and start looking 30-45 days out.
Occasionally a Wellington landlord will list their property in the MLS 45-60 days before a tenant is able to take occupancy, but that is very rare. Typically 95% of the homes listed for rent in Wellington are available for immediate occupancy or within 15 days. So if you don't have to move for 60-90 days it's highly unlikely a landlord will hold a property for that length of time. Odds are they'll be able to find another qualified tenant much sooner. The longest I've seen a landlord hold a property is for 30 days. So you'll want to keep these timeframes in mind when renting a home in Wellington.
Rental Tip #2: Determining Your Needs and Wants
Now that your move date has been established the next step is to come up with a list of your "needs" and "wants," what you're looking for in a rental property. While your budget will narrow down your search and ultimately determine how many of your needs and wants you'll be able to obtain it's still important to come up with a list. By doing so it'll help you stay focused and remind you of what's most important as you view homes for rent.
Items on your list may include; type of property, neighborhood, number of bedrooms, number of bathrooms, garage, fenced yard, swimming pool, open floorplan, and tile throughout. Additionally, if you have a pet or pets make sure they are at the top of your list because like your budget they too will narrow down your search. Once your list is created you'll want to go through and number everything starting with one as the most important. For most tenants, budget and pets will be the first two items on the list followed by the number of bedrooms.
Rental Tip #3: Gathering Documentation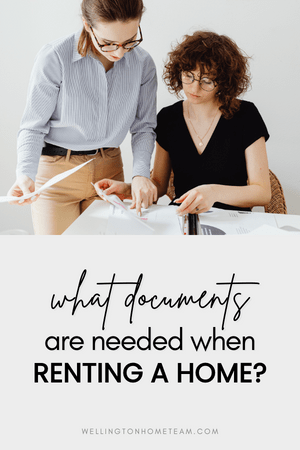 After establishing your move date and a list of needs and wants it's time to start gathering documentation. Now, your real estate agent will write an offer, known as the contract to lease, once you find a property. However, there are documents you can start gathering prior to starting your search. While every landlord will have different requirements most will want the following items;
Rental Application
Copy of Drivers License
Recent Paycheck Stub and/or Tax Return
Introduction Letter (If you have bad credit or a unique situation explain why)
Credit Report (Most real estate brokerages will need to pull this information)
Why is it important to collect these documents beforehand? By having them ready, the moment you find the perfect property, you can promptly submit an offer. Not being prepared could cause a delay that might result in losing the property to another prospective tenant. So don't skip this important step when renting a home in Wellington.
Rental Tip #4: Choosing an Agent
Now that you decided on your move date, know the type of property you're looking for, and have your documentation in hand it's time to hire a rental agent. You might think it'll be easier to search for a rental on your own but I assure you that enlisting an agent will not only streamline the entire process but also safeguard you from potential scams.
Yes, the internet is plagued with rental scams and countless tenants have lost their entire savings falling for one of these scams. Additionally, instead of calling 5 agents to view 5 different properties one agent will be able to show you all 5 properties. Still hesitant about the value of hiring a rental agent? Consider this: in the majority of instances, the Wellington landlord covers the real estate commission, making their services cost-free for you.
Planning to rent in Wellington Florida? If so make the process easier by following our 9-step guide when renting a home in Wellington Florida. #realestate #wellingtonfl
Rental Tip #5: Looking at Homes for Rent
While looking at homes first might seem like the logical first step for renting a home in Wellington. However, if you take the time to complete these 4 steps ahead of time not only will you save time but it'll set you up for success. If a tenant is prepared and organized, their rental agent will be able to quickly pinpoint properties that check their boxes. So while it might be enticing to jump in a car and go look at homes for rent I highly recommend following these rental steps in order.
Rental Tip #6: Writing an Offer
Now that you found the perfect home it's time to submit an offer! The biggest key to success and increasing the odds of having your offer accepted is being prepared upfront, offering strong terms, and submitting a complete offer package. Below are the 8 items that are usually included in a rental package:
Items included in a Winning Rental Offers:
1. Contract to Lease: This is the written offer that lists the tenant's terms and conditions, which must be signed by everyone who will be on the lease.
2. Rental Application: This will typically list your current address, past and present employers, type of vehicles, number of occupants, and pets.
3. Copy of Drivers License: Make sure to include a drivers license or state-issued id for all occupants over the age of 18.
4. Proof of Income: Recent paycheck stubs or W2 to verify income.
5. Credit Report: Usually anyone over the age of 18 will have to provide or have their credit report pulled.
6. Background & Eviction Check: Anyone over the age of 18 will usually have to go through a full background check and eviction check as well.
7. Introduction Letter: If you have bad credit or a unique situation explain why, and make the prospective landlord focus on you NOT the number on a piece of paper.
8. Copy of Deposit Check: This is a deposit to hold the property, which is usually one month's rent.
Submitting an offer with these 8 items will increase the odds of your offer being accepted.
Rental Tip #7: Your Offer Was Accepted, Now What?
Congratulations your offer was accepted! While you're closer to the finish line you're not there yet. Here are the next steps once your offer has been accepted.
Sign the Lease: After offer acceptance the landlord will prepare the lease, which is usually completed within 1-7 days of offer acceptance.
Submit the Deposit: The lease will spell out when deposits are due. Most landlords will initially collect one month's rent upfront. Some tenants will have already submitted this deposit with their offer while others will submit it at lease signing. The remaining balances due will be spelled out in the lease.
Submit the HOA Application: If the property belongs to a homeowners association (HOA) you will most likely need to obtain HOA approval. This process typically takes 7-30 days and the application process comes with a fee. The average HOA application fee is around $100-$500.
Renters Insurance: If the landlord requires renters insurance or you want to obtain renters insurance now is the time to start shopping around and secure a policy.
Rental Tip #8: Turning on the Utilities 
As move-in day approaches you'll want to make sure utilities are set up ahead of time, so you don't move into a home that doesn't have electricity or water. Below are a few helpful numbers when renting a home in Wellington:
Electricity: Florida Power & Light 561-697-8000
Water: Village of Wellington 561-791-4010
Cable & Internet: AT&T 855-703-1688
Cable & Internet: Comcast 800-934-6489
Additional Helpful Numbers:
Village of Wellington 561-791-4000
Police Non-Emergency 561-753-8547
Palm Beach County School Board 561-434-8000
Parks & Recreation 561-791-4005
Rental Tip #9: Move-in Day!
Move-in day has arrived and it's time to move into your new Wellington home! The first thing you'll want to do is complete a walkthrough of the home and document any broken, missing, or damaged items. This is necessary in order to protect your security deposit when it's time to move out.
After you have completed the walkthrough you'll want the Wellington landlord to sign off on the final walk-through inspection. If the landlord is unable to attend have the listing agent or your agent sign off acknowledging the damage. Additionally, I highly recommend taking photographs of any issues and e-mailing them to the landlord on the day of move-in so all parties have a record.
Once the walk-through is complete it's time to pay your outstanding balance to the landlord, if you have one. These funds will need to be in the form of certified funds, such as a cashier's check.
The very last step is getting all of the keys and remotes; keys to the property, clubhouse, and/or mailbox key along with any garage and/or gate remotes. While the landlord's contact information is in the lease, it's wise to confirm this information on move-in day.
Final Thoughts
By following these 9 steps to renting a home in Wellington Florida, you can confidently navigate the process, from start to finish. Being prepared ahead of time will ensure a smooth and successful transaction.
If you need assistance finding a home to rent in Wellington Florida call 561-333-0446 or complete our Online Rental Questionnaire.
Please consider spreading the word and sharing; 9 Steps to Renting a Home in Wellington Florida
Planning to rent in Wellington Florida? If so make the process easier by following our 9-step guide when renting a home in Wellington Florida. #realestate #wellingtonfl
About the Author
Top Wellington Realtor, Michelle Gibson, wrote: "9 Steps to Renting a Home in Wellington Florida"
Michelle has been specializing in residential real estate since 2001 throughout Wellington Florida and the surrounding area. Whether you're looking to buy, sell, or rent she will guide you through the entire real estate transaction. If you're ready to put Michelle's knowledge and expertise to work for you call or e-mail her today.
Areas of service include Wellington, Lake Worth, Royal Palm Beach, Boynton Beach, West Palm Beach, Loxahatchee, Greenacres, and more.
9 Steps to Renting a Home in Wellington Florida