Are You Wasting Money Preparing Your Home for Sale?
Preparing your home for sale can be just as important as pricing it right, you will only get one opportunity to make a first impression with prospective home buyers and Realtors. However, do you know what changes will help you obtain top dollar and what changes could be a complete waste of money?
There are countless articles and even TV shows that give staging and renovation tips for home sellers, but not all of these tips are going to help your home sale.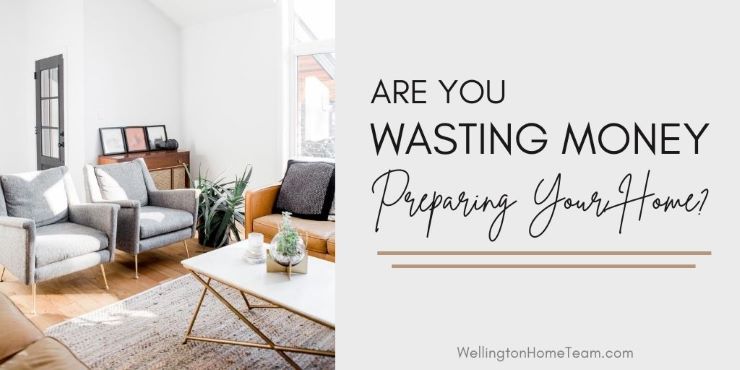 So what Tips are Must Do's, Maybes, and No Ways?
Below are the most common staging and renovation tips and how they might impact your home sale.
New Paint
In most cases, a seller can never go wrong with a fresh coat of neutral paint. However, if your current paint color is neutral and the walls are in good condition it might be more cost-effective to touch up areas that need addressing. Don't have any touch-up paint? Most home improvement stores are now able to color match your current color.
Fresh Landscaping
A buyer's first impression of your home isn't when they walk through the front door, it's when they drive up. So it's imperative your home has great curb appeal, which usually starts with landscaping. Make sure your grass is always trimmed, weeds are always pulled, and if you use mulch make sure that it's fresh. Spending a few hundred dollars on flowers, shrubs, and mulch will always be a great investment.
Adding Granite Countertops
Not all homes need granite countertops to get top dollar, it all depends on your price point and a buyer's expectations. In the upper price points, hard surface countertops are the norm, so if you have formica you'll want to upgrade. However, if your current countertops are comparable to your competition and/or you're in the lower price point it probably won't be cost-effective to spend thousands of dollars on new countertops when it may only net you a few hundred dollars if anything at all.
Are you Wasting Money Preparing Your Home for Sale?
New Appliances
Brand new appliances can be a big selling point for a lot of buyers, but it doesn't necessarily equate to more money in your pocket. If your appliances are on the older side (10+ years) or mismatched replacing one or all may be something to consider. However don't expect a 100% return on your investment, odds are new appliances will only make your home more appealing to buyers, it's unlikely they'll pay thousands of dollars more for them.
Declutter & Organize
Space sells! Decluttering and organizing your home doesn't cost a dime unless you hire a professional, and it will always pay off. Some sellers may only need to do minor things, like clear off countertops while others might need to pare down furnishings and purge closets and cabinets. 
Homebuyers will look in closets and cabinets, so it's important to organize those too! Take it a step further and organize your clothes by color. Organized closets will always look bigger than closets that have clothes that are crammed into the closet and falling off the hanger. The same goes for shoes, instead of having a pile of shoes on your closet floor put them on a shoe rack or shelf.
New Carpeting
The general consensus for replacing carpeting is usually a must-do, but in my experience new carpeting may not always pay off. This is where getting an expert opinion from your Listing Agent will come into play, they should be able to tell you if it's a wise investment or a waste of money.
Home Maintenance
Make sure everything is checked off your "to-do list." Ceiling stain from a repaired roof leak? Paint it. Broken faucet? Replace it. Does your tub need new caulking? Caulk it. Ripped screen? Fix it.
Home Addition
In most cases, this will be a no way. However, if the cost of the addition will significantly increase a home's value it may be something to consider. It's all about the numbers! If an addition costs $50,000 and will increase the value of a home by more than $100,000 it may be worth going through the process.
Remodeling Kitchen and Bathrooms
Just like home additions, this one is usually going to get a no way, but sometimes doing inexpensive things like installing new faucets, new lighting, or replacing a vanity could pay off.
Final Thoughts
Prior to spending a dime preparing your home for sale I highly recommend contacting a top Realtor in your area and get their advice on what changes need to be made. If you're looking to sell your Wellington home I welcome the opportunity to meet with you and give you my expert opinion on what changes could benefit your home sale.
Please consider spreading the word and sharing; Are you Wasting Money Preparing your Home for Sale?
If you're getting ready to list your home for sale odds are you're in the process of prepare it. However, are you wasting money doing so? #homeselling
Additional Home Selling Resources
A big part of preparing a home for sale is staging. Bill Gassett shares different home staging tips that are sure to draw buyers in.
Are you renovating your home? Whether you're staying or selling there are smart renovations and not so smart ones. Kevin Vitali explains what renovations homeowners should be making.
In addition to staging a home for sale it also needs to be cleaned up. Paul Sian shares an excellent list of what homeowners need to clean as they prepare their home for sale.
About the Author
The above real estate article "Are you Wasting Money Preparing your Home for Sale?" was written by Michelle Gibson of Wellington Florida Real Estate. Specializing in residential real estate since 2001 Michelle Gibson is experienced in assisting buyers, sellers, landlords, tenants and would love to share her knowledge and expertise and guide you through the entire real estate process.
We service the following areas; Wellington, Lake Worth, Royal Palm Beach, Boynton Beach, West Palm Beach, Loxahatchee, Greenacres, and more. If you are considering selling your home, we welcome the opportunity to work with you and list your home with a top Realtor in Wellington Florida