Greenacres Bowl | Greenacres Florida Bowling Alley
Greenacres Bowl is located in Greenacres Florida and is a great place to get together with family and friends for a day or night of bowling.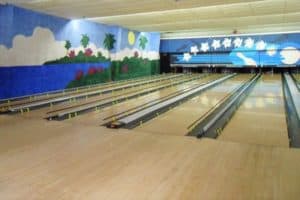 Both of my sons have attended several birthdays and "end of the year" school parties over the years at this popular Greenacres Florida bowling alley and every time they have a blast. There is nothing better than a group of kids getting together for an afternoon of bowling and pizza.
Besides hosting great Bowling Parties they also offer "Open Bowling" along with Bowling Leagues. For more information call or visit them online @ www.GatorBowling.com
In addition to bowling, they also have a Billiards Room and Arcade for everyone to enjoy.
Bowling isn't complete without great food, which they have a full kitchen open daily serving homemade pizza and finger foods. They also have a Pro Shop for all your bowling needs.
Greenacres Bowl
6126 Lake Worth Road
Greenacres, FL 33463
Palm Beach County Florida
561-968-0100