Home Security Tips For Homeowners | 10 Tips to Secure Your Home
No matter where you live in the world, home security is important. Crime prevention is more important than ever before. Police forces are overstretched when it comes to manpower and find it more or less impossible to attend all crime scenes. Most home-invasions and break-ins now go unsolved.
Of course, home invasions come in many shapes and sizes. They can result in both thefts and physical violence. It is better to make sure you have the right home security system in place to prevent crime rather than having to deal with the aftermath.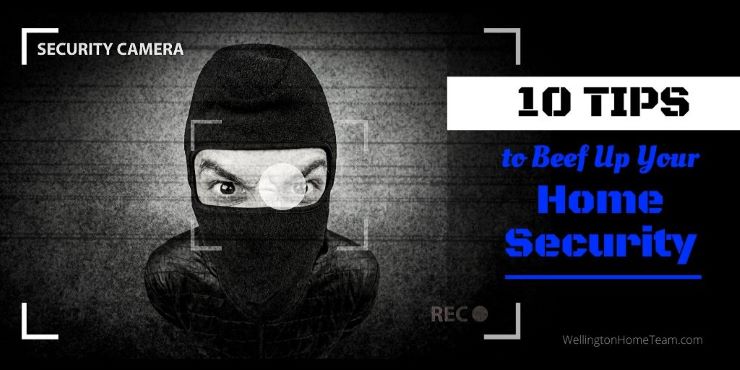 Do a Home Security Audit
Before you invest in any kind of home security, it is a good idea to go through your home checking for problems areas. Doors and windows are often the main problem areas. However, you should also check your garage and garden. Garages are often packed with expensive gear, and most of the time, we underestimate the value of what we keep in our garages.
Secure Your Garage Door
Alarms for garage doors are relatively inexpensive. If you don't have a lot of power coming into your garage or are concerned about your electricity bills, there are some excellent garage security systems you can install to make your garage more secure. Solar-powered alarms and security systems have come along way in recent years, and they are a good fit for any areas outside of the house.
Not only do you want to make sure your garage is safe, but you also want to make sure any other outside buildings are secure as well. After all, outside freestanding buildings are easy to break into and to hide in. It is less likely you will hear a door open late at night or a window break in an outside building.
Windows In the Home
Surprisingly, many homeowners don't check their window locks on a regular basis. Strong winds and storms can easily damage window locks and even handles. Always check the windows from both the inside and outside to see if you can detect any damage, or worse still, signs of an attempted break-in. The thief may not have got in that night, but he could come back another night.
If necessary replace locks and above all, make sure you quickly repair any broken windows or window frames. Installing glass break sensors is a great idea. It is one of the most cost-effective ways of beefing up your home security without resorting to individual security cameras.
Window bars are another great way to step up security if your neighborhood is going through a crime spree or when you have particular security concerns.
Turn Your Attention to Your Doors
It is not only your front door which you should make sure is secure. The average homeowner often forgets about securing patio doors and French doors. Doors leading to the outside on the upper floor of the home, such as a terrace or balcony, are just as vulnerable to break-ins as doors on the ground floor. Make sure you secure them as well by installing good quality locks and door sensors.
Home Security Tips For Homeowners | 10 Tips to Secure Your Home
Front Door Security Systems
Sadly many home invasions take place when someone forces their way in through the front door. Violent home invasions often begin in this way. Once a burglar is in your home, it is more or less impossible to get them out unless the police can help you. But, what if you can't call the police?
A front door video system is worth its weight in gold. Many of them can now be controlled from different parts of the home such as the upper floor or even from the garden by use of an app on your mobile phone. It is worth spending a little bit extra on a high tech home security system for your front door.
Can you install your own home security system? Thanks to modern technology, most video systems are easy to install. You can even use some of them to see who is lurking by your front door when you are not at home. Along with home security cameras, a video door system is one of the best options when it comes to making sure you are safe in your home.
Light Up Your Garden
Burglars often plan ahead when they consider breaking into a property. Many hide in the garden for hours when they know your property is worthwhile breaking into. When you are out, a home invader may take the opportunity to peep in through your windows and identify items of interest. More than likely, they will know exactly where to go in your home.
It is nice to have a great looking garden, but a well-planted garden full of trees and shrubs is a home invader's dream. They can hide and wait for you to go to bed or leave home. Make sure you can easily see all of your garden from the windows. A quick inspection before you go out or go to bed is another good idea.
On top of that, you should light up your garden. Running garden lights do not have to cost you anything once you have invested in them. Solar-powered lights are now much more powerful and don't cost anything to run. You can choose to install them on your house and place them in strategic locations throughout the garden. A burglar is not very likely to want to "explore" your garden, or hide in it when it is well lit.
Home security is all about planning ahead to avoid the worst. There are many precautions you can take, here are 10 home security tips to take. #homesecurity #realestate
Final Thoughts
Home security is all about planning ahead to avoid the worst. Getting homeowners insurance will protect your assets, but there are many other precautions you can take on top of the ones mentioned here.
No home should be without an installed wall safe, and adding a couple of panic buttons throughout the house is also a good idea. A panic button is especially useful when it comes to late-night home invasions. Some self-installed home security system will include a panic button which can put you in immediate touch with your local police station via an app on your mobile phone or independently.
It is always better to be safe than sorry when it comes to keeping your family safe. Technology has made it is easier for us to install our own home security systems and we should all make the most of what is on offer. If you plan on selling your home there are extra security measures that should be taken.
Please consider spreading the word and sharing; Home Security Tips For Homeowners | 10 Tips to Secure Your Home
About the Author
Top Wellington Realtor, Michelle Gibson, wrote: "Home Security Tips For Homeowners | 10 Tips to Secure Your Home"
Michelle has been specializing in residential real estate since 2001 throughout Wellington Florida and the surrounding area. Whether you're looking to buy, sell or rent she will guide you through the entire real estate transaction. If you're ready to put Michelle's knowledge and expertise to work for you call or e-mail her today.
Areas of service include Wellington, Lake Worth, Royal Palm Beach, Boynton Beach, West Palm Beach, Loxahatchee, Greenacres, and more.
Home Security Tips For Homeowners | 10 Tips to Secure Your Home