Property Maintenance: How To Get Your Home Ready For Spring
Annual home maintenance can cost around 1%-4% of your home's total value, USA Today Reports. So, if your home's worth $300,000 for example, you can expect to spend anywhere between $3000-$12,000 every year on upkeep. If you've neglected your home over the winter, now's the perfect time to freshen everything up in anticipation of spring and summer. By taking care of key property maintenance issues, you can get your home in tip-top shape for the warmer weather.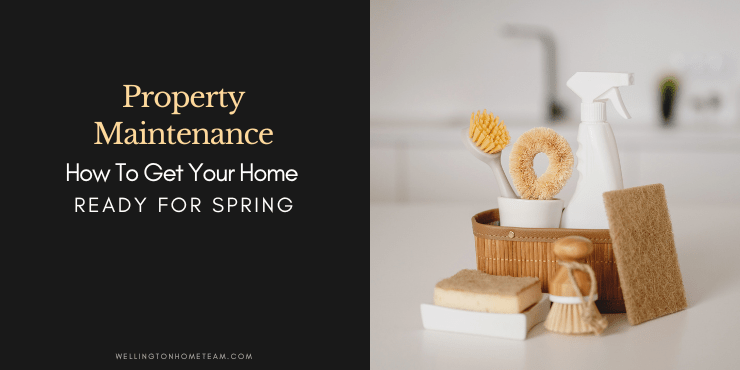 Check Out Your Roof
It's important to take care of your roof, particularly if you live in an area with snowy conditions over the winter. So, grab your ladder (make sure it's stable before climbing) and keep an eye out for any leaks, cracks, or damaged shingles on your roof.
If you notice any problems, contact a professional roofer (minor repairs cost anywhere between $500-$1,000). You may also want to give your roof a good cleaning. Dark streaky stains, for example, are commonly caused by algae, and are merely a cosmetic issue. Alternatively, moss is a slightly more pressing problem – it can cause asphalt shingles to lift or curl, so they're more easily dislodged in high winds. Both moss and algae can be easily cleaned with a 50/50 solution of bleach and water. Apply the solution and leave for around 15 minutes before rinsing. Avoid scrubbing or pressure washing so as not to damage the shingles.
Refresh Your Deck or Patio
Your deck has most likely been neglected over the winter months, and there's now a layer of dirt and grime to show for it. Now's therefore the time to restore your deck or patio so it's ready for use this spring and summer.
Start by sweeping your deck or patio to get rid of any dirt and debris. Next, check it over for loose nails, cracked wood, cracked cement and/or sinking paver tiles. You'll also want to pull out any sticks, leaves, or other debris out from between the boards.
Your deck will then be ready to clean – begin by spraying it down with a garden hose. Next, fill a garden sprayer with a cleaning solution and spray your deck. Leave for ten minutes before scrubbing with a broom and spraying with the garden hose. If your deck's made of wood, it's important to protect it against algae and wood rot – so be sure to treat it with borate. Leave your deck to dry for at least a few days, and it'll then be ready to stain and seal.
If you have a paver patio you can try cleaning it with a simple cleaning solution and hose but odds are you'll need to have the patio professionally pressure washed.
Clean Your Windows
Overcast days are ideal for cleaning your windows – direct sunlight can result in unwanted streaking. So, start by lifting your shades or blinds and washing the windows with a microfiber cloth and glass cleaner.
Once you're done, lower your shades or blinds and use a duster to dust them. Then vacuum the fabric shades and drapes to finish. If you don't have the time, means, or energy, a professional cleaning service can do the job for you. A professional deep clean, in particular, can thoroughly clean and sanitize your windows, as well as the rest of your home. 
Replace Your HVAC's Air Filters
Regularly replacing your home's HVAC air filters is essential to ensure healthy indoor air quality. In fact, if you're particularly concerned about air quality, you may want to change them monthly. For example, if you have pets, live on a busy road, or you or a family member has allergies, clean air naturally becomes an even higher priority.
Another item on your property maintenance checklist is servicing your air conditioning unit – you should ideally contact a professional to take care of this. Meanwhile, you can take a look at your home's ductwork and vents and check for blockages. If you do have any blockages, an HVAC service professional can resolve the problem.
Don't Forget Your Chimney
Even if you didn't use your fireplace much or at all, your chimney still needs regular maintenance. Ideally, it should be inspected once a year, and also cleaned regularly – although how often depends on how regularly you use it.
Your chimney is responsible for channeling dangerous gasses from your fireplace out of your home, and therefore keeping the indoor air clean and breathable, so it pays to get it serviced annually. To determine whether or not your chimney needs cleaning, use a flashlight to look into the flue. If you can spot around 1/8th of an inch of soot buildup, it's time to have the chimney cleaned. Soot doesn't only cause a terrible mess if it gets into your home, it also poses a health risk as it's a lung irritant.
Additionally, if there's even the smallest amount of glazed creosote in your chimney, it's even more important to get it cleaned. Creosote is a carcinogen that can potentially cause cancer in humans. It's also a corrosive and highly flammable – which means it can easily spark a chimney fire. It's therefore essential your chimney is kept soot and creosote free. 
Check Your Smoke Detectors & Carbon Monoxide Detectors
Around three in five home fire deaths in the United States are the result of improper smoke detector use. Shockingly, 21% of Americans report disconnecting their smoke alarms (therefore creating a major fire hazard), while 9% admit they don't have one at all.
It's important to ensure your smoke and carbon monoxide detectors are in good working condition for spring – you should change their batteries once a year. Moreover, you may also want to consider switching to a smart detector; these devices don't just sound smoke and carbon monoxide alarms inside your home, but they also send alerts to your smartphone, prompting you to call emergency services. This is a must-do on your property maintenance checklist.
Final Thoughts
Taking care of your homes property maintenance doesn't have to be complicated or time-consuming. By taking care of items, like your roof, cleaning your windows, refreshing your deck, replacing your HVAC filters, getting your chimney inspected, and checking your smoke alarm and carbon monoxide detectors you can successfully get your home ready for spring.
Please consider spreading the word and sharing; Property Maintenance: How To Get Your Home Ready For Spring
Annual property maintenance is a must. Otherwise, small issues can go unnoticed and turn into large expensive issues down the road. #propertymaintenance #homemaintenance
About the Author
Top Wellington Realtor, Michelle Gibson, wrote: "Property Maintenance: How To Get Your Home Ready For Spring"
Michelle has been specializing in residential real estate since 2001 throughout Wellington Florida and the surrounding area. Whether you're looking to buy, sell or rent she will guide you through the entire real estate transaction. If you're ready to put Michelle's knowledge and expertise to work for you call or e-mail her today.
Areas of service include Wellington, Lake Worth, Royal Palm Beach, Boynton Beach, West Palm Beach, Loxahatchee, Greenacres, and more.
Property Maintenance: How To Get Your Home Ready For Spring