Bedroom Ideas For a New Home | Incredible 9-Step Guide
One of life's greatest joys is moving into a new home. With this joy comes uncertainty, especially when it comes to decorating the new rooms. The new space might be smaller or larger than the previous home, or you may want to start afresh with new decorations and furniture. You will want your personal space, especially your bedroom, to reflect your personal style.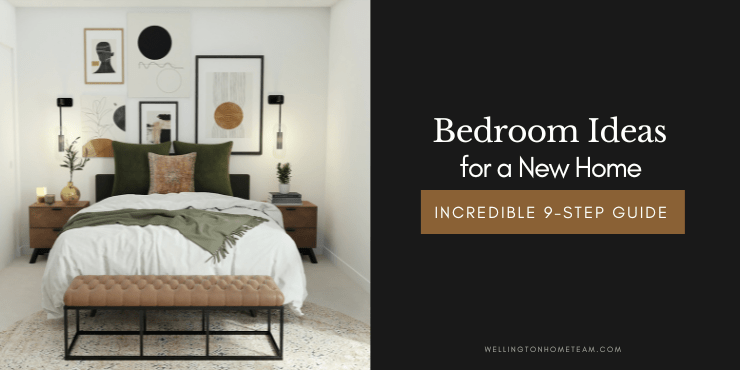 The right bedroom will give you a comfortable and happy place to relax and sleep at night. A poorly planned bedroom will leave you with a hodge-podge of paint colors, fabric, and furniture that are uncomfortable and unpleasing to the eye. However, planning and reviewing the steps used by professional interior designers can guarantee a great bedroom. The following guide will share some great bedroom ideas for a new home.
How To Get Started
The first thing we caution against for a new homeowner is rushing into a furniture store. One standard piece of advice people get is never to go grocery shopping when hungry, and the same applies to furniture stores- don't rush to buy furniture because of the empty room. Yes, you need a bed, but if you pick a random fancy-looking bed just because it caught your eye at the store, you may end up hating it or find that it does not fit the room.
If you are wondering how can I make my bedroom stylish or how can I decorate my bedroom simply? this guide is for you! Here are the first steps to take before filling up your new bedroom:
Step 1: Create a Budget
Getting a new home will make cash tight for some time. Therefore, you need to have a budget before moving forward with your bedroom design. And like any renovation or design project, you'll want to set extra money aside for unforeseen expenses, like the cost of delivery for furniture items.
It's also important to note that buying one expensive piece of furniture will leave you with very little wriggle room for other décor. A budget will help you divide the cost of things in the bedroom. It's always wise to purchase items in order of importance because there are items you can purchase down the road like wall art or an area rug.
Step 2: Copy the Design Pros
Whether it's your first home or you just moved into a new area, you must do a lot of research before settling on furniture and décor. Your bedroom will be your sanctuary for years to come, so you cannot get it wrong. Otherwise, you will end up with a space that you hate or find difficult or expensive to change in the future. 
Look at magazines, design books, Pinterest, and websites to find the right furniture and decorations. It's an excellent way to come up with different bedroom design ideas along with bedroom decorating ideas. This step will also make it easier to decide what furniture pieces are going to work best in your space. Once you find items you like, study the details and see if the pieces in your preferred style are available locally. However, don't purchase anything at this stage, there are more steps to come.
Step 3: Decide The Style of The Room
This is a very tricky part since people have different tastes. There are no wrong and right answers here. The bedroom theme can be visually cool or warm, relaxed or formal, modern or traditional, or a mixture of several themes. Looking at traditional and modern bedroom ideas in step two will help you determine what your style is.
The furniture and décor should meet your personal needs, tastes, and preferences. For example, someone in an assisted living environment will have different bedroom needs than a youth who just got their first job. Additionally, someone who wants the room to also serve as a home office will choose different furniture than someone who wants to use their room to sleep and nothing more. 
Step 4: Know Your Measurements
You must match the furniture scale to the room-scale if you want a comfortable sleeping space. A big bed might overpower a small room, leaving little space for anything else. Before decorating your room, measure its length and width, the ceiling height, and anything that could get in the way, such as doors and windows. 
One of the biggest mistakes people make is buying the wrong furniture and decorations, beds that are too small or too big, desks and tables that don't fit through the doorways, etc. To avoid such issues, you must carefully measure the space in your room. If your space is on the smaller side it doesn't mean it can't be stylish and functional, there are so many small bedroom ideas online that will give you inspiration. 
Step 5: Create a Floorplan
Now that you have the measurement of your room and know your space, the next step is to create a floor plan. This will give you a bird's eye view of the entire bedroom. You can draw a simple floor plan using a ruler, a pencil, and paper. 
In this floor plan, you will have an outline of the space, and you can start experimenting with furniture pieces and placement. It's crucial to scale the footprint of each piece to the drawing size.
Step 6: Choose the Furniture
After deciding on your ideal layout, you will have to choose furniture that will make your sleeping space livable. The most important part of the bedroom is the bed. It should be given the key place in the room, preferably by positioning the headboard against one wall and leaving walking paths on both sides. We recommend getting an adjustable bed for maximum comfort and to help with sleep problems such as snoring. You can add other miscellaneous items later in the process, such as rugs and paintings.
If you are looking to create an incredible bedroom space in your new home this step-by-step guide is for you! #realestate #homedecor
How To Get Started (continued)
Step 7: Tape It Out
Once you have the floor plan on paper and furniture picked out, you need to see it in real life. Use painter's tape to create an outline of the actual space where the furniture will be placed against the walls and on the floor. This will let you know just how much space you will need to use, for example, how far the bed will come out, where you will place the rug, will it be too big or too small. What size painting or decoration should you get? You need to visualize the furniture in the space and start creating a comfortable and practical plan.
Step 8: Start with Painting
Things like painting the walls and sanding or refinishing the hardwood floors are very messy work. It's better to complete this type of work before adding accessories or furniture to the bedroom. In the rare case the furniture is already in the room, seal them under plastic drop cloths and leave the accessories in moving boxes to protect them.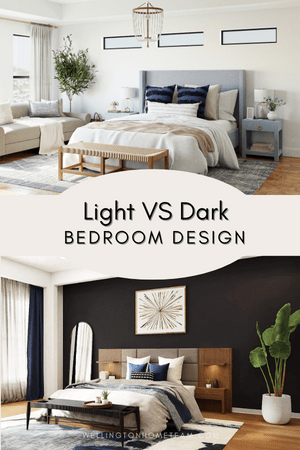 Don't hold back on the colors you want for your room. Your bedroom will say a lot about your design taste and personality. It's also where you will spend most of your time at home so you should go big!
Are you thinking light and bright or dark and moody? There are so many white, colorful, or black bedroom ideas to choose from. Just keep in mind, paint colors appear in different hues when exposed to different light conditions. So it's important to see the paint samples in your room.
But don't stop there, we highly recommend painting sample patches on boards or directly on the walls and then you should view them at different times of the day. This will make it easier to decide what color is going to work best for you and the furnishings you have or decide to purchase. However, if you're still lost and need bedroom color ideas try joining an online paint forum where you can obtain free paint suggestions and advice.
Step 9: Put the Room Together
Now that the painting is done and the furniture has been purchased it's time to start putting the room together. At this point, you don't need artwork or area rugs. Sometimes it's best to purchase decor after the room is put together, it can make it easy to see what remaining items you need. While in the planning phase, you may think 4 pieces of art will work but once all the furniture is in the space you may decide 4 will be overwhelming and decide on two.
Final Thoughts
This nine-step plan will give you an idea of how to decorate your new home's bedroom. This plan does not just cover the bedroom but this plan can be applied to other rooms in the house as well. At the end of it all, you will have a living space you can admire and count on.
Please consider spreading the word and sharing; Bedroom Ideas For a New Home | Incredible 9-Step Guide
If you are looking for bedroom ideas and how to create an incredible space in your new home this step-by-step guide is for you! #realestate #homedecor
About the Author
Top Wellington Realtor, Michelle Gibson, wrote: "Bedroom Ideas For a New Home | Incredible 9 Step Guide"
Michelle has been specializing in residential real estate since 2001 throughout Wellington Florida and the surrounding area. Whether you're looking to buy, sell or rent she will guide you through the entire real estate transaction. If you're ready to put Michelle's knowledge and expertise to work for you call or e-mail her today.
Areas of service include Wellington, Lake Worth, Royal Palm Beach, Boynton Beach, West Palm Beach, Loxahatchee, Greenacres, and more.
Bedroom Ideas For a New Home | Incredible 9-Step Guide