It's not uncommon for home sellers to make mistakes throughout the selling process. Some make HUGE mistakes from the start as a "new listing." Once in a while, these mistakes are made against the advisement of their listing agent. Other times they are unaware they're even making mistakes. Below are just a few of the common mistakes home sellers make as a "new listing." If you plan on selling your home you'll want to avoid these mistakes at all costs.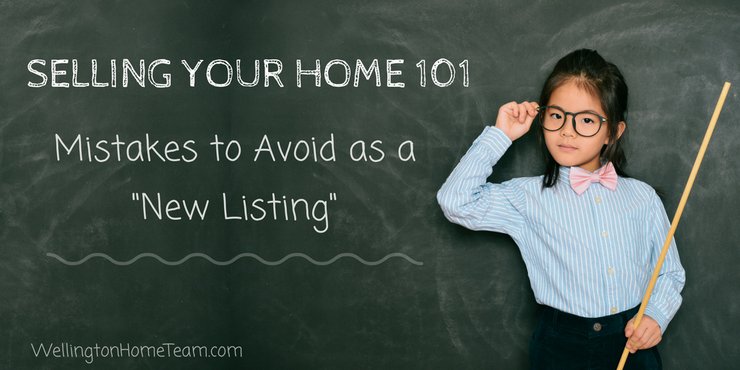 "Coming Soon" Photos
No photos, bad photos, or changing photos days after your home has been entered into the MLS is a HUGE mistake! You only have one opportunity to grab a buyer's attention and make them want to view your home. So if you have no photos or bad photos odds are they'll scroll right by your listing. Replacing bad photos with professional photos days or weeks later may help going forward. However, the buyers and Realtors who already ruled your home out within the first 24-48 hours of listing it probably won't even notice. Plus, some websites aren't updated regularly, so those original photos may stick around for a while.
There are 5 things sellers should expect from their listing agent, professional photographs are one of them. However, while the quality of photographs falls on your listing agent how the home appears in the photographs falls on you, so make sure your home is ready for picture day and avoid ugly home staging. You only get one first impression, make it count!
Not Ready to be Shown
Be ready to show! Not allowing showings upon listing your home in the MLS is another HUGE mistake! Believe it or not some sellers list their home only to say it cannot be shown for the first several days or weeks because they have family in town or need time to make repairs, paint, or clean. Typically, a majority of showings will occur within the first week of listing your home due to the "new listing" frenzy, buyers want to be the first to see your home so they can rule it in and submit an offer or rule it out.
Once the "new listing" status fades, so does the number of showings and interest, which can negatively impact your bottom line. Don't start accumulating days on market (DOM)! You don't want to lose that "new listing" interest when your home isn't ready to be shown. So don't let your agent enter it in the MLS until it is ready.
Listing Day
Listing your home in the MLS on certain days can be another HUGE mistake! Yes, the day your home is entered in the MLS may impact the amount of interest and showings.
Every real estate market is different, so this is something you will want to discuss with your listing agent. Find out if it matters what day of the week your home is entered into the MLS. In hot markets, it may not matter what day a home is listed.
Although in some markets it does matter, so ask to ensure you don't make a potential mistake.
"Trying" a List Price
Thinking about Testing the Real Estate Market? Listing your home at a higher price is another HUGE mistake! Some sellers want to "try" a higher list price and are willing to reduce it if there is no activity, but this is one of the worse strategies EVER.
Sellers need to price their home competitively in order to attract the most amount of buyers. Once again the longer a home sits on the market the less desirable it becomes to a lot of home buyers.
Not in the Local MLS
Listing your with a Realtor who doesn't have access to the local MLS is another HUGE mistake! Each area has its own MLS, some areas may even have more than one MLS. While your home may syndicate to the MLS where your home is located it may not transfer all of the information. When hiring a listing agent it's important to know what MLS/board they belong to and how it might impact your home sale.
Final Thoughts
Within minutes of a new listing hitting the real estate market some sellers are already at a disadvantage. They've made some crucial mistakes, which will cost them. If you plan on selling your home make sure it's ready to be shown. That it will be entered in the local MLS at a competitive price and has photographs that are sure to draw a buyer in.
If you think this article, Selling Your Home 101 | New Listing Mistakes, was an interesting read give it a share!
It's not uncommon for sellers to make mistakes during the home selling process, but some make mistakes from the start, and here's how. #homeselling #realestate
Additional Real Estate Advice from Top Professionals
About the Author
The above real estate article "Selling Your Home 101 | New Listing Mistakes" was written by Michelle Gibson of Wellington Florida Real Estate. Specializing in residential real estate since 2001 in Wellington and the surrounding area. Not only does Michelle assist buyers and sellers, she assists landlords and tenants too. She would love to share her expertise and guide you through the entire real estate process.
We service the following areas; Wellington, Lake Worth, Royal Palm Beach, Boynton Beach, West Palm Beach, Loxahatchee, Greenacres, and more. If you are considering selling your home, we welcome the opportunity to work with you and list your home with a top Realtor in Wellington Florida