Selling Your Home 101 | Mistakes to Avoid as a "New Listing"
It's not uncommon for home sellers to make mistakes during the selling process. While some sellers make little mistakes others will make big mistakes. There are sellers who will make mistakes from day one as a "new listing" and others that make mistakes during the transaction. Then there are sellers who make mistakes against the advice of their listing agent and others who are completely unaware they are even making mistakes.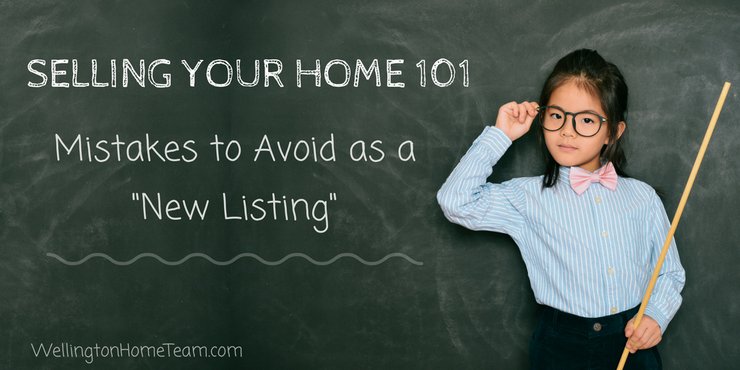 It's important for sellers to avoid making mistakes at all costs during the home selling process because the more mistakes they make the more money and time they can lose. If you are getting ready to list your home for sale here are the top 5 mistakes to avoid making as a new listing.
5 "New Listing" Mistakes Sellers Should Avoid
"Coming Soon" Photos
No photos, bad photos, or changing photos days after your home has been entered into the MLS is a HUGE mistake! You only have one opportunity to grab a buyer's attention and make them want to view your home. So if your home is entered into the MLS with no photos or bad photos odds are buyers and real estate agents alike may scroll right by your listing.
Replacing bad photos with professional photos days or weeks later may help going forward. However, the buyers and real estate agents who already ruled your home with the original photos probably won't even notice the photos were switched out. Plus, some websites aren't updated regularly, so those original photos may stick around for a while.
There are things sellers should expect from their listing agent, professional photographs are one of them. However, while the quality of photographs falls on your listing agent how your home appears in the photographs falls on you. So make sure your home is ready for picture day and is staged to sell. You'll want to avoid ugly home staging because you only get one first impression, so make it count!
Not Ready to Be Shown
Be ready to show! Listing your home in the MLS and then not allowing showings is another HUGE mistake! Believe it or not, some sellers will list their home only to say it cannot be shown for the first several days or weeks. If you have family in town or need time to make repairs, paint, or clean you should just wait to list your home until it's ready to be shown.
Typically, a majority of showings will occur within the first week of your home being listed due to it being a "new listing." Once time passes that potential buyer frenzy of wanting to be the first to see your home can quickly go away. Oftentimes, buyers want to be the first to view a home so they can rule it in and submit an offer or rule it out.
Once the "new listing" status fades, so does the number of showings and interest, which can negatively impact your bottom line. Plus, you don't want to start accumulating days on market (DOM) because the longer a buyer sees your home has been sitting on the market the lower the offers may become.
Don't lose that "new listing" interest! Have your real estate agent enter your home into the MLS when it's ready to be shown.
It's not uncommon for sellers to make mistakes during the home selling process, but some make mistakes from the start as a new listing, here's how. #homeselling #realestate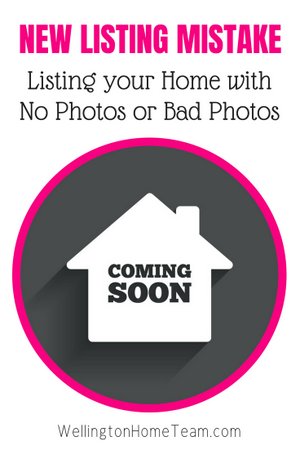 Listing Day
Listing your home in the MLS on certain days can be another HUGE mistake! Yes, the day your home is entered into the MLS may impact the amount of interest and showings.
Sometimes listing a home on Tuesday or Wednesday is best because most agents work those days and will see it immediately. While listing late Saturday night or early Sunday morning when agents aren't actively working it could be missed for several days.
With that being said, every real estate market is different, so what day to list your home should be discussed with your listing agent. In some markets it could make a difference and in others, it may not matter at all.
"Trying" a List Price
There are sellers who want to try listing at a higher price and test the market. Overpricing your home is another HUGE mistake sellers make as a new listing!
It's not uncommon for sellers to list their home at a higher price knowing they can reduce it down the road if they have no activity. However, a majority of showings will take place within the first few weeks. So if the property is overpriced buyers may rule it out without even looking at it. Then there are buyers who will look at it and rule it out afterward because it's priced too high. In both scenarios, the seller probably lost these buyers forever, so even after reducing their price to market value they won't come back.
In addition to losing momentum and interest with overpricing your home, you can lose money too. Once a home's list price is reduced buyers may start submitting lowball offers even if the property is priced right now. After all, the home has just been sitting on the market, why would a buyer offer full price or close to it? The answer is they won't. Historically and statistically, the longer a home sits on the market the lower the offers become. So sellers need to avoid making this mistake and overpricing their homes.
Not in the Local MLS
Not allowing your home to be listed in the MLS or listing your home with an agent who doesn't have access to your local MLS is another HUGE mistake! In order to obtain top dollar for your home in the shortest amount of time you need to get as many eyes on your property and bodies through the door as possible. The only real way to achieve this is by having your home listed in the MLS where thousands of agents and buyers will see it. There is no amount of magazine covers and classified ads that can compete with the exposure the MLS provides.
However, your home can't be listed in just any MLS, it has to be the local MLS for where your home is located. Every area has a different MLS and some areas may even have multiple MLSs, so it's important to know what MLS your home will be listed in. If your agent doesn't have access to your local MLS and you may want to consider hiring a new agent who does or letting them know you want your home entered in your local MLS.
Final Thoughts
When a new listing hits the market some sellers will already be at a disadvantage because they made a "new listing" mistake or mistakes. While it's not uncommon for sellers to make a mistake at some point during the transaction making mistakes from the start can be very costly, both time and money.
So as a seller, you and your agent need to have a game plan in place to make sure things are down done in the right order. A realistic list price and professional photographs should be done first. Then once the property can be shown it should be entered into the local MLS on the best day for new listings, if there is one.
If you think this article, Selling Your Home 101 | New Listing Mistakes, was an interesting read give it a share!
It's not uncommon for sellers to make mistakes during the home selling process, but some make mistakes from the start as a new listing, here's how. #homeselling #realestate
Popular Home Selling Questions
What are the top 9 mistakes to avoid when selling your home? There are several mistakes home sellers need to avoid and here are the top 9: Overpricing your home, neglecting curb appeal, poor staging, not making repairs, lack of disclosures, not being flexible with showings, inadequate marketing, dismissing professional help, and emotional attachment.
What not to fix when selling a house? When selling a house, it's important to prioritize repairs and improvements that will enhance the overall appeal and value of your property. However, there are certain things that you might not need to fix before putting your house on the market.
For instance, minor cosmetic imperfections like cracked tile, small paint chips, or scuffs can often be overlooked by potential buyers. However, leaky faucets and inoperable electrical or broken appliances should be addressed. Anything that is considered a safety hazard should also be addressed.
About the Author
Top Wellington Realtor, Michelle Gibson, wrote: "Selling Your Home 101 | Mistakes to Avoid as a "New Listing"
Michelle has been specializing in residential real estate since 2001 throughout Wellington Florida and the surrounding area. Whether you're looking to buy, sell, or rent she will guide you through the entire real estate transaction. If you're ready to put Michelle's knowledge and expertise to work for you call or e-mail her today.
Areas of service include Wellington, Lake Worth, Royal Palm Beach, Boynton Beach, West Palm Beach, Loxahatchee,  Greenacres, and more.
Selling Your Home 101 | Mistakes to Avoid as a "New Listing"