The Seller Who Wanted to "Test" the Market and Got Burned!
I think every REALTOR has worked with at least one seller in their career who wanted to "test" the market and overprice their home. Some sellers feel their home is superior and justifies a higher asking price while others simply think they'll be able to defy the odds.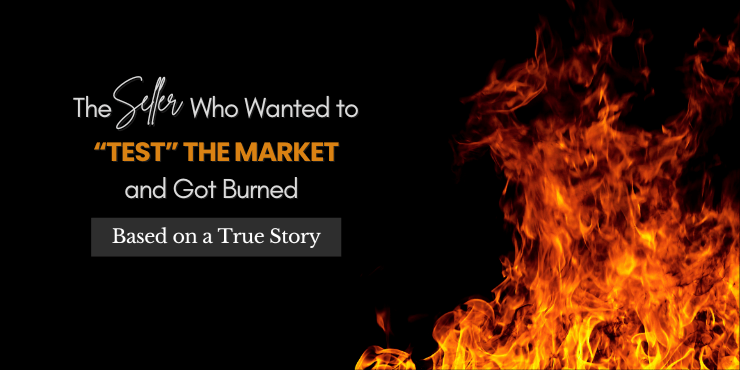 As a REALTOR I always educate my clients about the current market conditions and will recommend a list price. Some of the information I provide is based on fact and some is based on my decades of market knowledge and experience. While a majority of the sellers I work with listen to my recommendations and price accordingly occasionally a seller will come along who wants to "try" a higher list price even though the market clearly doesn't support it.
In my experience not only do overpriced homes take longer to sell they also net less money. So it's imperative for sellers to select the right list price from the start, not "try" a higher price and reduce down the road.
A quick note before I share how a seller wanted to test the market and got burned. Every real estate transaction is different, so my pricing and marketing strategy will vary from listing to listing. Sometimes I will suggest a list price well above the highest sale in the area while other times it may be right in line with the comparables. There are many factors that come into play when pricing a home. My goal with every transaction is to put my market knowledge, experience, and marketing to work for the sellers and obtain top dollar for their home in the shortest amount of time.
The Seller Who Wanted to "Test" the Market | True Story
Below is a real scenario that took place, the numbers are slightly changed to protect the guilty, but the percentages remain the same.
Highest Neighborhood Sale: $320,000
Recommended List Price: $330,000
Anticipated Sales Price: $325,000 to $335,000
Based on the market conditions at the time I was confident we could push the envelope and ask for more than the highest neighborhood sale. Whether or not it would appraise was a bridge we'd have to cross when we got to it because there wasn't one supporting comparable.
Setting the List Price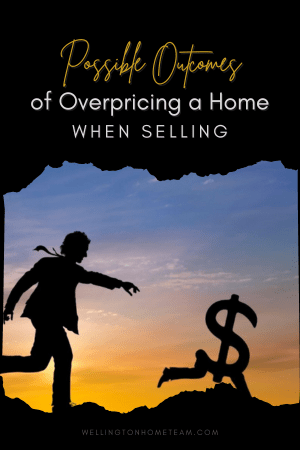 I recommended a list price of $10,000 above the highest comparable. Now keep in mind the remaining comparables were significantly less than the highest sale. However, the seller wanted to "test" the real estate market and list at $350,000. They felt asking $20,000 more than my recommended list price and $30,000 more than the highest sale wasn't a big deal because "a buyer would want to negotiate anyway."
First impressions are everything and that includes the asking price! I expressed the importance of not overpricing their home and explained there is a fine line between pushing the envelope and setting it on fire. At the time homes were going under contract within 7-10 days of hitting the market and selling for full price or very close to it.
After reviewing all of the comparables, market conditions, and my pricing strategy with the seller's again they were still insistent and confident asking $350,000 was the right decision.
Hitting the Market at $350,000
So we hit the market at $350,000 and had a flood of showings the first week, which is normal because buyers don't want to miss out. They want to be the first to see a new listing so they can either submit an offer or rule it out. The first week quickly passed, we didn't receive a single offer and by the second week showings came to a halt. After a month I urged the sellers to reduce the price because the market clearly rejected it, but they remained confident the "right buyer" was out there.
Outcome
Fast forward six months later and after several price reductions we finally found a buyer! As I anticipated the home sold for more than the highest neighborhood sale at $328,000 to a cash buyer. However, the home sat vacant the entire time we were on the market. So instead of paying overhead for a month or two, the sellers ended up paying overhead for 6 months, which substantially cut into their profits.
Had the sellers listed at $330,000 and accepted an offer for $328,000 after paying for two months of overhead they would have netted $323,200, but instead, they decided to "test" the market and netted $313,600.
Final Thoughts
My number one goal is to obtain top dollar for all of my listings, which requires the right pricing strategy because the wrong one will result in an overpriced home that sits on the market costing the seller time and in some cases money every single day.
If you're seeking a REALTOR known for their integrity and reliability, someone capable of providing market insights, crafting a thorough pricing analysis and strategy for your property, and offering an effective marketing plan, don't hesitate to contact me for a complimentary in-home consultation.
Please consider spreading the word and sharing; The Seller Who Wanted to "Test" the Market and Got Burned!
Discover the cautionary tale of a seller who wanted to test the real estate market and faced unexpected consequences. Learn from their experience! #realestate #homeselling Click to Tweet
About the Author
Top Wellington Realtor, Michelle Gibson, wrote: "The Seller Who Wanted to "Test" the Market and Got Burned!"
Michelle has been specializing in residential real estate since 2001 throughout Wellington Florida and the surrounding area. Whether you're looking to buy, sell, or rent she will guide you through the entire real estate transaction. If you're ready to put Michelle's knowledge and expertise to work for you call or e-mail her today.
Areas of service include Wellington, Lake Worth, Royal Palm Beach, Boynton Beach, West Palm Beach, Loxahatchee, Greenacres, and more.
The Seller Who Wanted to "Test" the Market and Got Burned!