Your Home Didn't Sell Today Because of These 7 Mistakes
Dear Home Seller, Today I showed your home and my clients were so excited to see it. On paper, it checked almost every box on their "wishlist." However, by the time we left, they weren't even remotely interested. They wouldn't be submitting an offer nor would they be taking a second look.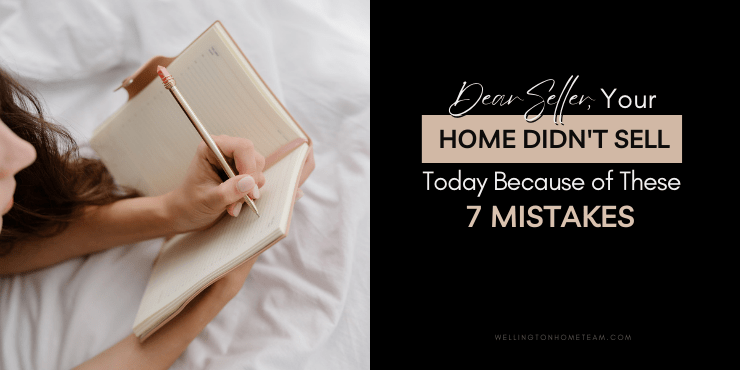 From start to finish you made almost every single costly mistake a home seller can make. The worst part, all of these mistakes were completely preventable. While some sellers can't avoid making mistakes because they don't have the funds to paint, replace, or renovate but in your case, the cost would have been ZERO. So where did you go wrong? Here are the 7 mistakes you made and the reason your home didn't sell today.
1. Listing Agent Accompany
When we approached the front door my clients and I were greeted by the listing agent. She immediately pointed out the 14-year-old tile floor that "buyers just love." For the record, my client found it ugly and would have ripped it up. She then lead us around the house pointing out the living room, kitchen, bedrooms, and bathrooms, all things we could see.
I'm not necessarily against a listing agent accompanying a showing, but there is a time and place, and this wasn't one of them and it contributed to why the home didn't sell. This home is a standard track home on a zero-lot line. There were no special features, hidden doors, or additional buildings that needed to be explained or shown to us. So the listing agent being there added no value. In fact, she was a distraction and my clients weren't given an opportunity to envision themselves living there because she was too busy talking and pointing out items that my clients saw zero value in.
2. Clutter
The foyer was definitely on the smaller side but it felt even smaller with the amount of furniture. Then add your agent standing there with 3 other adults blocking our walkway because she wanted to stand there and talk it became claustrophobic. The amount of furniture throughout the living areas was overwhelming as well. With an oversized sectional, two chairs, tables, and a large entertainment stand we could barely move. Your home felt so much smaller than it actually is.
My clients are looking for an open and spacious floorplan, and I know your floorplan is very open, but it didn't show that way. Had you removed at least half of the furniture it would have showcased how spacious your home really is. This is by far one of the reasons why your home didn't sell, you didn't showcase the actual amount of space the home offers.
3. Burning Candles
Bad smells are something a majority of buyers can't get past. Whether it's the smell of pets, bleach, cigarette smoke, or a smelly toxic plugin air freshener they know they could be stuck with that smell unless they do extensive remediation. It's not a risk many are willing to take.
Your home smelled like pets and bleach, which is bad enough but then you decided to burn candles throughout your home and made the situation even worse. It just added to the list of reasons why your home didn't sell.
The smell of a home is just as important as the appearance, sometimes even more important. There are a few simple things sellers can use to make their home smell good.
There are countless reasons why a home didn't sell some and here are 7 mistakes I recently saw a seller make when showing their home. #realestate #homeselling
4. Sellers Being Home
On top of the listing agent being there for our showing, you were there too. Sellers should never ever be home for a showing, they are even more distracting than a listing agent. Buyers are often afraid to open cabinets and closets when the seller is standing there. In some cases, they are so uncomfortable they speed through the house trying to get out as fast as possible.
In addition to you being there for our showing, you were cleaning. Yes, you swept a pile of dirt right past us as we walked down the hallway as if we weren't even there. If we were early for our showing and you didn't have time to make last-minute preparations I might understand. However, not only were we right on time we scheduled our appointment more than 24 hours in advance. An entire day, not the same day, not a few hours, now a few minutes, more than a day. This is just one more reason why you're home didn't sell that day.
5. Pets
In addition to humans being there for our showing your dog was there too. So between trying to make our way around people and furniture, your dog was under our feet as well, which was another distraction for my clients and another reason why your home didn't sell.
Even though I'm a pet person, not everyone is and pets should always be locked up or removed from the home for showings. Considering you were home you could have taken your dog for a walk or at least taken them out to the back patio until we made our way out there. Instead, you just wandered around the house watching this disastrous showing.
6. Blinds Closed
Your master bedroom, the main sanctuary for most people, felt like we were walking into a dark cave. So that amazing tranquil lake view you had went completely unnoticed because the blinds and blackout curtains were all closed.
By this point, my clients were so uncomfortable and checked out, they didn't even want to attempt to open them or ask for help. So they quickly rushed through the other bedrooms and we left.
Almost every single home buyer wants light and bright, not gloom and doom. This was another easy fix that could have been avoided altogether. Instead, it was another reason my clients were driven away and your home didn't sell.
7. Overpriced
On top of making these 6 home selling mistakes you also made the number one mistake sellers make, overpricing your home. Sure you already reduced your list price multiple times but it was still overpriced based on the local neighborhood competition and recent sales. Then throw all of these other mistakes it was clear why your home didn't sell and was just sitting on the market.
While many sellers overprice their home there is still a chance it might sell if price is the only obstacle. However, when a home's appearance and showing experience don't go well, plus the seller is asking for top dollar, there is little to no chance of it selling.
Final Thoughts
First impressions are everything when it comes to selling a home and sellers only get one opportunity to make the right first impression. One little mistake can prevent a buyer from submitting an offer, two mistakes the odds of them submitting an offer decrease even more, SEVEN mistakes there is no way to come back from that. In this case, the seller made 7 mistakes, and it's why their home didn't sell.
Unfortunately, this seller made the wrong first impression and things didn't get better as we toured the home, it only got worse. If the listing agent, sellers, pets, half the furniture, and the horrible smell had been addressed it may have been a contender for my clients but unnecessary obstacles were created.
And I firmly believe if the home was vacant and my clients were able to see how much space the home had to offer and nobody was around to distract them they would have submitted an offer but instead, the home didn't sell that day.
Please consider spreading the word and sharing; Your Home Didn't Sell Today Because of These 7 Mistakes
There are countless reasons why a home didn't sell some and here are 7 mistakes I recently saw a seller make when showing their home. #realestate #homeselling
Popular Home Selling Questions
Why is my house not selling in a hot market? There can be several reasons why a house may not be selling in a hot market. The top reasons include overpricing, poor condition or presentation, limited marketing exposure, unfavorable location, or lack of desirable features. It's important to reassess these aspects and make necessary adjustments to attract potential buyers. In some instances, a seller may have to fire their listing agent and hire a new one.
Wondering when to worry about house not selling? It's time to worry about their house not selling when it's been on the market for an extended period, typically longer than the average time it takes to sell similar properties in the area. Additionally, if there is little to no buyer interest, few or no showings, and no offers received, it may be a cause for concern. In such cases, it is advisable to reassess the pricing, marketing strategy, and overall condition of the property to identify potential obstacles and make necessary adjustments.
Do all houses sell eventually? While it is generally expected that most houses will eventually sell, there is no guarantee that every house will sell. There can be various factors that affect a property's marketability, including its condition, location, price, and overall demand in the market.
Will my house sell in this market? Whether or not your house will sell depends on the conditions of the market. Is it a sellers market, buyers market, or stable market? If it's a sellers market the chances of a home selling are very strong. However, if it's a buyers market it can be much more challenging to sell and if you recently purchased your home after paying closing costs you could owe more than your home is worth. This is where a top Realtor will be able to guide you on the market conditions and roughly how long it will take to sell your home.
About the Author
Top Wellington Realtor, Michelle Gibson, wrote: "Your Home Didn't Sell Today Because of These 7 Mistakes"
Michelle has been specializing in residential real estate since 2001 throughout Wellington Florida and the surrounding area. Whether you're looking to buy, sell or rent she will guide you through the entire real estate transaction. If you're ready to put Michelle's knowledge and expertise to work for you call or e-mail her today.
Areas of service include Wellington, Lake Worth, Royal Palm Beach, Boynton Beach, West Palm Beach, Loxahatchee, Greenacres, and more.
Your Home Didn't Sell Today Because of These 7 Mistakes