How to Keep Moving Costs Down | 6 Easy Steps
Moving homes is never an easy experience, with lots of things to do and remember, it's very stressful. It can also be very expensive.
Your moving costs could be considerable, particularly if you're moving to a new state. Moving costs could come to a few thousand dollars or more when hiring professional movers.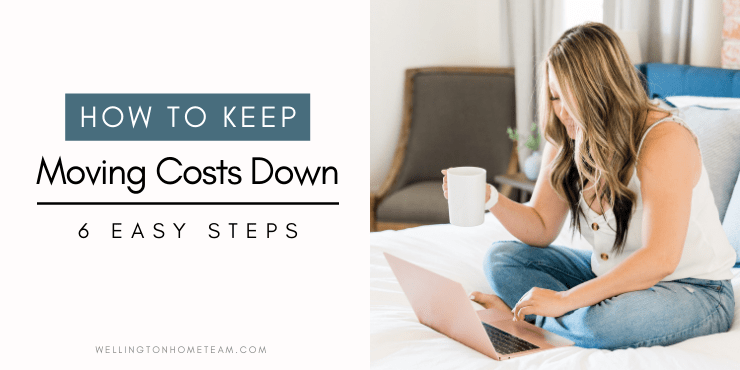 However, there are many straightforward things you can do to cut down your moving costs, let's take a look.
Reducing the Load
If you have less stuff to transport to your new home, it will not only mean less packing, but it's going to cost you less too. Sort through the stuff you have in your home and get rid of anything you no longer use. Items that could still be used by other people can be donated to charity, and you could get a tax deduction for your donation.
Whether you are buying or selling a home you will have to move and moving can be costly but here are 6 easy ways to keep moving costs down. #realestate #moving
Emptying Your Pantry
To reduce the number of items you need to move, make sure you use up food in your pantry, refrigerator, and freezer. While it might be tempting to eat out during a chaotic preparation for the move, you should eat the food you have at home first. Frozen food is also quite difficult to transport without it spoiling.
Choosing the Best Time to Move
It is more expensive to move at certain times of the year. More people want to move in the summer months, for obvious reasons. So if you can move outside of that busy period, you should see your costs reduced.
Even if you can't change the time of year you move, changing the day you move can also affect your costs. You will be charged less if you choose to move in the middle of the month as well as at the beginning or middle of the week.
Free Boxes
Packing materials aren't cheap, but there are plenty of ways to get free cardboard boxes to keep your moving costs down. You can check with local stores, just ask a manager if they have any spare boxes available.
There are also a few places you can check online for packing boxes. U-Haul operates a box exchange program, Freecycle could have some boxes as well, and there are always online places like Craigslist to check.
You can also check local Facebook groups, marketplace, and websites specific to your area. There you might find people who have recently moved trying to get rid of boxes. Don't forget to check with friends or family, perhaps they have recently moved or know someone who has.
Whether you are buying or selling a home you will have to move and moving can be costly but here are 6 easy ways to keep moving costs down. #realestate #moving
Do Your Own Packing
While professional packers will expertly and securely box your items in just a few hours, it is something that can get expensive. You can save yourself hundreds of dollars by packing your own items, and you don't have to do it in a hurry either.
As long as you give yourself enough time once you have picked up your boxes, you can pack gradually, perhaps just doing one or two boxes at a time.
DIY Moves
Moving by yourself isn't easy, but it will save you a lot compared to using professional movers. Using the services of a professional moving company can cost you more than $2,000 for just a local move. Your move might require four professional movers, which could cost you $200 per hour. If you also need them to do your packing, you can add at least a couple more hours to the overall cost.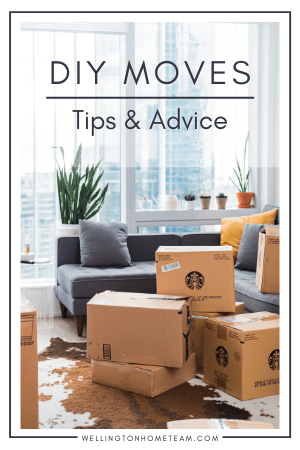 So if you can avoid hiring professionals, you will cut your moving costs considerably. If you can get some help from friends or family, it will help you a lot, making lifting furniture through doorways and upstairs less backbreaking. But even with lots of help, don't underestimate how difficult moving is and how long it will take you.
You'll still have expenses to consider as well. Unless one of your friends has a truck they can lend you, you'll need to rent one. You have to pay for the rental truck, gas, and these kinds of moving trucks aren't known for getting good gas mileage either. You can also rent a storage pod for your move. Either way, you'll want to pay your helpers in some way, perhaps buying them drinks or a meal to thank them.
Even with all of these costs to consider, it will be a lot less of an expense compared to hiring professionals.
If you don't like the idea of moving furniture yourself, you could just hire a moving company to deal with the more difficult items. Instead of the movers dealing with everything, you will carry the boxes in your car or trailer, leaving the furniture for the professionals.
Tips for Hiring Professional Movers
Even when you use the services of the more expensive professionals, there are still ways you can save on the costs.
The first way to reduce costs is to get multiple quotes before you select your movers. You should aim at getting at least three quotes from different companies, and they shouldn't just be online cost estimates. You want companies to give you in-person estimates so that you get the most accurate figures.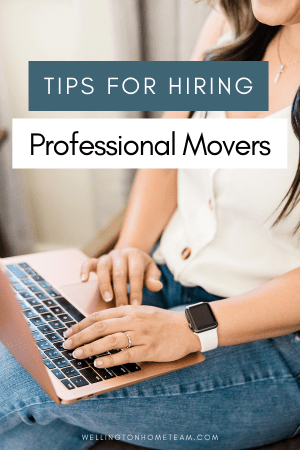 When you have your cost estimates, you can compare what different moving companies are offering to you. It won't necessarily be easy to compare like-for-like as companies may have different ways of charging for their service. So it's important to understand the moving services each company provides.
When you're happy with the company you have chosen, you need to make sure you read and understand the contract they want you to sign. You want to be on the lookout for any hidden costs, and these can include fees for moving up staircases or applying for parking permits.
With long-distance moves, the weight of your possessions will largely determine the cost. But for local moves, you might be able to choose between an hourly or a flat rate cost. While the hourly rate option may be cheaper, you could find your costs going up should something unexpected happened.
You'll also have to make some choices about how much insurance coverage you require. The minimum level of cover, which is known as Released Value, will only give you 60 cents per pound for each item.
Tax Savings
As well as getting tax deductions when you donate items to charity, you could get a deduction for moving expenses too. If you are moving to a new location for work, you might be eligible for a tax deduction, so keep your receipts.
Final Thoughts
Whether buying or selling a home you will have to move and moving can be costly. However, if you follow these 6 easy steps not only will you save money you will save time along with stress too.
Please consider spreading the word and sharing; How to Keep Moving Costs Down | 6 Easy Steps
Whether you are buying or selling a home you will have to move and moving can be costly but here are 6 easy ways to keep moving costs down. #realestate #moving
About the Author
Top Wellington Realtor, Michelle Gibson, wrote: "How to Keep Moving Costs Down | 6 Easy Steps"
Michelle has been specializing in residential real estate since 2001 throughout Wellington Florida and the surrounding area. Whether you're looking to buy, sell, or rent she will guide you through the entire real estate transaction. If you're ready to put Michelle's knowledge and expertise to work for you call or e-mail her today.
Areas of service include Wellington, Lake Worth, Royal Palm Beach, Boynton Beach, West Palm Beach, Loxahatchee, Greenacres, and more.
How to Keep Moving Costs Down | 6 Easy Steps