How to Renew and Refresh Your Kitchen in 5 Easy Steps
The kitchen is frequently referred to as the center of the house. Families congregate there to make meals and create memories. But a kitchen may feel outdated, constrained, or plainly unusable after time. When that happens, kitchen remodeling may be necessary. You may remodel the room and revitalize your entire house by updating and refurbishing your kitchen. This article will examine how to easily renew and refresh your kitchen to give it a brand-new look.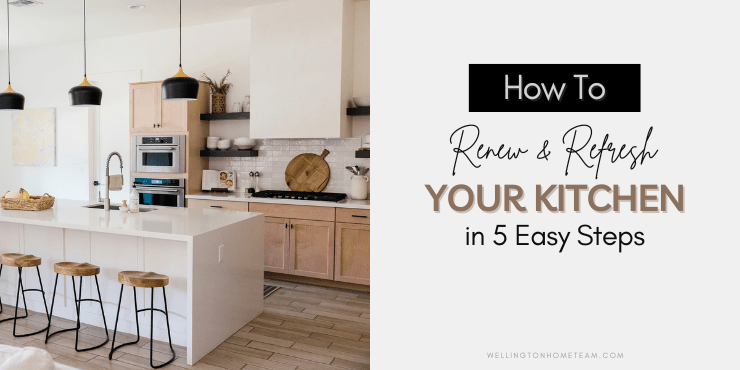 1. Enhancing Functionality
Making a kitchen more useful is one of the main reasons to renovate it. Your kitchen should change to fit your demands and lifestyle, as they may have changed over time. Daily chores may seem onerous in a small, ineffective kitchen. However, you may reorganize the design, modernize the equipment, and maximize storage space through renovation to create a kitchen that meets your unique needs. Your kitchen's functioning may be improved to make daily duties more accessible and pleasurable.
Instead of outdated equipment, consider buying modern, energy-efficient ones with features like convection ovens or smart refrigerators. Add creative storage options like pull-out pantry cabinets or vertical storage racks to make the most of your available space. Include a breakfast bar or kitchen island to add more workstations and a place for family and friends to congregate. Your kitchen will be more beneficial due to these practical modifications, adding to a more modernized living space.
2. Creating a Welcoming Space
A kitchen makeover offers the chance to design a cozy and welcoming space. You may radically change the appearance and atmosphere of your kitchen by selecting the appropriate colors, materials, and lighting. An old kitchen with worn-out counters and fading paint may make the room feel bland. However, a redesign will breathe new life into your kitchen and give it a more contemporary and fresh look.
Choose a new coat of paint that brightens the area while complementing your taste. Consider putting in chic backsplash tiles that inject individuality and visual intrigue. Replace dated counters with long-lasting and visually beautiful choices like butcher block, granite, or quartz. Install new cabinet hardware that matches your preferred look, whether sleek and contemporary or rustic and old.
Using accessories like pendant lights or under-cabinet lighting may add a touch of ambiance and turn your kitchen into a friendly gathering place for friends and family. By improving these features, you may create an aesthetically pleasing and welcoming room, setting the tone for the rest of your house.
3. Increasing Energy Efficiency
In today's environmentally concerned society, many homeowners give energy efficiency a lot of thought. Appliances in an old kitchen frequently use excessive amounts of electricity. When remodeling, you may pick energy-efficient models to lower your carbon impact and lower your long-term power costs. Other items that can improve the energy efficiency of your kitchen are smart thermostats, well-insulated windows, and energy-efficient lighting fixtures.
When choosing appliances, check for the Energy Star label, which verifies that the item complies with tight requirements for energy efficiency. For your lighting needs, use LED or CFL bulbs, which use less energy and have a longer lifespan than conventional incandescent lights. A double-glazed window upgrade or low-emissivity (Low-E) glass replacement can increase insulation and decrease heat loss. You can improve the environment and make your home more pleasant and cost-effective by including these energy-efficient components in your kitchen makeover. While this is an easy way to refresh your kitchen purchasing new appliances can be rather costly.
Wondering how to renew and refresh your kitchen? If so here are 5 easy steps to refresh your kitchen, in addition to full kitchen remodeling ideas. #kitchenremodel #kitchenrefresh
4. Boosting Home Value
Remodeling your kitchen may enhance your quality of life while raising your house's value. Potential buyers often focus on the kitchen when deciding whether to purchase a property, so an updated, well-designed kitchen may significantly increase your home's market appeal. The kitchen frequently influences a buyer's selection regarding real estate. Remodeling your kitchen may differentiate your home from the competition and attract potential buyers.
Use high-quality materials that are not only long-lasting and sturdy, but also aesthetically pleasing, while rebuilding. Choose from contemporary, classic designs that can survive shifting fashions. Replace old, inefficient appliances with more modern, high-quality models to improve the value of your kitchen. When selling your house, a well-executed kitchen makeover may yield a respectable return on investment.
5. Promoting Safety and Accessibility
Particularly for homeowners who intend to age in place or accommodate family members with mobility issues, safety, and accessibility are important factors to consider. You may include various safety elements while remodeling your kitchen to make it more aesthetically beautiful, useful, and secure for all users.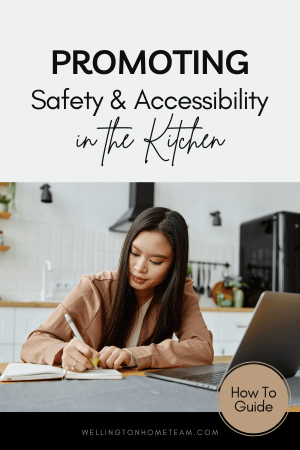 To avoid accidents, think about installing non-slip flooring, especially in places where moisture and spills are common. Ensure sufficient illumination with strategically positioned lamps to eliminate shadows and lower the chance of accidents. Create reachable cabinets and drawers in your kitchen, and use pull-out shelves and organizers to make things easier to find. People using wheelchairs or other mobility aids can access lower counters and open areas below the sink.
You can build or refresh your kitchen that encourages independence and peace of mind for everyone in your home by including these safety and accessibility elements, resulting in a revitalized and inclusive living space.
Final Thoughts
Renovation of the kitchen involves more than just updating the cabinets and counters. You can renovate and remodel your entire house, including the kitchen. Kitchen remodeling may revitalize your living area by expanding practicality, making a warm and inviting room, improving energy efficiency, raising home value, and encouraging safety and accessibility.
Therefore, take the plunge and turn your kitchen into a lively and revitalizing center that genuinely reflects your taste and satisfies your requirements, whether you want a sleek, modern kitchen or a comfortable, farmhouse-inspired room. Accept the opportunities, and allow your kitchen renovation to revitalize your house and improve your way of life for years to come.
However, if your kitchen is in rather good condition it may be best to renew or refresh your kitchen, which can be much more cost-effective.
Please consider spreading the word and sharing; How to Renew and Refresh Your Kitchen in 5 Easy Steps
Wondering how to renew and refresh your kitchen? If so here are 5 easy steps to refresh your kitchen, in addition to full kitchen remodeling ideas. #kitchenremodel #kitchenrefresh
Popular Kitchen Renovation Questions
How to remodel a kitchen on a budget? There are several different ways to model a kitchen on a budget. Here are some kitchen refresh ideas; painting the cabinets, updating the hardware, installing a new backsplash, enhancing lighting, and selectively upgrading appliances to name a few.
Wondering how to renovate a kitchen yourself? When it comes to renovating a kitchen by yourself there are things you're most likely capable of doing and other things that should be left to the professionals. Painting, changing out door handles, and even changing out lighting is something most of us can do. However, changing out kitchen countertops, installing a tile backsplash, and upgrading plumbing or electrical should probably be left to licensed professionals.
Is a kitchen refresh worth it? Whether or not a kitchen refresh is worth it ultimately depends on the current condition of your kitchen. If your cabinetry is falling apart, slapping a coat of paint on them is probably a waste of money. However, if the cabinet doors are wood and can be salvaged/ repaired it could be worth the time and money to do so.
About the Author
Top Wellington Realtor, Michelle Gibson, wrote: "How to Renew and Refresh Your Kitchen in 5 Easy Steps"
Michelle has been specializing in residential real estate since 2001 throughout Wellington Florida and the surrounding area. Whether you're looking to buy, sell or rent she will guide you through the entire real estate transaction. If you're ready to put Michelle's knowledge and expertise to work for you call or e-mail her today.
Areas of service include Wellington, Lake Worth, Royal Palm Beach, Boynton Beach, West Palm Beach, Loxahatchee, Greenacres, and more.
How to Renew and Refresh Your Kitchen in 5 Easy Steps