If you have decided to sell your home or you're looking to refinance, a home appraisal will be needed. This will involve a qualified home appraiser coming to your property to assess its fair market value. This can be a stressful process, with a lot riding on the appraiser's assessment. If they judge your property to be worth less than you expected, it is very likely to sell for less than you would have hoped.
So that you can sell your home for what it's really worth, you need to prepare for the home appraisal. We take a look at the things you need to do to improve your home appraisal value.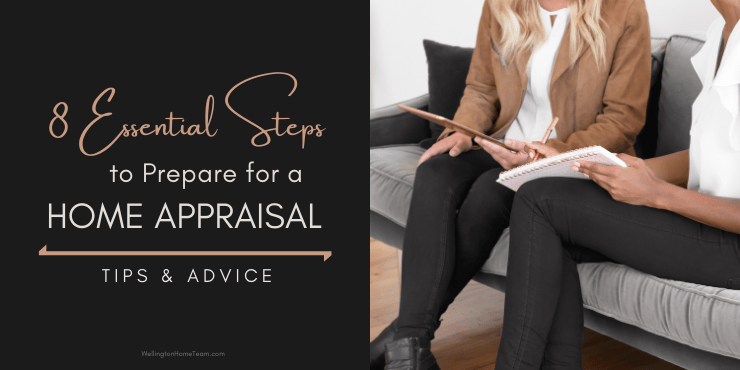 Deal With Repairs You've Been Putting Off
It is very easy to put off doing minor repairs around the home. You need your property to be at its best to get the price and appraised value you want, so address these issues before the appraiser is due.
Make sure everything is in working order before the appraiser arrives. If the appraiser discovers even a minor repair job that has been missed, they may assume there are bigger issues that have been ignored as well. You want to create the right impression even with minor problems.
Minor repair issues can add up to a major reduction in the value of your home. A leaky faucet, or a broken lock, might not seem much by themselves, but they add up. Appraisers tend to consider the value of the home in $500 increments. So that leaking faucet could be costing you $500.
Deep Clean Your Home
While having a very clean home won't stop the appraiser from seeing major problems that might exist, it will show them that you take care of the property. If the home appraiser sees a dirty and unorganized home, they are going to assume that maintenance issues have been ignored as well.
The appraisal report will include a rating for the condition of the home, and a cleaner home is going to look in better condition.
Doing a deep clean of your home may also uncover some issues you weren't aware of. This will allow you to get on top of the problems before the appraiser arrives.
Details Matter
Consider the home appraisal as if someone is looking at your home through a microscope, so you should too. Take care of the little things, making sure the home feels fresh and clean. Try to look at your home as if you were someone else, what problems can you see, and what could you change to make the home better? You need to be very critical because the home appraiser will be.
This could mean painting door frames and baseboards to freshen up the rooms. Relatively small jobs can make a really big difference in how appealing your home is.
Boost Your Homes Curb Appeal
Everyone who arrives at your home, be it an appraiser or a potential buyer, will make a judgment about the property in the first few seconds they see it. If your home looks great from the outside, this boosts your chances of getting the valuation you expect.
Simple things like making sure that your front yard is tidy, with the lawn cut, really helps create the right impression. Trim back any bushes and trees to present your home in its best light.
Cleaning up the front of your home could uncover problems that will show up in the appraisal, letting you deal with them first. These might be simple and cheap fixes, like damaged or rotted trim or blocked gutters.
Consider repainting part or all of the front of your home to boost its appeal. Just giving your front door a fresh coat of paint could make a great deal of difference to the instant appeal of your home.
List Your Upgrades
Upgrades you have recently made to your home won't always be obvious to the appraiser. Make a list of all the upgrades you have made recently, with the dates, any warranties you have, and details of permits if required. While not all home improvements add value they can help when the appraiser is determining the overall condition of your home.
Make sure to only list things that you have improved or replaced in the last few years. If the upgrade was five years ago, you don't need to mention it.
If you can also include the bills for the work, this will further support the value of your home. The expense you have paid for these upgrades should add something to the value of your home.
Understand Comparable Home Sales
To gauge the value of your property, the home appraiser will physically walk through your home. They will then need to find at least three similar homes that have recently sold. If similar homes are active or under contract they will not be used. An appraiser will need similar properties that have closed and funded in your immediate area or neighborhood. If there are a lot of comparables sales, but none of them support your contracted price don't expect your home to appraise. Once again, an appraiser needs not one, but three supporting sales.
Make Sure Your Real Estate Agent Attends
It is a good idea to use the experience of your real estate agent to help improve your home's value. Ask their advice about things you should fix in the home, in plenty of time before the home appraiser arrives.
They can also help on the day of the appraisal. A good real estate agent will prepare a presentation for the appraiser that will highlight upgrades and comparables that justify the value you expect. They can also explain improvements in the neighborhood, like a new shopping mall or improved amenities.
Get the Appraisal Done ASAP
As a seller, you aren't responsible for getting the appraisal, unless you are getting a pre-listing appraisal. The pre-listing appraisal can help you find the real value of your home and show you what you need to do to improve it. However, no two appraisals will ever be the same. So just because your home appraised for $500,000 with a pre-listing appraisal doesn't mean the next appraiser will come in at that exact same value. Once again, be prepared and know the comparable sales in the order.
While it is up to the buyer to pay for the appraisal their lender will be the one ordering it. While you have no control over when this takes place you do have control over when it needs to be completed by in the sales contract. This is why it's important to have short contingency periods.
It's never recommended to agree to a 30-day appraisal contingency and a 30-day closing. Will the lender take 30-days to get the appraisal back? It's unlikely unless they are running behind. However, it could still lead to finding out the home didn't appraise or repairs need to be completed right before closing.  This can add stress and in some cases additional expenses.
Final Thoughts
Sellers and listing agents don't have control over how much a home will appraise for. However, both parties can certainly do things to help it appraise for the contracted price. This is why it's important for all parties to be prepared and educated ahead of time. It's also important to set the appropriate expectations.
Please consider spreading the word and sharing; 8 Essential Steps to Prepare for a Home Appraisal
Home appraisals can often make or break a deal, so it's important for sellers to follow these 8 steps to prepare their home for the appraisal. #homeappraisal #realestate
About the Author
Top Wellington Realtor, Michelle Gibson, wrote: "8 Essential Steps to Prepare for a Home Appraisal"
Michelle has been specializing in residential real estate since 2001 throughout Wellington Florida and the surrounding area. Whether you're looking to buy, sell or rent she will guide you through the entire real estate transaction. If you're ready to put Michelle's knowledge and expertise to work for you call or e-mail her today.
Areas of service include Wellington, Lake Worth, Royal Palm Beach, Boynton Beach, West Palm Beach, Loxahatchee, Greenacres and more.