5 Advantages and Disadvantages of Having Home Insurance
Purchasing a new home is a big decision, and that's why it is exciting but also stressful. It can take a considerable amount of time and savings to get to the point where you can afford to take out a mortgage and buy a home. Since this is a huge financial investment, it is very important that you also purchase homeowners insurance. However, like any other type of insurance, home insurance has its own advantages and disadvantages.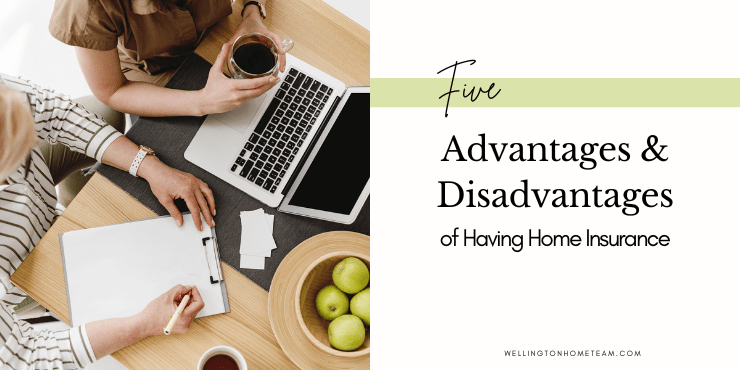 Understanding what they are can help you decide whether you should purchase homeowners insurance or not. Read on to learn more about home insurance, including the pros and cons that it has to offer.
What is Home Insurance?
Home insurance is an insurance policy that covers the costs and damage to insured property, such as your home. It's a necessity that protects your home and possessions against theft or damage. Usually, the policy covers interior damage, exterior damage, damage or loss of personal assets, and injury that arises while on the property.  
Typical types of home insurance policies include comprehensive, basic, broad, and no-frills coverages. They differ depending on a list of factors including the type and size of the residence, age, replacement value, etc. Make sure you look for a brokerage with competitive rates, where you can get multiple quotes for home insurance that best suit your needs and preferences. It's always a good idea to look around before you decide to purchase one.
Types of Coverage
One of the most inclusive home insurance policies is comprehensive coverage, which covers both the house and its contents for all risks, except for those that are specifically excluded. A basic, or named perils policy can help you save money, however, it carries the financial risk of some losses, as it covers only those perils that are specifically stated.
A broad insurance policy, on the other hand, is a mid-priced compromise between comprehensive and basic coverage. It provides coverage for the home and named perils coverage on the contents.
Advantages of Having Home Insurance Coverage
One of the best things about having homeowners insurance is that it covers significant damage to your home. It protects against damages that most people wouldn't be able to cover out of their own pocket. Damages such as fire, flood, lightning, and explosions are just a few examples of the protection offered by home insurance policies.
Protects Your Detached Structures
It's good to know that insurance policies also provide coverage for your detached structures, such as garages, fences, sheds, a dog house, and more.
Usually, these structures are covered at up to 10% (or another percentage) of the coverage limit for your main dwelling.
However, you can customize the policy if you want to add coverage for detached structures on your property.
Protection From Lawsuits
For instance, if someone sustains an injury while on your property, you will not be legally liable to pay the costs of that person's medical bills. This is quite beneficial because medical bills can cost thousands of dollars, which means that this aspect of homeowners insurance is a huge advantage.
Disadvantages of Having Home Insurance
The Cost
One of the main reasons why people are wondering whether to purchase home-owners insurance or not is because homeowners insurance can be expensive. The premiums, which need to be paid each month can be quite high, and the cost to maintain the insurance policy is substantial. The premiums are high due to the low deductible that you'll have to pay if you need to make a claim.
Terms and Conditions
The fact is, there are a few hidden costs of home-owners insurance that policyholders are unaware of because they're buried in the terms and conditions. Working with a reliable real estate agent or a broker, however, may help you figure out what these hidden costs are, so you can negotiate.
Does Not Cover Everything
Keep in mind that home-owners insurance doesn't cover every type of damage that your home sustains. Some damages incurred by storms and flood damage in some areas, may not be covered by the policy. That's why it is very important to read up on what each policy specifically provides coverage for, so you can rest easy knowing that your home is protected from certain damages.
Final Thoughts
Opting for a suitable policy is a big decision that homeowners need to make, so being aware of the pros and cons might help you choose the right one for you.
Remember, when shopping for a policy, get multiple quotes and consult with a reliable insurance broker or agent to discuss the best coverage that will work for you. You can also check with any insurer you're already working with because some companies write both home and auto insurance, so you might get a discount bundling your policies.
Just keep in mind sometimes the cheapest home insurance is not the best insurance, which is why it's so important to work with the best home insurance company and understand your policy coverage.
Please consider spreading the word and sharing; 5 Advantages and Disadvantages of Having Homeowners Insurance
There are many advantages and disadvantages of having homeowners insurance and here are the top 5 things to consider before buying a policy. #homeinsurance #insurancepolicy
About the Author
Top Wellington Realtor, Michelle Gibson, wrote: "5 Advantages and Disadvantages of Having Homeowners Insurance"
Michelle has been specializing in residential real estate since 2001 throughout Wellington Florida and the surrounding area. Whether you're looking to buy, sell or rent she will guide you through the entire real estate transaction. If you're ready to put Michelle's knowledge and expertise to work for you call or e-mail her today.
Areas of service include Wellington, Lake Worth, Royal Palm Beach, Boynton Beach, West Palm Beach, Loxahatchee, Greenacres, and more.
5 Advantages and Disadvantages of Having Homeowners Insurance