In your mind, you have the perfect vision for how to revamp your home – that is, until you consider the time you'll spend fixing the damage that decorations leave behind. Those who rent space also feel wary of putting holes in their walls, especially once they review the terms of their lease agreement. How do you make your home your own without creating more work for yourself later?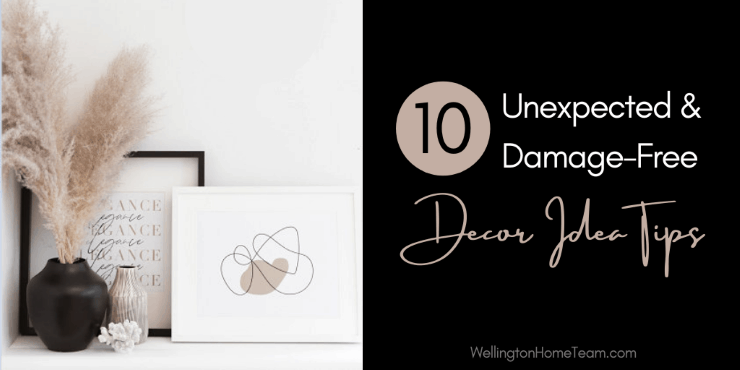 Illuminate Your Place with String Lights
There's something mystical about a room that glows with tiny string lights. It adds an element of relaxation and romance. If you want to make your space soothing, pick up a set of these lights. They come in shades of cool blue or warm yellow, so you can select the one that suits the mood you're going for. You can get rid of antiquated floor lamps and free up space for more modern decorations. 
Lay Down an Area Rug
Area rugs can become the centerpiece of any room. You may choose to keep it neutral, forgoing vibrant colors for interesting textures, or select a rug that catches the eye and becomes the focal point of a den, bedroom, or bathroom. Another bonus: it'll feel cushy to walk on when you're barefoot. Do you live in a noisy area? The thick fabric of a rug can absorb sound and give you some peace and quiet. Be sure to consider the other furniture and decorations in the room so that your rug doesn't clash with anything. 
Accessorize with Throw Pillows and Blankets
Is your couch looking worn down? Buying a new one can be expensive – instead, try and cover unsightly spots using a stylish blanket. It will look inviting, and when you're watching your favorite shows, you'll have an extra layer to curl up with.
The same goes for accent pillows: they'll improve the appearance of your couch for relatively little money. You can buy plain ones or opt for some with graphic designs and sequins – it all depends on how flashy you want your decor to be. 
Hang Pictures with Command Strips
If you are afraid of hanging pictures in fear that they will damage your walls, then all your posters are likely collecting dust. And your fears are justified – it is a hassle to fix holes from nails or repaint walls damaged by tape. Command strips were invented for this reason: they allow you to hang posters and frames without damaging the walls underneath.
These adhesives are affordable and durable. You can use them to put up photos you've kept in drawers. When it comes time to leave your apartment or sell your home, you won't have to worry about patching drywall and paint. Adorn your walls with framed masterpieces to give your space artistic class. Or, consider hanging portraits of scenery that you love. If you're a painter or photographer, why not display your own work? With Command strips, you can safely decorate your walls however you'd like.
Apply Temporary Wallpaper
If you've applied wallpaper before, then the thought of doing so again might make you shudder. You're picturing the hours of using a paste to glue it into place. Thanks to peel-and-stick wallpaper, this laborious task is made much easier – and less permanent. Wallpaper can make a stunning accent in any room. For the brave, you can even coat all four walls with it. When you're ready to move out, or you just want a change of scenery, simply peel it down from the corner to remove it.  
Invest in a Standing Screen
Are you unhappy with the layout of your space? If only you could put up another wall – and with a standing screen, you can. They can be used to divide your bedroom; it can give you some extra privacy or the illusion of a different room. These screens come in a range of patterns and materials, so you can find one that suits your space. A wooden divider will look like a natural barrier, but you might choose one with a vibrant print to make a statement. 
Add Some Plants (real or fake)
You can make your place feel fresher by adding pops of greenery; they will jump out in a bland room with white walls. If you have natural light in your apartment or house, feel free to purchase natural plants and flowers.
They require more maintenance, but they give off a natural smell that artificial plants can't match. Fake plants can make great decorations, too – just be selective about what you purchase. Some look more convincing than others. You can add a leafy tree-like plant near a seating area to make a relaxing canopy. Or, place pots with flowers in small corners that need an interesting addition. 
Put Up a Few Wall Decals
These graphics are a fun way to mix up the look of monotonous walls. Perhaps you want to spruce up your walls, but without blanketing them completely in temporary wallpaper. With wall decals, you can purchase fun phrases or artistic designs. Maybe you'd like a larger design, like a tree of life. There are endless options with wall decals, so shop around if you're considering them.
Stick a Tapestry to the Wall
Want to change the appearance of your walls, but without the labor involved in applying wallpaper? Tapestries may be right for you. They look natural and can be hung with Command strips, just like posters. Tapestries make a statement, but not one that's overwhelming, which can be the case with some wallpapers. From bohemian patterns to animal murals, you can hang a tapestry that speaks to your interests. Some will only take up a small portion of the wall, which leaves some of the paint behind it exposed as a nice contrast.
Buy New Blinds
When we start decorating, we often attend to the floors, furniture, and walls – but why not the windows? A regular white-framed window might look too plain for your taste. This gives you the perfect opportunity to add some subtle designer shades. Switch out basic blinds for more alluring ones. You can purchase curtains that will block out sunlight and make your windows more alluring. Purchase noise-canceling curtains if you live on a busy street; they'll block the sounds of cars outside or your neighbor's barking dog. 
How do you make your home your own without creating more work for yourself later? Here are 10 damage-free decor idea tips!
Final Thoughts
If you use any of these tips, your space will be transformed into an area that truly feels like home. The best part is that you won't need to worry about fixing any holes in the walls or repairing stripped paint. Renters can safely personalize their apartments without fear of breaking the lease agreement, and homeowners can decorate knowing that if they need to sell soon, it won't be a hassle to neutralize their space. 
Please consider spreading the word and sharing; "10 Unexpected and Damage-Free Decor Idea Tips"
About the Author
Top Wellington Realtor, Michelle Gibson, wrote: "10 Unexpected and Damage-Free Decor Idea Tips"
Michelle has been specializing in residential real estate since 2001 throughout Wellington Florida and the surrounding area. Whether you're looking to buy, sell or rent she will guide you through the entire real estate transaction. If you're ready to put Michelle's knowledge and expertise to work for you call or e-mail her today.
Areas of service include Wellington, Lake Worth, Royal Palm Beach, Boynton Beach, West Palm Beach, Loxahatchee, Greenacres and more.