Selling your home can be overwhelming and sometimes sellers aren't sure what to do and when to do it. This can certainly create a lot of unnecessary stress. In our latest article, we provide sellers with a "Home Selling Checklist." This list provides a step by step guide on exactly what to do and when to do it. We also provide some great tips and advice throughout our home selling checklist.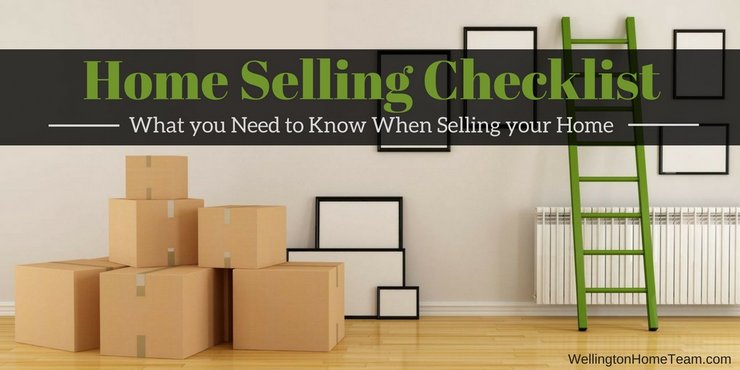 Home Selling Checklist | 9 Steps to Selling your Home
1. Can You Sell Your Home?
First and foremost you need to determine if you're in a position to sell your home. What's your home worth? How much do you owe? What's your estimated net, including any tax implications? After doing all the math if you determine you're in the financial position to sell the next step is to decide if it's the right time to sell. Is it a seller's market, stable market or buyer's market? Where are you going? Can you afford to move?
2. Hire a Realtor
Once you have determined you're in a position to move and want to move the next step is to hire a Realtor who specializes in your area. If you don't already know or have a trusted real estate advisor our Simple Guide to Finding a Real Estate Agent and our List of Questions to Ask a Realtor will help you hire the best Realtor to sell your home. We've also put together a list of 5 Things Sellers Should Expect from their Listing Agent and this is a "must-do" list.
3. Prepare Your Home
First impressions are everything and you'll only get one, so it's imperative your home is "show ready." In addition to staging your home you'll also want to make sure it smells good, all repairs are made and it has curb appeal because if it doesn't buyers may keep driving. Now you can certainly prepare your home prior to hiring a Realtor. However, by hiring a Realtor first they will be able to advise you on what changes and repairs are a must and which ones won't pay off so you aren't wasting money preparing your home for sale.
4. Time to List
Now that your home is "show ready" it's time to set the price and list it! From here your Realtor will enter your home in the MLS (Multiple Listing Service) with professional photographs, start marketing it, and schedule showing appointments.
5. Pack It Up
Congratulations you've accepted an offer and it's time to pack! Depending on where you are in the home selling process will dictate what you should pack. Does the buyer still have contingencies? If so you may want to start packing items you don't use. However, if all of the buyer's home contingencies are met or you're less than 2 weeks away from closing you'll want to start packing your entire home.
Home Selling Checklist | 9 Steps to Selling your Home
6. Move Out
Closing day is just around the corner and it's time to move! Make sure to leave everything agreed to in the sales contract. You should also leave any documentation you have for the property, such as appliance manuals and warranties. Some sellers will hire professionals to move them out while others will do it themselves. Either way, make sure to confirm everything well in advance so there are no surprises. Also, don't forget to clean the property once it's vacated.
7. Stop Services
Scheduling to stop services is the next step. You'll want to make sure all utilities stay on through the day of closing, so the buyers can do a final walkthrough. However, you certainly don't want to pay for services you're not using and leave them on past closing. Services you'll want to schedule to stop or turn off include electric, water, cable, phone, landscapers, pest control and maids, just to name a few.
8. Notify Everyone of Your Move
Notify friends, family, and service providers that you moved. You'll also want to change your mailing address at the post office and obtain a new drivers license with your correct address.
9. Closing Day
The last step to selling your home is closing on your home! You'll want to verify with the closing company what documents and/or proof of identification you'll need to bring to closing. Also, don't forget to gather and bring all keys, remotes and/or access cards for the property.
Final Thoughts
Selling your home doesn't have to be confusing, stressful or overwhelming. Following these steps in our Home Selling Checklist will alleviate some of the confusion, but more than anything if you hire a top Realtor to guide you through the selling process it will be stress-free as possible.
If you think this article, Home Selling Checklist | 9 Steps to Selling your Home, was an interesting read please give it a share!
Ready to Sell your Home, but aren't sure what to do and when to do it? If so check out our Home Selling Checklist with 9 Steps to Selling Your Home #homeselling
Additional Home Selling Resources
About the Author
The above real estate article "Home Selling Checklist | 9 Steps to Selling your Home" was written by Michelle Gibson of Wellington Florida Real Estate. Specializing in residential real estate since 2001 in Wellington and the surrounding area. Not only does Michelle assist buyers and sellers, she assists landlords and tenants too. She would love to share her expertise and guide you through the entire real estate process.
We service the following areas; Wellington, Lake Worth, Royal Palm Beach, Boynton Beach, West Palm Beach, Loxahatchee, Greenacres and more. If you are considering selling your home, we welcome the opportunity to work with you and list your home with a top Realtor in Wellington Florida