How to Buy a Condo with Financing | Step-by-Step Guide
Trying to buy a condo without cash can be an uphill battle. If you're able to obtain a conventional loan and put at least 25% down it gets a tad easier. However, if you can't put that much down it can be next to impossible. But there is hope for those of you who want to become a homeowner and purchase a condo but don't have a lot of money to put down. Let's take a closer look at how to buy a condo with financing.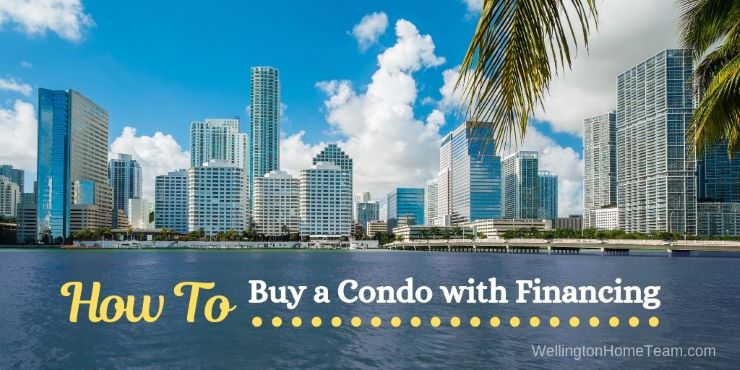 How to Buy a Condo with Financing
1. Community Restrictions
First and foremost, you'll need to find out if the community you're interested in has any credit or financing restrictions. Do they require a certain credit score? Do they require a minimum down payment, if obtaining financing? Is the community approved for FHA financing? These are questions that need to be asked and answered.
Since you or your real estate agent will most likely be dealing with a property management company or a community volunteer this step may take some time. It's also imperative to make sure the information you're receiving is accurate. If the person you're dealing with "thinks" there are no restrictions you'll want documentation supporting their "thoughts."
Here's a complete guide on how to buy a condo with financing, which isn't always easy or even possible. #realestate
2. Finance Restrictions
If the condominium community is FHA-approved this loan program may be a great option for those that qualify. An FHA mortgage has a low down payment of 3.5%. However, not many condo communities will be FHA approved, but there is still hope because conventional mortgage condo requirements may be just as low or even lower than FHA. There are plenty of condo communities that have a condo down payment requirement as low as 3%.
Now, in order to determine whether or not the community qualifies for a low down payment conventional loan you'll need a copy of the current budget. The magic figure you'll be looking for is 10%, at least 10% of the budget must go towards reserves. If it does odds are this community will qualify for a conventional loan with little money down. However, once you receive the budget you'll want to verify with the mortgage underwriter and make sure requirements haven't changed.
3. Seller Restrictions
Just because the community qualifies for a low down payment loan doesn't mean the seller will accept one. Sometimes cash is king in condo communities, so that's what a seller wants. If cash isn't possible they might settle for a strong offer where the buyer is putting at least 25% down. Many sellers hear horror stories about condo financing problems.
However, if you or your agent are able to educate the seller they might change their mind. The key is to show them you did your homework, their condo qualifies for a low down payment and you are qualified.
Final Thoughts
Buying a condo with financing isn't always easy especially if you don't have a lot of money to put down. Although this step-by-step guide on how to buy a condo with financing shows it is possible. It may take countless phone calls and quite a bit of time to buy a condo with little to no money down, but it can be done.
Condos are a great option for a lot of first-time homebuyers who want to leave an apartment complex but aren't ready for the upkeep of a home. Although there is a cost for a maintenance-free lifestyle, so buyers need to make sure they can afford the monthly dues in addition to their mortgage and utilities.
If you don't have 25% to put down don't assume you can't purchase a condo. Speak with a top Realtor and lender in your area to discuss your options.
Please consider spreading the word and sharing; How to Buy a Condo with Financing | Step-by-Step Guide
Here's a complete guide on how to buy a condo with financing, which isn't always easy or even possible. #realestate
Additional Advice from Top Realtors
There are several questions homebuyers need to ask when buying a condo. There are basic questions, that most buyers will ask, like what are the monthly fees and what do they include. Then there are more in-depth questions, like how much money is going to reserves? Requesting a copy of the budget and analyzing it is a must. This question can determine how the community is doing financially and what type of financing it qualifies for. While this may not be a concern for most buyers, especially cash buyers, but it will be when they turn into sellers.
Unlike a single-family home where FHA approval isn't needed condo communities are not the same. HUD, the Department of Housing and Urban Development, must approve a condo building before an FHA loan can be used to purchase one of the units. And not all condo communities or condo buildings will qualify for an FHA loan, which is why doing homework upfront is a must. The easiest way is to go directly to HUD for a list of FHA-approved condos. Although if a condo isn't on the list doesn't mean it won't qualify.
Condo living isn't for everyone, there are pros and cons to owning a home vs condo. For those interested in a maintenance-free lifestyle with amenities, a condo might be the right move. However, if a person is looking for privacy, and not sharing walls with others, a home may be a better option. It all depends on what a person's housing goals are.
About the Author
Top Wellington Realtor, Michelle Gibson, wrote: "How to Buy a Condo with Financing | Step by Step Guide."
Michelle has been specializing in residential real estate since 2001 throughout Wellington Florida and the surrounding area. Whether you're looking to buy, sell or rent she will guide you through the entire real estate transaction. If you're ready to put Michelle's knowledge and expertise to work for you call or e-mail her today.
Areas of service include Wellington, Lake Worth, Royal Palm Beach, Boynton Beach, West Palm Beach, Loxahatchee, Greenacres, and more.
How to Buy a Condo with Financing | Step-by-Step Guide