10 Pros and Cons of Cosigning a Mortgage for Your Child
There could be many reasons why your child is unable to qualify for a mortgage. Perhaps they have student loans that make qualifying for a mortgage almost impossible. And as a parent, you'll want to help, and it could be possible if you're willing to cosign on the home loan.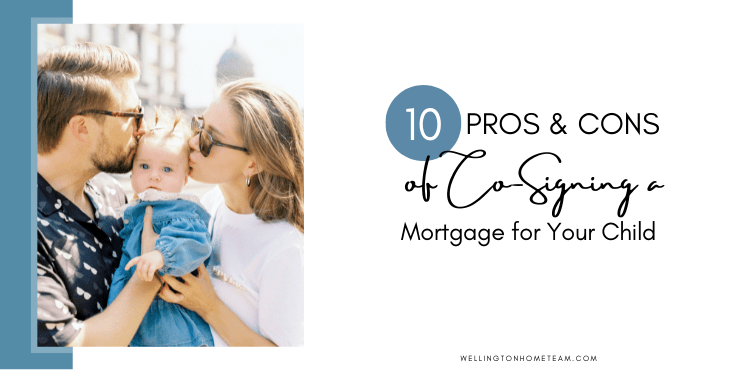 While co-signing on the home loan will help your child make their first purchase in the property market, it isn't without potential problems.
We look at what you need to consider when you are thinking about becoming a co-signer for your child.
What is Cosigning on a Mortgage?
When you cosign a mortgage, you are responsible for the debt should the person you are co-signing with failure to pay. Even though you are guaranteeing to the lender that the mortgage payments will be covered, you don't own the home.
If you are going to be cosigning a mortgage, you will need to be stable financially. This means a reliable source of income, your debt to income ratio should be low, and a good credit score will help.
You will also need to consider that you still need to pay back any loans or mortgages you already have. So if you currently have a mortgage, could you afford to pay for two?
What are the Pros and Cons of Cosigning on a Mortgage?
Choosing to co-sign on a mortgage is a difficult decision. To help you work out whether you want to become a co-signer, let's review the pros and cons of cosigning a mortgage for your child.
The Pros of Cosigning a Mortgage
Helping Your Child
If your child does not have the credit score to get a mortgage by themselves, co-signing allows them to own a home. And once you've co-signed on the home, your child will be by improving their credit rating each month as they pay the mortgage.
Homeownership for your child will help secure their financial future, while also giving them the responsibility that they may not be used to. It might stop them from paying rent to a landlord, money which doesn't benefit them in the future, and instead invest it in their home.
It Gives You Your Home Back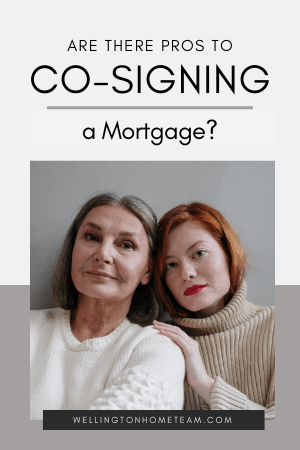 Although recent home ownership statistics suggest millennials are buying homes at a higher rate than previously thought, it is more common for Millennials to continue living with their parents than previous generations. This can create friction, and be a less-than-ideal arrangement for parents and their adult children alike. If your child hasn't moved out, perhaps because of their financial situation, co-signing a mortgage could be a solution.
When your child moves out, it could give you more space and also more privacy. If you no longer have older children living in your home to consider, it gives you more options. Perhaps you want to move to a new city, something that could be a problem if you need to consider the living arrangements of an adult child.
It Could Improve Your Credit Score
If everything goes to plan, and your child successfully pays the mortgage on time, every time, it will benefit your credit score in the long run.
It Could Be a Good Investment
Even if things go wrong and you end up being responsible for the mortgage, it may not be all bad. It could turn out to have been a good investment if the real estate market in the area has risen. You can choose to rent out the property, or sell it straight away, whichever offers the most profit.
There are many pros and cons you should consider prior to cosigning a mortgage for your child, there are alternatives to consider as well. #realestate #homebuying
The Cons of Cosigning a Mortgage
Negative Effects On Your Credit
If your child misses a mortgage payment, or worse, ends up in foreclosure, it will affect your credit score. If you need to get a new loan yourself, you could find it difficult, and it will cost you more, through no fault of your own.
Does the Lender Know Something You Don't?
If your child has a good job and has qualified for loans previously, they shouldn't have that much trouble getting a mortgage. Lenders don't turn down mortgage applications for no reason, so this must be an indication that your child is too much of a risk.
Perhaps they have something in their financial history that you don't know about, preventing them from getting a home loan. Before you agree to co-sign on a mortgage, you need to find out what the cause of the rejection is, if it isn't obvious.
It might be the case that your child needs to take some time to repair their financial situation and their credit score before they apply for a mortgage again. And perhaps they need to lower their sights to find a more modest home.
Mortgages Take a Long Time to be Repaid
Co-signing on a mortgage is a long-term commitment. If things don't go the way you hope, you can't get back out of the deal. You will be removed as a co-signer when the home is sold, or the mortgage is paid off, and that could be 20 or 30 years away.
While your child can also refinance the mortgage, removing you from being co-signed, you are likely to be tied to this agreement for a long time. You'll want to make sure that payments are made on time so it doesn't harm your credit. This will involve keeping a check on the payments being made and could be an ongoing source of concern.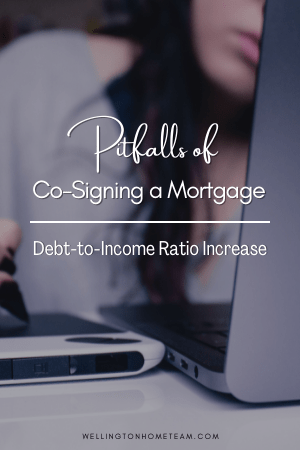 Increasing Your Debt-to-Income Ratio
When you apply for credit, the lender looks at how much debt you have compared to your income. When you cosign on a mortgage, there will be a lot more debt on your credit report making your debt-to-income ratio worse.
If your debt-to-income ratio isn't good, it will be more difficult for you to get future credit. And even if you are approved for a loan in the future, it's likely the terms won't be as good as they would otherwise be.
You Could Harm Family Relationships
There is always the danger of close family relationships becoming complicated should mortgage payments not be paid on time. There will be an understandable concern on your part if your child doesn't take their financial responsibility seriously.
Your child's mortgage could cause arguments between family members that could take a long time to heal. In the end, you might consider that helping your child buy a property wasn't worth the arguments and family dispute it caused.
Preparing for the Worst
It is all too common for co-signers to have to pay money towards the loan they agreed to guarantee. In case this happens, you have to be prepared to pay the mortgage, but do you have enough income or savings to meet this expense?
If you cannot take on this extra expense without destroying your finances, perhaps guaranteeing the loan isn't such a good idea.
What are the Alternatives to Cosigning a Mortgage?
If you don't like the downsides when becoming a co-signer, there are alternatives.
Help with the Cost of Buying a Home
Part of the problem that might be preventing your child from getting a mortgage could be finding money for a down payment. Buyers often save for years to get a reasonable down payment to make buying their first home possible.
Homebuyers who have less money available for a down payment are likely to face higher interest rates on the loan and extra fees. With a down payment of 20% of the home loan value, your child will find it easier to afford the mortgage payments, and it will increase their chances of being approved by a lender.
You can also help your child with closing costs, which can be 3% to 6% of the purchase price. Financial help when buying a first home will go a long way to making it happen faster, and make it easier for a lender to approve the mortgage.
Lend the Money Yourself
You could, if you have enough cash or borrow from your 401K, lend the money for the property to your child. It would work in a similar way to a normal loan, though you will need to get advice from a financial expert before going ahead. You will want to make sure you stay on the right side of the IRS before loaning the money for the home.
Become a Landlord
If you have the money available, buying the home is another option to consider. The home can then be rented out to your child while they save money and improve their finances. When they are ready, they can successfully apply for a mortgage to buy the home from you.
Is it the Right Decision to Cosign on a Mortgage for Your Child?
There are many things to consider when deciding if cosigning a mortgage is the right option to help your child buy a home.
You need to know why the lender will not approve a mortgage. If this is because your child is trying to buy a home that is above what they can afford on their income level, perhaps a smaller home or a property in a different area would be a better match. Otherwise, you could be committing your child and yourself to financial problems in the future.
Though if they are just falling short of the requirements to be approved for a mortgage, co-signing is a great way to help out. You should remember the commitment this involves and the level of trust you have to have in your child to make sure things don't go wrong.
Final Thoughts
There are many pros and cons of co-signing a mortgage for your child but there are also some alternatives to co-signing a mortgage, which should be explored. Prior to making a decision, you'll want to carefully review the pros, cons, and alternative options. Reaching out to your CPA to learn about the tax implications of co-signing a mortgage should be explored as well.
Please consider spreading the word and sharing; 9 Pros and Cons of Cosigning a Mortgage for Your Child
There are many pros and cons you should consider prior to cosigning a mortgage for your child, there are alternatives to consider as well. #realestate #homebuying
About the Author
Top Wellington Realtor, Michelle Gibson, wrote: "10 Pros and Cons of Cosigning a Mortgage for Your Child"
Michelle has been specializing in residential real estate since 2001 throughout Wellington Florida and the surrounding area. Whether you're looking to buy, sell or rent she will guide you through the entire real estate transaction. If you're ready to put Michelle's knowledge and expertise to work for you call or e-mail her today.
Areas of service include Wellington, Lake Worth, Royal Palm Beach, Boynton Beach, West Palm Beach, Loxahatchee, Greenacres, and more.
10 Pros and Cons of Cosigning a Mortgage for Your Child