Help Rebuild Tiger Shark Cove Park in Wellington Florida
Do you have plans over Spring Break 2012?  If not volunteer to help rebuild Tiger Shark Cove Park in Wellington Florida.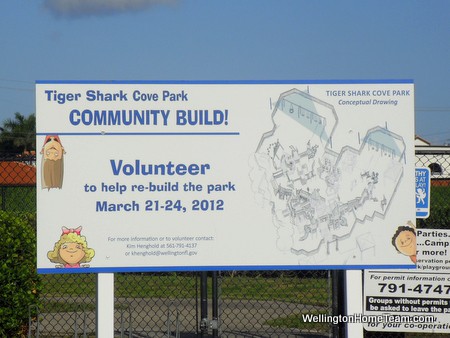 Over a decade ago Wellington residents came together to build this beautiful park and now the Village of Wellington is calling on residents once again to help with the rebuild.
Approximately 75 volunteers are needed daily to make the rebuilding of Tiger Shark Cove a success. Kids & Teens are welcome to join in rebuilding Tiger Shar Cove too!  Teens 15 years of age or older can volunteer with parental consent, children ages 10-14 can also volunteer with a parent.  Child care will be provided for children ages 5 to 10.
The rebuild of Tiger Shark Cove will take place over four days starting on Wednesday, March 21st, 2012 and ending on Saturday, March 24th, 2012.
Three different shifts are available each day:
8:00 am to Noon
Noon to 5:00 pm
8:00 am to 5:00 pm
Check out Wellington's last Community Build: Scott's Place