How To Make a Home Listing Stand Out | 5 Helpful Tips
Home selling may sound easy, but it's not. That's why real estate agents need to work closely with sellers to make a compelling listing, screen potential buyers, and prepare the house for viewing and staging.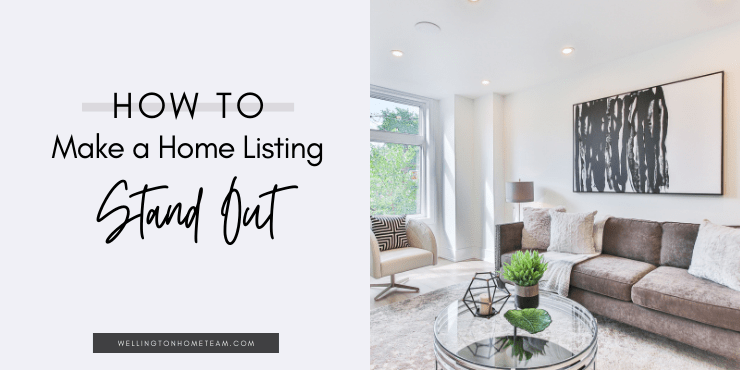 Listing the property on several home-selling platforms is a good start, keeping in mind that hundreds of properties are competing for buyers' attention. As such, more isn't always better in increasing the chances of closing a sale. Creating a compelling listing directed toward the right audience is more important and making it stand out on house buying websites is a must!
5 Tips for Creating an  Extraordinary Listing
Below, you'll find five tips for making an extraordinary listing that buyers are more likely to respond to and help the listing stand out.  
Keep The Listing Search-Friendly 
The expanding adoption of the internet and smartphones has facilitated a shift in the consumer journey. More than half of buyers often turn to their browsers to search for the products and services they need. 
So it's important your listing agent markets your home across multiple platforms and that it's easy to find. It's also important to make sure your home listing will draw a buyer in. Just because your home is on multiple platforms doesn't guarantee a buyer will be interested or make a listing stand out.
To optimize your listing for maximum appeal to potential buyers; 
Have an attention-grabbing title and descriptive words to stir buyers' interest better in the listing description. 

Take a buyer's point of view and see if their main concerns and queries within the required word count limit are addressed. 

Don't forget to guide buyers through the following steps using call-to-action, as digital marketing experts would. 
While online is the standard place to market real estate listing agents can still do traditional marketing, such as newspaper advertisements and flyers similar to a listing presentation to make it more attractive. 
Making a home listing stand out is a must when selling a home and here are 5 ways to achieve a listing that is sure to draw buyers in. #realestate #homeselling
Highlight The Property's Unique Features 
When listing a home, listing agents and sellers must make sure to highlight the home's features in order to make the listing stand out. Prioritize the property's best traits or the features that make it unique first. 
Sellers should provide a list of improvements and renovations done within the last 5 years, such as a kitchen or bathroom renovation. If the owner spent several thousand dollars purchasing the newest kitchen appliances, that should be noted in the description. Properties with smart-technology-enabled devices command higher prices and make it an exceptional buy, so don't forget to mention it. 
Tap The Latest Selling Tools
Besides uploading stunning photos, tapping the latest technology can also help convince more buyers to pay attention to the home you're selling. It also enables you to facilitate a sale for prospects living out of state. The following tools can help buyers view the property instantly with less hassle: 
This multimedia channel can give buyers a better 'feel' of what it's like to be inside the home pending an actual visit. 
Drone photography may be your best friend if you're selling a property with a vast land area. It shows your home and the amenities and nearby properties surrounding it.     
3-D viewing takes home viewing to the next level, and you can achieve this by using virtual reality in your listing. After creating a video, property sellers don't need to leave their homes to make remote home visits possible.    
Focus on Curb Appeal 
Sellers must declutter, clean, and organize the home to prepare for the home sale. A tidy interior and exterior make it more attractive to buyers. The front yard serves as the property's face, and leaving the yard in an unimpressive state is a costly mistake. 
To enhance curb appeal, landscapers can be hired to give the yard a more welcoming vibe. Also, the front and backyard should be tidied up before hiring videographers to take videos and photos of the property to ramp up buyers' interest.  
Stage The Home Well 
Home staging is a subtle yet effective method of drawing attention to the property and making it more attractive to prospects. Preparing for staging requires owners to thoroughly clean and depersonalize their homes. Once done, it's time for real estate listing agents to step in. 
In this pre-viewing process, agents must focus on keeping the property fresh and accentuating its character. Refresh the home's overall look by renting out new and esthetically-pleasing pieces of furniture and fixtures. Adjusting the lighting and removing unnecessary structures can go a long way. 
Additionally, home staging isn't only valuable for accommodating interested buyers who prefer the traditional home buying process. Doing these things can make it easier for buyers to imagine living in the property as soon as possible. It also prepares the property well for photo and video sessions using the latest technologies for virtual viewings.
Concluding Thoughts
Making a listing stand out is key when selling a home, regardless if it's a sellers market or buyers market. Maintaining open communication and good relations between a listing agent and seller is also important to achieve optimal results. As buyers prefer move-in-ready homes, listing agents can easily increase the chances of a successful home sale using the tips above. 
A compelling description boosted by awesome photos is critical for every home listing. However, sellers must keep the property spotless and well-organized and perform repairs before listing it on the open market. Doing so can make it more appealing in the eyes of potential buyers.
Please consider spreading the word and sharing; How To Make a Home Listing Stand Out | 5 Helpful Tips
Making a home listing stand out is a must when selling a home and here are 5 ways to achieve a listing that is sure to draw buyers in. #realestate #homeselling
About the Author
Top Wellington Realtor, Michelle Gibson, wrote: "How To Make a Home Listing Stand Out | 5 Helpful Tips"
Michelle has been specializing in residential real estate since 2001 throughout Wellington Florida and the surrounding area. Whether you're looking to buy, sell or rent she will guide you through the entire real estate transaction. If you're ready to put Michelle's knowledge and expertise to work for you call or e-mail her today.
Areas of service include Wellington, Lake Worth, Royal Palm Beach, Boynton Beach, West Palm Beach, Loxahatchee, Greenacres, and more.
How To Make a Home Listing Stand Out | 5 Helpful Tips