What are the Showing Instructions for Your Home?
If a buyer can't see your home they can't buy it! A seller usually decides when and how their home can be shown. However, the listing agent is usually the one who decides how the buyers' agent needs to schedule an appointment.
Sometimes it may be extremely easy and other times it might be next to impossible even if the seller themselves are very accommodating. A few decades ago the only way to schedule an appointment was to call the listing office during business hours. But with today's technology there are so many easy and convenient ways to schedule an appointment without even picking up the phone.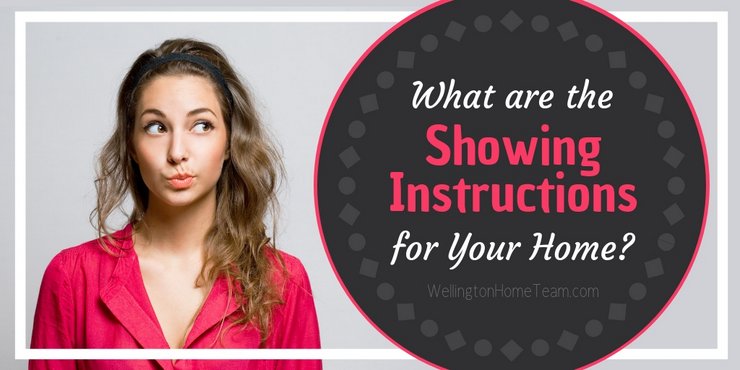 What are the Showing Instructions for Your Home?
Below are the most common ways to schedule an appointment. Some of these options are super easy while others are more difficult and time-consuming for agents, which could cost you a showing.
Schedule Online
This is by far the easiest way to schedule an appointment! A lot of MLS's have a feature right in the MLS listing where a buyer's agent can request a showing. If your home is vacant your agent can set up a "show and go." This means once an agent requests an appointment their appointment will automatically be confirmed and provided showing instructions.
Now, if your home is occupied you may want to approve all showings. So, in that case, they can set up "request appointment." With this option the buyers' agent will pick a day and time they'd like to view your home. This request will be sent directly to the listing agent and/or seller via text and/or e-mail. If the appointment request is approved the person approving the appointment can simply respond "Y" on their phone. The appointment confirmation and instructions will then automatically be sent to the buyers' agent.
Call/ Text Listing Agent
Some listing agents want all showings to go directly through them, which sounds easy. However, that's not always the case. Does your listing agent respond to phone calls and/or text messages in a timely manner? Are there days and times where their phone will be shut off for several hours? Like, church on Sunday or at a dinner party on Friday. Sometimes trying to get into touch with the listing agent can be very difficult and some buyer's agents will eventually give up.
Call the Listing Office
Calling the listing office is still an option some listing agents select. There are some positives, but there are also some negatives. A positive is someone at the office is dedicated to scheduling appointments. But a negative is they'll only be doing so during office hours. If this is the option your listing agent selected what happens when the office is closed? Do agents have to wait for the office to open?
Knowing the showing instructions for your home is key because if a buyer can't see it they can't buy it. So it's imperative your agent makes it easy #homeselling #realestate
Call Appointment Center
Similar to calling the listing office agents will call an appointment center. Once again someone is dedicated to scheduling appointments, but unlike a real estate office, most call centers have extended hours, such as 8:00 am to 9:00 pm Monday through Sunday.
Call Owner
While it's a rare option some owners schedule their own appointments, which cuts out the middleman, but it can also cut out the listing agent. If this is the option a seller selects it's imperative to provide the listing agent with the appointment details; day, time, agent, agents info, so they can follow up.
Final Thoughts
In addition to making your home easy to show you also need to make sure your listing agent makes it easy to schedule an appointment to view your home. I can't count how many times it has taken days to obtain showing instructions for a VACANT home, that should never ever happen with today's technology. Don't be afraid to ask your agent what system they have in place to schedule showings for your home, once again if a buyer can't see your home they can't buy it!
Please consider spreading the word and sharing; What are the Showing Instructions for Your Home?
Additional Resources

About the Author
The above real estate article "What are the Showing Instructions for Your Home?" was written by Michelle Gibson of Wellington Florida Real Estate. Specializing in residential real estate since 2001 in Wellington and the surrounding area. Not only does Michelle assist buyers and sellers, she assists landlords and tenants too. She would love to share her expertise and guide you through the entire real estate process.
We service the following areas; Wellington, Lake Worth, Royal Palm Beach, Boynton Beach, West Palm Beach, Loxahatchee, Greenacres and more. If you are considering selling your home, we welcome the opportunity to work with you and list your home with a top Realtor in Wellington Florida