4 Reasons Home Buyers Can't See Homes RIGHT NOW
Buying a home can be very exciting for a lot of people and sometimes when excitement takes over patience can disappear. So when a new listing hits the market or they find a home they really like they want to see it "right now." However, being able to see a home in ten minutes or even 10 hours isn't always possible. Looking at a home sounds simple, you just need an agent to open the door for you. But oftentimes it's a lot more complicated than that because there are many intricacies to scheduling appointments to view homes.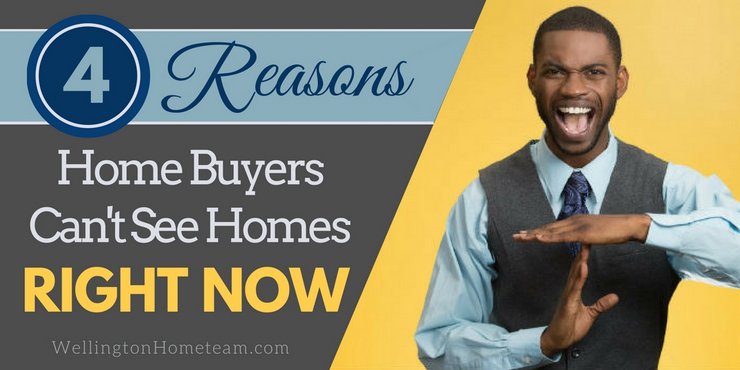 Availability
First and foremost a majority of real estate agents aren't sitting around waiting for a buyer to call them to go look at homes. In fact, many real estate agents have their day or even week already planned out. So the odds of an agent being able to jump in their car to show homes is unlikely. Now if the agent is working floor duty, which is when they sit at their brokerage's front desk answering phones trying to pick up new clients it may be possible. Although even if an agent is available, seeing homes "right now" may not be possible due to reason #2; Jumping Through Hoops.
It's Not Always Easy to View Homes!
It's not always easy to view homes! Obtaining showing instructions to view a home isn't always easy and sometimes it can take hours or days to schedule an appointment, even when the house for sale is vacant. Every listing agent handles showing instructions differently. Sometimes the buyer's agent needs to contact them for access and other times they'll need to call an office that handles the showings or schedule online.
If the listing agent needs to be contacted they themselves might be busy and may not respond immediately to any showing requests. If the listing office or a showing company needs to be called they'll have office hours, which they aren't open 24-7. Then the third option might be, scheduling online, which can also take time to receive a response.
Once the buyer's agent is able to connect with the person who's in charge of scheduling appointments then there is the obstacle of viewing the property. Does the seller or tenant require 24-48 hour notice? Does the listing agent have to accompany? If so, now multiple people's schedules need to align. Some sellers also have pets or kids that need to be removed from the home, so last minute appointments aren't even an option.
Planning
Agents need to plan and prepare! Then there is the planning. If a buyer wants to view more than one home it can become a juggling act. One home may only allow showings from noon to 1:00 pm. While another home requires the agent to accompany and they aren't available until 2:00 pm. So the first step a buyer's agent needs to take is looking at the showing instructions for each property. This will help them determine if a home can be easily shown or if there are restrictions like 24-hour notice or agent accompany.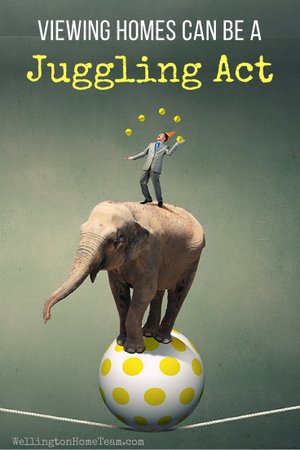 Then the agent has to map everything out, figure out what order they are going to view homes, approximately what time they will be arriving, guesstimate how long the buyer will take to look at the property, and then calculate travel time to the next property. Why? Because a majority of owner-occupied properties only allow a 15-60 minute window to view their home. We can't show up whenever we want. So if your agent miscalculates their time you may not be able to see one or more of the properties. Throw in agent accompany showings and the entire schedule may need to be completely readjusted around the listing agents' availability.
In addition to getting every showing scheduled most agents will then have to pinpoint exactly where each home is. Yes, a majority of agents will know where the street is. However, do they know if the home is the 5th one on the left or 10th one on the right? In most cases, they won't know, so they'll need to map it out ahead of time.
Some agents will memorize the location of the property on the MLS map, which is hopefully accurate and others will enter all of the addresses in their GPS. Once again requires time to do so. Then some agents may forgo taking this step altogether. However, when you're on a tight schedule you can't afford to get lost. So it's important your agent knows where they're going.
Qualifications
Lastly, will the house even work for you? Can you afford it? Are you pre-approved? Some home buyers want a home with at least 2,400 square feet. However, the home they want to view has 1,300. So to avoid wasting your time or anyone else's time you should establish a relationship with a top Realtor. They can guide you through the entire buying process.
Final Thoughts
Viewing a home or homes isn't as easy as opening a door. A majority of the time agents have a lot of prep work to do in order to show homes. With that being said a buyer will have a better chance of being the first in the door if they have an agent. Yes, find one agent you feel is a good match and stick with that one agent. When you find something you like online send it to your agent. Don't contact another agent to ask questions or view homes, that's what your agent is for.
If you think this article, 4 Reasons Home Buyers Can't See Homes RIGHT NOW, was an interesting read please give it a share!
Looking at homes sounds simple, you just need an agent to open the door for you, but buyers can't see homes right away, and here's why. #realestate
Additional Real Estate Advice from Top Professionals
About the Author
The above real estate article "4 Reasons Home Buyers Can't See Homes RIGHT NOW" was written by Michelle Gibson of Wellington Florida Real Estate. Specializing in residential real estate since 2001 in Wellington and the surrounding area. Not only does Michelle assist buyers and sellers, she assists landlords and tenants too. She would love to share her expertise and guide you through the entire real estate process.
We service the following areas; Wellington, Lake Worth, Royal Palm Beach, Boynton Beach, West Palm Beach, Loxahatchee, Greenacres, and more. If you are considering selling your home, we welcome the opportunity to work with you and list your home with a top Realtor in Wellington Florida