8 Bold and Stylish Decorating Tips for Any Space
The key to building a stunning and comfortable house is interior styling. With proper interior styling advice, you can make any room a cozy refuge representing your character and way of life. Here are 8 tips for stylish home interiors that will help you create the appearance and feel you want for your home.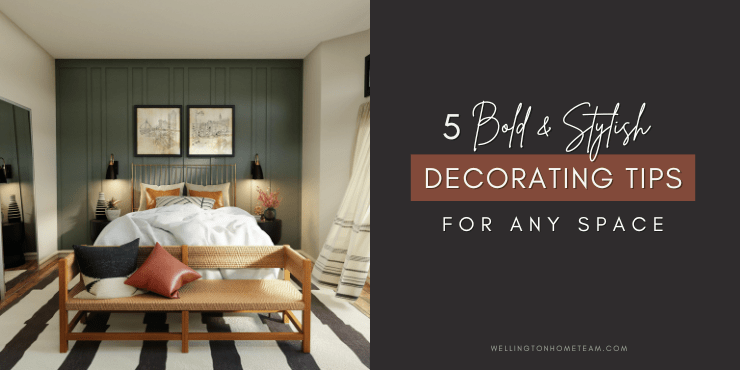 1. Personalize It
Find your unique style, and let your space tell your story! The things you love, where you've been, and who you are all reflected in your house. By carefully picking what you put in it, you can turn it into your happy spot. I love using items from my travels around the world, a gorgeous hand-woven throw from my country, a hand-painted piece of furniture, a rug that makes me think of the ocean, and vibrant coffee table books about the things I adore to tell my story through the way I style my home. Be authentic in the way you design your home, and it will always be lovely!
2. Don't Be Intimidated by Color
Gone are the days of soft beige and dull gray. The last year has seen design take a turn towards the bold and bright – color blocking, neon pops, and dramatic color surprises are trending everywhere. Don't be afraid to add a modern interior design with color, whether in the form of art, painted furniture, a feature wall, rugs, accessories, or any other way. White walls and floors provide the perfect backdrop for colored pieces to make an impression.
3. Mix Things Up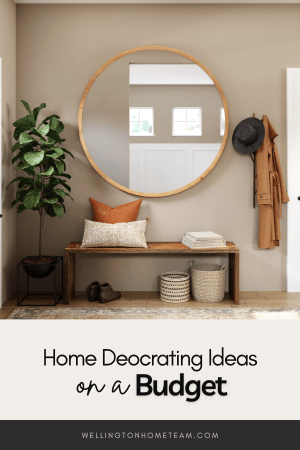 Gone are the days of cookie-cutter decor with perfectly matched colors and patterns. Eclectic interiors are all the rage now, featuring bold combinations of hues, textures, and prints. Designers are increasingly experimenting with daring juxtapositions, such as pairing modern furnishings with a vintage statement piece or blending serene pastels with a pop of neon.
By mixing and matching different trends from various eras and styles, you can add a unique and playful twist to your space. So, take a risk and incorporate that white and pink Beni Ouarain Moroccan rug, a marble coffee table with rose gold legs, and a plush deep blue velvet couch. Have fun and mix it up a bit!
4. Take Inspiration from Nature
Nature always offers timeless inspiration for decorating your home. Bringing the outdoors inside with lush greenery is a beautiful way to add life to any room. Hanging gardens, terrariums, green walls, and potted plants are all excellent options, but they require regular care and attention. If you're looking for a low-maintenance way to go green, consider incorporating botanical prints into your decor. Whether as artwork, soft furnishings, botanical-themed furniture, or wallpaper, these prints can instantly transform your space with minimal effort.
The key to building a stunning and comfortable house is interior styling and here are 8 bold and stylish decorating tips for every space in your home! #homedecoring #stylingtips
5. Upcycle to Refresh Your Space
One of the biggest home decorating ideas on a budget on upcycling! Have you got a piece of furniture that's seen better days or no longer matches your decor? Do you have a treasured antique that could use a refresh for our tropical climate? Think about upcycling it rather than throwing it away! Old furniture and ornaments can be given new life with a little paint and tender loving care, resulting in lovely pieces that perfectly match the design of your home. Not only is upcycling a great method to breathe new life into used goods, but it also enables you to give your home a special, individual touch.
6. Add Some Glitz with Metallic Accents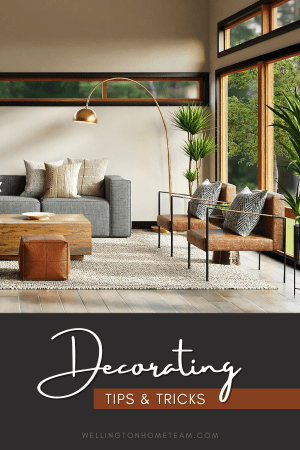 Metallic accents are a great way to add some glitter without being over the top if you adore the glam style of rose gold but are worried about going crazy. Metallics were also singled out by Pantone as a hot trend last year!
Try adding hints of glistening metal to light fixtures, artwork, fabrics, and little trinkets to incorporate metallics in a refined and subtle way. Consider hand-painting metallic sheen onto ornaments, clothing, or furniture for a more creative touch.
And if you want to create a layered and fashionable style, don't be afraid to mix and match various metallic tones like rose gold, copper, gold, and silver.
7. Think of DIY
Almost anything can be altered with a little paint and a stencil, including floors, furniture, and fabrics! If you're sick of your monotonous bathroom tiles or want to add some personality to the wall of your balcony, think about doing a DIY and utilizing stencils. It's an easy, quick, and affordable method to give any space a unique flair. Furthermore, if you do it yourself, you can customize it and perhaps turn it into a fun family project for the weekend!
8. Curate a Wall of Pictures
A gallery wall lets you share your narrative while showcasing your unique taste. It's the perfect accent wall with a more interesting and enjoyable design. Each gallery wall is distinctive and contains a personal collection of works of art, images, and other sentimental objects that reflect your interests, values, and life. Every time you look at it, it's a terrific way to make yourself smile.
To begin, select the wall you want to highlight, and then begin collecting pieces of art that you enjoy, such as original artwork, art prints, macrame plant hangers, fabric hoop art, metal signs, postcards, inspiring phrases, mirrors, and clocks. Once you've made a decent choice, plan the layout and, if possible, create a mock-up. When you're satisfied with how it looks, put it on the wall and take pleasure in your distinctive and individual gallery wall!
Final Thoughts
These decorating tips and tricks are sure to add style to your home! You can easily make your home both beautiful and practical, ensuring it's easy to live in. All you have to do is carefully select everything you own with care and love and practically add new pieces that are both functional and stylish. However, always remember that you own your possessions, and they don't own you!
Please consider spreading the word and sharing; 8 Bold and Stylish Decorating Tips for Any Space
The key to building a stunning and comfortable house is interior styling and here are 8 bold and stylish decorating tips for every space in your home! #homedecoring #stylingtips
About the Author
Top Wellington Realtor, Michelle Gibson, wrote: "8 Bold and Stylish Decorating Tips for Any Space"
Michelle has been specializing in residential real estate since 2001 throughout Wellington Florida and the surrounding area. Whether you're looking to buy, sell or rent she will guide you through the entire real estate transaction. If you're ready to put Michelle's knowledge and expertise to work for you call or e-mail her today.
Areas of service include Wellington, Lake Worth, Royal Palm Beach, Boynton Beach, West Palm Beach, Loxahatchee, Greenacres, and more.
8 Bold and Stylish Decorating Tips for Any Space