Can an Unapproved Buyer Look at Homes for Sale?
Buying a home isn't just a financial investment but also a place where memories are created and a sense of security is established. However, the home buying process can be complex, and one of the early hurdles potential buyers face, if they aren't paying cash, is obtaining mortgage pre-approval.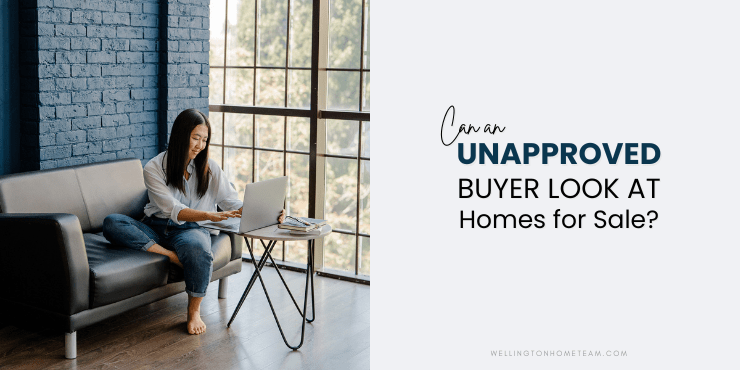 This raises a question: Can an unapproved buyer look at homes for sale? In this article, we will delve into this issue, explore the advantages of a mortgage pre-approval, the steps buyers should take when entering the home buying market, and answer this very popular question.
Understanding Mortgage Pre-Approval
Before we address whether unapproved buyers can view homes for sale, let's first understand what mortgage pre-approval entails. Mortgage pre-approval is a process by which a lender evaluates a borrower's financial situation to determine how much they are willing to lend for a home purchase. This involves an in-depth review of the borrower's credit history, income, assets, and debts.
Here are a few key aspects of the mortgage pre-approval process:
Credit Assessment: Lenders assess the borrower's credit score to gauge their creditworthiness. A higher credit score often leads to better loan terms.
Income Verification: Borrowers are required to provide proof of their income, typically in the form of pay stubs, tax returns, and bank statements.
Down Payment: The lender will consider the amount the borrower can put down as a down payment, which can impact the loan amount and terms.
Debt-to-Income Ratio: Lenders calculate the borrower's debt-to-income ratio to ensure they can comfortably manage their mortgage payments alongside other debts.
Pre-Approval Letter: If a borrower meets the lender's criteria, they receive a pre-approval letter. This letter states the terms of the pre-approval, including the maximum loan amount, and the loan program(s) the borrower is qualified for.
The Benefits of Mortgage Pre-Approval
Mortgage pre-approval offers numerous benefits for both buyers and sellers:
Seller Requirement: Proof of funds will be required by all sellers regardless of market conditions. They want written proof showing the prospective buyer is qualified and financially capable of purchasing their home.
Budget Clarity: Being pre-approved helps buyers understand how much they can afford, allowing them to focus on homes within their budget.
Documentation Gathering: Buyers can gather necessary financial documents during the pre-approval process, making the formal mortgage application smoother.
Focused Home Search: Having a budget and loan type helps buyers narrow down their choices, saving time and reducing stress during their search.
Avoid Disappointment: Pre-approval helps prevent the heartbreak of falling in love with a home only to find out the buyer can't secure financing.
Faster Closing: Being pre-approved can expedite the closing process since the initial paperwork has already been completed.
Interest Rate Lock: Some lenders allow buyers to lock in an interest rate when they're pre-approved, protecting them from rate increases during their home search.
Learn about the ins and outs of home shopping and the answer to this very popular question: Can an unapproved buyer look at homes for sale? #realestate #homebuying
Can Unapproved Buyers Look at Homes for Sale?
Now that we understand the importance of mortgage pre-approval, let's address the question at hand and whether or not an unapproved buyer can look at homes for sale. The short answer is yes, unapproved buyers can technically view homes for sale. However, their options of what homes they can see may be limited for a couple of reasons. One, the seller determines who is allowed to tour their home, and two, real estate agents decide who they will show homes to. Not all sellers and agents are willing to work with an unapproved buyer.
If this happens unapproved buyers still have a few options left to view homes: open houses and new construction model homes. Typically open to the general public, open houses allow unapproved buyers to freely attend and explore properties. The same holds true when visiting model homes within new construction communities. So while an unapproved buyer may have very limited options to look at they still have options.
Why Seller's Deny Unapproved Buyers
Sellers are not required to allow buyers access to their homes, particularly to buyers who haven't been pre-approved. If a home is vacant sellers probably won't mind if an unapproved buyer looks at their property. However, if a seller resides in the property it could take them a lot of time and energy to prepare for a showing especially if they have kids and pets. So it's very unlikely that a seller will want to jump through hoops preparing their home for an unapproved buyer to look at it.
It's also very unlikely a seller will entertain an offer from a buyer without a pre-approval letter. From a seller's perspective, it can be challenging to even consider the offer because they lack clarity on what exactly they are considering. There are too many unanswered questions and uncertainties when a buyer hasn't been pre-approved for a mortgage.
This is one of the many reasons why sellers require home buyers to be pre-approved for a mortgage when viewing their home or submitting an offer. A pre-approved buyer demonstrates their seriousness and financial capability to purchase a property, which can instill confidence in the seller. Secondly, it streamlines the transaction process, reducing the risk of the deal falling through due to financing issues. Lastly, pre-approvals help sellers assess the overall strength of the offer, as they can be more certain that the buyer can secure the necessary funds.
Why Agents Deny Unapproved Buyers
Now, there are some real estate agents who will show unapproved buyers homes for sale but a majority will not. Agents don't get paid by the hour or by the number of homes they show, they only receive compensation upon a successful sale. Therefore, a majority of agents are going to focus their time, energy, and money on a buyer who is ready, willing, and able to purchase a home. Not a buyer who may or may not qualify for a mortgage.
Additionally, it's impossible for an agent to efficiently or effectively do their job without a pre-approval letter. It's impossible to determine what properties a buyer qualifies for, both in price and financing. Not all sellers will accept certain types of financing and not all properties qualify for certain loan programs.
In order to write an offer agents need to know the terms of the mortgage pre-approval. Is the buyer qualified for a conventional loan, FHA loan, or VA loan? How much money are they putting down? Do they need seller concessions? These are all questions that need to be answered in order for an agent to write an offer.
So when an agent requests a pre-approval letter from a buyer it isn't to be "difficult" they are merely trying to set the buyer and themselves up for a smooth and successful transaction.
Learn about the ins and outs of home shopping and the answer to this very popular question: Can an unapproved buyer look at homes for sale? #realestate #homebuying
Steps to Take as an Unapproved Buyer
If you are an unapproved buyer looking to purchase a home, here are some considerations to navigate the real estate market effectively:
1. Get Pre-Approval ASAP
The most effective way to position yourself as a serious buyer is to obtain pre-approval before actively searching for homes. This not only makes you more competitive but also streamlines the buying process.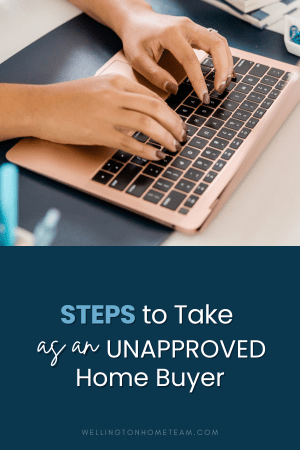 2. Work with a Real Estate Agent
A knowledgeable real estate agent can guide you through the process, help you find suitable homes, and advise you on the best course of action based on your financial situation.
3. Be Prepared
After the initial pre-approval letter once a property is found the lender will most likely require additional financial documentation. So it's important to be prepared, this will help expedite the pre-approval process when the time comes.
4. Set Realistic Expectations
Setting realistic expectations is essential because it will help you avoid disappointment and frustration during your search, ensuring you make informed decisions that align with your budget and preferences.
5. Keep Your Finances in Good Shape
Continue to maintain a healthy credit score and financial stability, as this will improve your chances of having your loan application approved. Otherwise, you could blow up your financing if you become reckless with your spending during the home-buying process.
Final Thoughts
In the world of real estate, the question of can an unapproved buyer look at homes for sale isn't really a straightforward yes or no. While unapproved buyers have the right to view properties, sellers also have the right to deny unapproved buyers access to their property and agents have the right not to work with unapproved buyers.
So it's in a buyer's best interest to obtain a mortgage pre-approval before they start their home search. By doing so they will set themselves up for a successful home purchase. They'll know the exact terms they qualify for; the loan amount, and the loan program, along with their closing costs and down payment requirements. This is all vital information that is needed in order for them to submit an offer on a home.
So as an unapproved buyer, there is no sense in trying to view homes for sale, especially in a strong sellers market where homes are selling in a day. By the time an unapproved buyer gets pre-approved that home may be gone or they may find out they didn't even qualify to purchase it.
Please consider spreading the word and sharing; Can an Unapproved Buyer Look at Homes for Sale?
Learn about the ins and outs of home shopping and the answer to this very popular question: Can an unapproved buyer look at homes for sale? #realestate #homebuying
About the Author
Top Wellington Realtor, Michelle Gibson, wrote: "Can an Unapproved Buyer Look at Homes for Sale?"
Michelle has been specializing in residential real estate since 2001 throughout Wellington Florida and the surrounding area. Whether you're looking to buy, sell, or rent she will guide you through the entire real estate transaction. If you're ready to put Michelle's knowledge and expertise to work for you call or e-mail her today.
Areas of service include Wellington, Lake Worth, Royal Palm Beach, Boynton Beach, West Palm Beach, Loxahatchee, Greenacres, and more.
Can an Unapproved Buyer Look at Homes for Sale?