5 Essential Features That Can Boost Home Sales Over Asking
Getting the best possible price is the ultimate goal when selling a house. But what's even better is selling it over the asking price. Achieving such a sale can be a significant win for any homeowner, getting more than they initially anticipated. To achieve this feat, you may have to tackle several projects, changes, or tweaks to your home. For some help, below are the top home features buyers want today and can help increase your property's market value.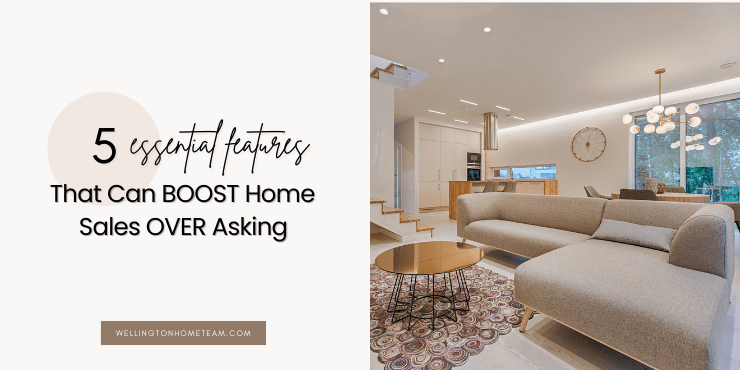 Top 5 Features That Boost Home Sales Over Asking
1. Modernize Kitchens
An outdated and out-of-style kitchen can be a deal breaker for home buyers. No buyer wants to walk into a house and start calculating the hassle and cost of a major kitchen renovation. With that said, investing in updating your kitchen can be one of the most effective ways to attract potential buyers and increase the value of your home. Consider high-quality materials like energy-efficient appliances, modern cabinetry, and quartz or granite countertops. 
Another popular feature is a kitchen island with seating. It adds aesthetic appeal and functionality. Moreover, consider an open-concept design for your kitchen. It creates a seamless transition between the kitchen and adjoining living spaces. Don't underestimate the power of good lighting, as well. Well-placed under-cabinet lighting or pendant lights brighten up the workspace and add a touch of sophistication to the kitchen's ambiance. 
Lastly, consider the color scheme. Neutral tones like muted earthy hues, grays, or whites create a timeless and versatile backdrop. Plus, they appeal to a broad range of tastes.
The average cost to renovate or update a kitchen is about $12k to $60k, which includes labor, fixtures, and materials. It can be expensive. Thus, if you don't have a budget for this project, consider checking out your loan eligibility and take one out. The loaned amount can be your capital to update the kitchen. Make sure to include this cost when selling your house. Despite the high cost, according to the 2023 Remodeling Cost versus Value Report, homeowners can recoup 30.7% to 85.7% on their investment in an updated kitchen if they sell their home. This by far is one of the biggest ways home sellers can boost home sales over asking.
2. Spruce Up the Bathrooms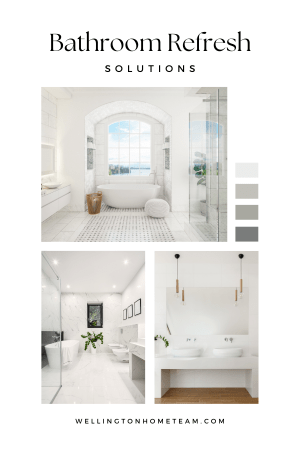 The bathroom is another critical area that can significantly impact a home's value. A dull and dreary bathroom will not suffice and can be a significant drawback for potential buyers. Hence, investing in bathroom updates is a must. Consider modern features and fixtures such as a contemporary sink and faucet, a sleek and frameless glass shower enclosure, and a stylish vanity. These elements convey a sense of luxury and quality and enhance the aesthetic appeal.
Moreover, flooring and tiling are crucial considerations for sellers trying to boost home sales over asking. Opt for visually appealing and durable materials like ceramic and porcelain tiles. Upgrading bathroom lighting fixtures is another impactful step. Well-placed wall sconces or vanity lights can create an inviting and warm atmosphere. Adequate lighting adds to the overall ambiance of the bathroom and enhances functionality.
Storage is also a practical consideration that shouldn't be overlooked. Buyers highly value ample storage for toiletries, towels, and other essentials. Consider installing well-designed shelves or cabinets that maximize space without compromising style.
Learn the key features that can boost home sales over asking and increase your profit potential when selling a home. #realestate #homeselling
3. Exterior Refresh
A house with a strong curb appeal wows buyers from the get-go and generates more interest. You can start with the basics. Ensure the lawn is neatly manicured, any overgrowth or weeds are addressed, and trees and bushes are trimmed.
Also, consider adding some colorful flowers or plants to add character and vibrancy to the front yard. Doing so can create an inviting and welcoming atmosphere. Moreover, repainting any faded or chipped paint can make a significant difference to the exterior of your home. A fresh coat of paint can instantly revitalize the appearance of a house and it's a must for any home sellers trying to boost home sales over asking.
Furthermore, pay attention to the condition of the driveway and walkways. Ensure they're in good shape, free of cracks, and clean. Lighting is another essential aspect. Adequate indoor lighting adds security and safety to the property and highlights its features during the night.
4. A Comfy Outdoor Living Space
Outdoor living spaces can make a house more desirable and appealing to buyers. They provide a place for enjoyment, entertainment, and relaxation. Consider creating an inviting and functional outdoor space. It may include a well-landscaped garden area, deck, or patio.
These spaces should be designed considering privacy, shading, and seating factors. Quality outdoor accessories and furniture can also contribute to the appeal.
Adding features like an outdoor kitchen or a fire pit can take the outdoor living experience to the next level. These amenities increase the functionality of the space and add a touch of luxury.
5. Smart Home Technology
Integrating smart home technology is another powerful way to add value to your property. It adds comfort and convenience for potential home buyers and demonstrates that the home has high-tech features. Smart security systems are a significant draw for many buyers. Features like CCTV cameras, video doorbells, and smart locks provide safety and peace of mind. Plus, they can potentially lower insurance premiums.
Smart appliances in the laundry room and kitchen can also be a significant selling point. Energy-efficient, connected appliances can make daily tasks more convenient and save long-term costs. Highlighting these smart home features in your listing can be a strong advantage. Potential buyers often appreciate a smart home's added convenience and potential energy savings.
Final Thoughts
Investing in these improvement projects or home renovations can make your home stand out from the rest on the market and maximize the value of your home. These features address critical aspects of a home that are often at the top of buyers' wish lists. They recognize the effort and investment put into these upgrades and are often willing to pay more for a home that offers these desirable features. So for those home sellers looking to boost home sales over asking these are great tips to follow.
Please consider spreading the word and sharing; 5 Essential Features That Can Boost Home Sales Over Asking
Learn the key features that can boost home sales over asking and increase your profit potential when selling a home. #realestate #homeselling
About the Author
Top Wellington Realtor, Michelle Gibson, wrote: "5 Essential Features That Can Boost Home Sales Over Asking"
Michelle has been specializing in residential real estate since 2001 throughout Wellington Florida and the surrounding area. Whether you're looking to buy, sell, or rent she will guide you through the entire real estate transaction. If you're ready to put Michelle's knowledge and expertise to work for you call or e-mail her today.
Areas of service include Wellington, Lake Worth, Royal Palm Beach, Boynton Beach, West Palm Beach, Loxahatchee, Greenacres, and more.
5 Essential Features That Can Boost Home Sales Over Asking