How to Sell a Home with Pets | 3 Pro Tips
According to a National Pet Owners Survey conducted by the American Pet Products Association, 68% of households own a pet. This means a large percentage of home sellers are going to have pets. Therefore, need to sell a home with pets and in real estate when people hear "pet" they automatically think dog or cat.
However, the reality is there are a lot of other pets that sellers have, such as birds, fish, rabbits, ferrets, rodents, and reptiles. Regardless of the type of pet a seller has, it can negatively impact their home sale. If you are a homeowner who plans on selling and has at least one pet, even a snake, then this article is for you. Below are 3 key tips for how to sell a home with pets.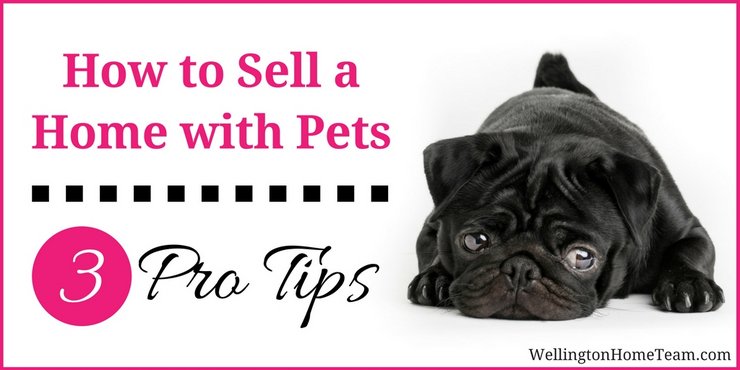 Clean, Clean, Clean
Prior to even putting your home on the market it's important to have it deep cleaned from top to bottom. This includes having your carpets professionally cleaned, but if cleaning your carpets won't help the overall appearance it may be best to replace it altogether. If you decide to replace your carpeting make sure it's with a neutral color, not a taste-specific color like pink, green or blue. For those with tile flooring you may want to have them professionally cleaned as well since dirt and urine if there were ever accidents, can get embedded into the grout. If you have a  furry family member that sheds make sure to remove fur from all surfaces and furnishings.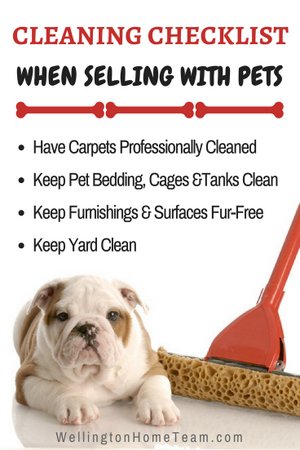 No matter what type of pet you have odds are it smells and makes certain parts of your home smell too. So it's important to keep your pets bed, cage or tank clean at all times to help reduce odor.
However, even when you keep your home clean it's not uncommon for it to still smell like pets and some sellers will use candles or plugins in an attempt to cover up the smell, which I do not recommend. Oftentimes by using toxic chemicals it will make the smell worse. So you'll want to avoid using these types of items. Here's an excellent resource discussing smells when selling: Home Selling Question: What Should I Use to Make My Home Smell Good?
How to Sell a Home with Pets Cleaning Checklist
Have Carpets Professionally Cleaned
Keep Pet Bedding, Cages & Tanks Clean
Keep Furnishings & Surfaces Fur-Free
A Clean Yard is a Must
Repair & Replace
Not every pet is destructive, but some are especially puppies and even kittens. If your baseboards are chewed on, doors are scratched or carpeting is snagged you'll want to repair these before listing your home for sale. The goal is to make your home look like a pet never lived there because pet damage, damage in general, isn't appealing to home buyers unless it's a fixer-upper. However, if you want top dollar for your home you'll want to make sure it looks its best.
Are you getting ready to list your home for sale and have pets? If so you will want to follow these 3 pro tips for how to sell a home with pets. #homeselling
How to Sell a Home with Pets Repair Checklist
Repair damaged baseboards and scratched doors
Replace or repair carpeting with snags or stains
Repair or replace damaged blinds
Repair, replace, or remove damaged furniture
Remove, Remove, Remove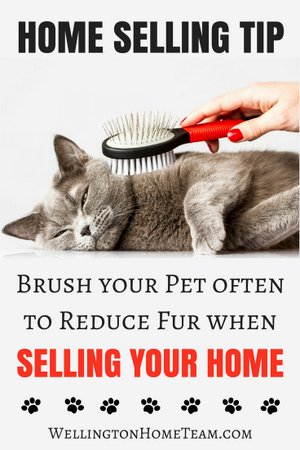 Showing your home with pets can be challenging especially if you have a pet that is usually free-roaming, like a dog or cat. Since you shouldn't be home for showings neither should your pet for several reasons. First and foremost your pet can be a liability if they injure someone viewing your home. In addition to being a liability would you trust a stranger with your pet? If you have a free-roaming pet they might accidentally be let out of the house and if you have a pet contained in a cage someone may let it out of its cage. Either way unsupervised pets while buyers are viewing your home is a recipe for disaster.
Even if liability wasn't an issue not everybody loves pets, some people have pet allergies and others are deathly afraid of them, so it's best to remove them during showings. I've had more than one buyer not enter a home even if the pet was in a cage because they were afraid of it and guess what a majority of the time they didn't even want to go back.
If you have a dog and aren't available to remove it for showings you might want to explore hiring a dog walker, but if you have a pet that doesn't go for walks like a cat or snake you may want to consider finding a temporary home for your pet while your home is actively on the market. In addition to removing your pets from the property you should also remove their belongings; beds, cages, food bowls, toys, and pet furniture.
How to Sell a Home with Pets Removal Checklist
Remove pets during showings
Remove pet belongings
Final Thoughts
Keeping your home clean during the selling process is essential. Trying to keep it clean when you own a pet can become a full-time job. If you are unable to keep up with the cleaning while your home is active hire a cleaning service. This will make it a lot easier to do light cleaning throughout the week. In addition to keeping your home clean, you'll also want to make it appear pet-free to potential buyers. This means you should remove your pets and their belongings during showings.
If you think this article, How to Sell a Home with Pets | 3 Pro Tips, was an interesting read please give it a share!
Are you getting ready to list your home for sale and have pets? If so you will want to follow these 3 pro tips for how to sell a home with pets. #homeselling
Additional Real Estate Advice from Top Professionals
About the Author
The above real estate article "How to Sell a Home with Pets | 3 Pro Tips" was written by Michelle Gibson of Wellington Florida Real Estate. Specializing in residential real estate since 2001 in Wellington and the surrounding area. Not only does Michelle assist buyers and sellers, she assists landlords and tenants too. She would love to share her expertise and guide you through the entire real estate process.
We service the following areas; Wellington, Lake Worth, Royal Palm Beach, Boynton Beach, West Palm Beach, Loxahatchee, Greenacres, and more. If you are considering selling your home, we welcome the opportunity to work with you and list your home with a top Realtor in Wellington Florida
How to Sell a Home with Pets | 3 Pro Tips