8 Mistakes to Avoid When Shopping for a Mortgage
When taking the step to buy a home, securing the right mortgage is paramount. For most of us, this is the biggest financial decision we'll make in our lives, and a small misstep can result in substantial long-term consequences. Unfortunately, many prospective homebuyers make crucial mistakes when shopping for a mortgage.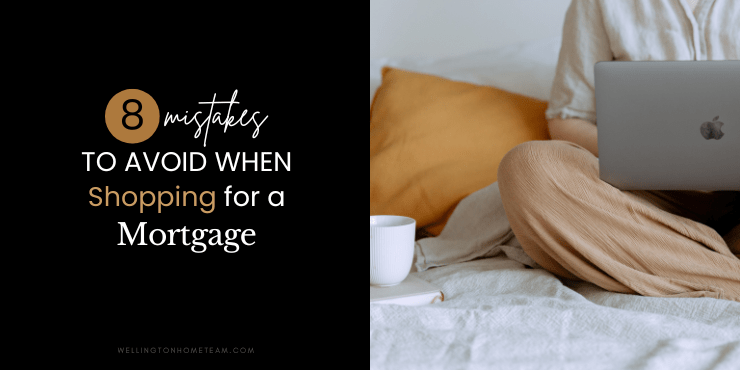 In this comprehensive guide, we'll walk you through eight critical mistakes to avoid when shopping for a mortgage, ensuring that your dream home doesn't turn into a financial nightmare. Whether you're a first-time homebuyer or a seasoned pro, these insights will empower you to make informed decisions and secure the best mortgage for your personal needs and goals.
1. Blindly Trusting Pre-Approval
Getting pre-approved for a mortgage is an important first step to homeownership. It gives you an idea of the loan amount you can qualify for, which helps you narrow down your home search. However, some buyers make the mistake of assuming that pre-approval is the green light to proceed, but pre-approval letters don't mean the buyer will actually be approved. Lenders issue pre-approvals based on limited information, and things can change once you get into the application and underwriting process.
Additionally, just because you get pre-approved for a million dollars doesn't necessarily mean you can truly afford that amount. So before you start looking at homes it's important to understand all of your financial commitments.
2. Failing to Shop Around
One of the most significant mistakes homebuyers can make is not shopping around for mortgage options.
Different lenders offer different rates and terms, and not taking the time to compare can result in paying more than necessary over the life of your loan.
It's essential to ask questions and get quotes from a few different lenders, including banks, credit unions, and online lenders. By doing so you'll be able to obtain the best mortgage rate and terms.
3. Ignoring Interest Rates
While it's tempting to focus on the upfront costs like down payments and closing fees, don't overlook the interest rate. A slightly lower interest rate can translate to significant savings over the life of your mortgage. Even a fraction of a percentage point can make a substantial difference in the total amount you pay over 15 or 30 years.
4. Disregarding Loan Types
Just because you qualify for a particular loan program doesn't mean it's the best fit for your financial situation. There are various mortgage types, including fixed-rate mortgages, adjustable-rate mortgages (ARMs), FHA loans, VA loans, and more. Each has its pros and cons, and the right choice depends on your individual circumstances.
For example, if you plan to stay in your home for a long time and want predictable monthly payments, a fixed-rate mortgage might be the best choice. On the other hand, if you expect to move within a few years, an ARM with a lower initial rate could be more cost-effective. Make sure to consult with your lender and thoroughly understand the implications of each loan type.
Avoid financial pitfalls and make informed decisions by steering clear of these eight mistakes when shopping for a mortgage. #realestate #homebuying
5. Neglecting Credit Score Improvement
Your credit score plays a significant role in the interest rate you qualify for. A higher credit score often results in lower interest rates, which can save you thousands of dollars over the life of your mortgage. Before applying for a mortgage, take the time to improve your credit score by paying down debt, correcting errors on your credit report, and making all payments on time.
Frequently, lenders will provide guidance on which debts to prioritize paying off before seeking a mortgage. However, in certain situations, it may be more advantageous to retain your funds in your bank account. Don't be afraid to ask for professional help before you start shopping for a mortgage.
6. Underestimating Closing Costs
Closing costs can be just as much or more than a down payment when buying a home. They typically include mortgage fees, the cost of an appraisal, home inspections, title searches, and more. It's crucial to budget for these expenses in addition to your down payment.
Unfortunately, a mistake some buyers make is using all of their savings for the down payment and then struggling to cover their closing costs. This oversight can have adverse consequences, potentially leading to unexpected financial strain, transaction delays, or even the unfortunate collapse of the entire real estate transaction.
In some cases, if the transaction doesn't close, the buyer may be in breach of contract and can potentially lose their escrow deposit and/or be sued for breach of contract.
7. Overlooking Mortgage Points
Mortgage points, also known as discount points, are fees you can pay upfront to lower your mortgage interest rate. Each point typically costs 1% of your loan amount and can reduce your interest rate by around 0.25%. While this can be a valuable way to save money over time, it's not the right choice for everyone.
Evaluate your financial situation and how long you plan to stay in the home to determine if paying points makes sense for you. If you are uncertain, a mortgage lender will be able to help you crunch the numbers to see what makes the most financial sense for your situation.
8. Not Getting a Rate Lock
Interest rates can fluctuate daily, and a rate lock is a commitment from the lender to hold a specific interest rate for a specified period, typically 30 to 60 days. Failing to get a rate lock can result in your interest rate increasing before closing, which could affect your ability to afford the loan or the overall cost of your mortgage. So make sure to discuss this option with your lender when shopping for a mortgage.
Final Thoughts
There are a lot of mistakes to avoid when buying a house and not properly shopping for a mortgage is one of them. Avoiding these common mistakes will help ensure that you not only qualify for a mortgage but also choose the best one for your financial needs. Remember that buying a home is a long-term commitment, and the right mortgage can set you on a path to financial success and homeownership satisfaction.
Please consider spreading the word and sharing; 8 Mistakes to Avoid When Shopping for a Mortgage
Avoid financial pitfalls and make informed decisions by steering clear of these eight mistakes when shopping for a mortgage. #realestate #homebuying
About the Author
Top Wellington Realtor, Michelle Gibson, wrote: "8 Mistakes to Avoid When Shopping for a Mortgage"
Michelle has been specializing in residential real estate since 2001 throughout Wellington Florida and the surrounding area. Whether you're looking to buy, sell, or rent she will guide you through the entire real estate transaction. If you're ready to put Michelle's knowledge and expertise to work for you call or e-mail her today.
Areas of service include Wellington, Lake Worth, Royal Palm Beach, Boynton Beach, West Palm Beach, Loxahatchee, Greenacres, and more.
8 Mistakes to Avoid When Shopping for a Mortgage